Commentary
Success at Amen Corner is a nervy proposition
Updated:
April 8, 2008, 11:18 AM ET
By
Bob Harig
| ESPN.com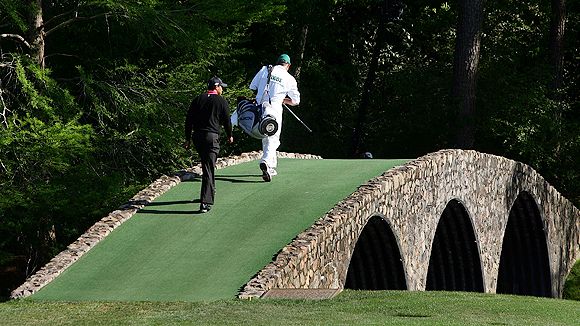 David Cannon/Getty ImagesPlayers like Woods, seen here crossing Hogan Bridge, know just how daunting Amen Corner can be.
AUGUSTA, Ga. --
Nick Faldo
would begin preparing for it on the practice range.
Jack Nicklaus
still thinks about the time he shanked a ball over the head of Bobby Jones.
Ben Crenshaw
becomes nostalgic. Amen Corner at Augusta National Golf Club might be the most famous three-hole stretch in golf, a par-4, a par-3 and a par-5 that have teased and tormented the best in the game since the tournament's inception. It wasn't until 1958, however, that author Herbert Warren Wind referred to the scenic holes farthest from the old manor clubhouse as "Amen Corner" in a story he wrote for Sports Illustrated. With some help from the Augusta Chronicle, the name stuck. And 50 years later, there are at least that many stories about the part of the course that has affected so many Masters. "It's an apt phrase,'' said two-time Masters champion Crenshaw. "There is no doubt that every player who plays 11 through 13 ... either you're saying prayers or saying thanks. It's so rough on you emotionally. The holes are so majestic and pretty and Gothic. Good night, there are so many things that have happened at the Corner.'' The 11th, which now measures 505 yards, played as the hardest hole on the course last year, averaging 4.510 strokes and yielding just 15 birdies, the second-fewest of any hole. The 12th, which has pretty much been a constant at 155 yards, has been called "the toughest short hole in golf" by Nicklaus. Last year, it ranked as fifth-toughest. The 13th, despite lengthening in recent years, still remains one of the course's best birdie opportunities, although it is much more difficult to go for the green in two. It measures 510 yards and last year yielded nine eagles. Nicklaus said that while the fourth through sixth holes at Augusta might be every bit as tough as Amen Corner, they just do not have the same allure. "That stretch for the average for the field is higher over par than the stretch at Amen Corner, but people never talk about it,'' the six-time Masters winner said. "It doesn't have the excitement of Amen Corner. Amen Corner is a place where I guess you better get religion to play it. I think that's sort of what it means.'' Faldo, who won three Masters, would purposely seek out a corner on the Augusta driving range where he could hit to a flag that was about 140 yards away -- all in anticipation of Amen Corner. "You really have to have the ability to land the ball left or right of the flag, in precise spots, you can't just hope,'' said Faldo, 50, who will be working the Masters as an analyst for CBS. "I used to do a lot of visualization on the practice ground. The last thing you want, coming over that hill on 11 ... with all that history ... it's the first real suck-it-up shot of the back nine. They put you under serious pressure on that shot. "The scary thing about 12 is it's the only hole where when the ball is in the air, the caddies start praying. Two balls hit identically can come up different because of a gust of wind. That one is in the lap of the gods. "On 13, it is very difficult to describe that second shot up on that slope. You have the ball above your feet but on a downhill lie. Three slopes working against you. And you really have to hit a precision shot. "At Amen Corner, you have five or six really precision shots that you have to hit absolutely spot on. You have to have the ability to place the ball exactly where you intend.'' Faldo pauses, takes a deep breath. "I even scare myself reliving that,'' he said. The 11th is where Faldo won his first Masters with a long birdie putt to defeat
Scott Hoch
in a 1989 sudden-death playoff. The following year, he went to overtime again, this time winning at 11 when Raymond Floyd dumped his approach shot in the water to the left of the green. The hole has seen plenty of dramatics over the years.
Fuzzy Zoeller
won the tournament's first sudden-death playoff there (over
Tom Watson
and Ed Sneed) in 1979.
Larry Mize
chipped in for his dramatic 1987 victory over
Greg Norman
. Ben Hogan, according to legend, never purposely played for the green, preferring to chip on and make par. "The shot at 11 and the shot at 12 are probably two of the scariest shots that you play in golf competition, and they're back-to-back,'' Nicklaus said. "I've had times where I've hit it in the water, I've watched other fellas hit it in the water. I've watched the tournament change hands dramatically.'' That is exactly what happened to Nicklaus during his epic 1986 Masters victory, the last of his 18 majors. But not for the reason you might expect. Nicklaus, then 46, was coming off birdies at the ninth, 10th and 11th holes. He then hit his tee shot at 12 long, and made bogey. That mistake, he said, made him more determined: He played the final six holes in 5-under. But Nicklaus also remembers an embarrassing moment at the 12th. "Bobby Jones and [Augusta chairman] Cliff Roberts came out to watch me in 1964,'' Nicklaus said. "I was trying to chase
Arnold Palmer
. I shanked one right over their heads. So there are a lot of things that happen at Amen Corner.'' The 12th has seen just three holes-in-one -- Claude Harmon (1947), William Hyndman (1959) and
Curtis Strange
(1988). It has also seen one of the two highest scores in Masters history, the 13 made by
Tom Weiskopf
in 1980. There was Arnold Palmer's controversial ruling on his way to his first Masters win in 1958. It was where Norman relinquished the lead to Faldo during the final round of the 1996 Masters when he hit his tee shot in the water. And it is where, somehow, Fred Couples' ball stayed on the back in 1992. "When my ball stayed on the bank ... it was a huge sigh of relief,'' Couples said. "I've played rounds of golf there where I've been on the third hole and I've got a little 8-iron in my hand to that green and I'm thinking about ... the 12th hole is the same shot. I don't know if that's good or bad.'' The 13th would seemingly be a breather compared to the other two holes, but the risk-reward nature of the hole makes it anything but easy.
Tiger Woods
putted a ball off the green in 2005, although he still went on to victory.
Jeff Maggert
made the only double eagle at the hole in 1994, while
Tommy Nakajima
made the highest score ever at the hole -- a 13 in 1978. Curtis Strange, with a back-nine lead in 1985, went for the green and hit it in the water, eventually losing to
Bernhard Langer
. Couples made a double-bogey at 13 in 1998, and finished one stroke behind Mark O'Meara. "No. 13 is still one of the great par-5s in golf,'' Crenshaw said. "There is the chance or the possibility of 2 through 7. And you see all the spectrum of things happen through the years. That's the way the architecture is at Augusta. You have to make decisions. You have to trust yourself and go with it. Sometimes your instincts are correct, sometimes they are incorrect.'' "I think that is what the excitement is about the Masters,'' said 1991 champion
Ian Woosnam
. "You play every single year, the TV coverage now it's all around the golf course, and the spectators, they know what's going to come up and they know what Amen Corner means to all the players. "And they know on the last day, on the Sunday, that's when it really starts, the golf tournament. And that's when you see who is going to have the mettle to keep his nerve.''
Bob Harig covers golf for ESPN.com. He can be reached at BobHarig@gmail.com.
SPONSORED HEADLINES
MORE GOLF HEADLINES
MOST SENT STORIES ON ESPN.COM
2008 MASTERS TOURNAMENT


When: Thursday-Sunday, April 10-13
Where: Augusta National Golf Club
Yardage/Par: 7,445 yards; par 72
2007 champion: Zach Johnson
Details: Course | Field | Tee times
More: Past champs | Masters.org
Leaderboard: Follow the action
ESPN TV coverage
April 10
• Round 1: ESPN/ESPN360.com, 4-7; 8-11 p.m. ET
April 11
• Round 2: ESPN/ESPN360.com, 4-7; 8-11 p.m. ET
ESPN Video
•
Van Pelt/North: Who Will Win?
•
Complete Masters video coverage
•
Amen Corner audio slideshow

•
Sunday Conversation: Tiger Woods
•
SportsCenter: Drew Weaver feature
•
Sobel: The aura of Augusta
•
Sobel: Preparing for the Masters
Features/Columns
From Augusta National:
•
Harig: Woods begins Grand Slam pursuit
•
Masters Tournament FOREcaster
•
Harig: Amen Corner is a nervy proposition
•
Harig: Masters Monday is like no other
•
Sobel: Wagner excited about Masters opportunity
•
Harig: Grand Slam has developed over time
•
Harig: Just another Sunday at Augusta National
•
Sobel: Sunday before Masters is peaceful
•
Weekly 18: Questions abound
•
On the Hot Seat: Zach Johnson
•
Harig: Monty's lesson? Play better
•
Alternate Shot: All about Tiger
•
Fact or Fiction: How should players prepare?
•
Fact or Fiction: Should winners reach Masters?
Masters Memories
•
Harig: O'Meara couldn't believe '88 win
•
Harig: Lyle still relishes '88 victory
•
Sobel: Player makes Masters history
•
Sobel: De Vicenzo's '68 gaffe still rings true
•
Harig: Palmer's '58 win still controversial
•
Harig: Past champs share Masters memories
•
'07 E-Ticket: Thompson's walk with his late father
Blogs
•
Sobel: Readers' best Masters stories
•
Sobel: Searching for Masters stories
Podcasts
•
Sobel with Jerry Kelly
•
Harig and Sobel: Weather or not?

•
Sobel and Anderson: Previewing the Masters

Games/Widget Center
•
Putting at Amen Corner
•
Masters Best Ball Challenge
•
Add a Masters widget
More coverage
•
GolfDigest.com's Masters Countdown
•
Golf World Masters preview edition
•
ESPNMag.com: Six words about Tiger
Golf Goes Worldwide
The Masters has an initiative to get people, especially kids, playing, watching and talking about golf. Send ideas.
English language version
•
French
|
Spanish
|
Chinese
|
Japanese
|
Korean