Commentary
On the Hot Seat: Zach Johnson
Originally Published:
April 4, 2008
By
Jason Sobel
| ESPN.com
As you've no doubt heard him say on countless TV commercials during the past 12 months, Zach Johnson is "just a normal guy from Iowa." Sure, a normal guy with a green jacket in his closet.
Johnson tamed
Tiger Woods
-- as well as the rest of the 2007 Masters field -- by playing his brand of controlled, disciplined golf at Augusta National. So who better to let us in on a few deep, dark secrets to winning the game's most prestigious major? Zach Johnson, you're on the Hot Seat …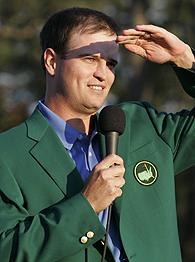 AP Photo/Elise AmendolaJohnson won the Masters by 2 strokes last year.
Q: What's the best thing about being the reigning Masters champion?
A: That's a hard question to answer because there are so many incredible things associated with winning the Masters. If I had to choose one, I suppose it would be the lifetime exemption to play in the tournament. That's pretty sweet!
Q:
How about the worst thing? Is there one?
A:
The demands on my time have increased exponentially by virtue of winning the Masters. As a result, I have to say no to many things that are certainly worthwhile and deserving of my time.
Q:
At what point did you know the victory was yours? After the chip on 18? Or not until Tiger Woods hit his approach on that final hole?
A:
I was in the locker room watching Tiger play the last hole. Before he hit his second shot, I looked at my agent, Brad Buffoni, and said something to the effect that nothing is impossible with Tiger. So when Tiger didn't hole that approach shot, I knew I had won the tournament. But I must admit, I felt fairly confident when I got up and down to par the 18th and post the number.
Q:
Was there one specific moment, either during the final round or the postround celebration, that stands out as your favorite part of that day?
A:
Again, so many unbelievable moments throughout the day, but the absolute best has to be coming off the 18th green and seeing my wife, Kim, and our son, Will, who had been rushed to the course from daycare by my mother-in-law using a police escort.
Q:
What is it like in the Champions Locker Room?
A:
Sorry, I can't tell you that. You are going to have to win the Masters and find out for yourself.
On the Hot Seat
Who else has appeared on ESPN.com's Hot Seat to discuss golf? Everyone from Tiger Woods to Annika Sorenstam. Click here to find the entire list.
Hot Seat guests
Q:
Where do you keep the green jacket? Do you ever just wear it around the house?
A:
The green jacket made a quick trip to New York the day after I won the tournament. Since then, it has been carefully placed safely inside my closet. I am allowed to keep the jacket for one year. When I return to Augusta National this April, I will bring back the jacket, where it will be stored with those of the other past champions.
Q:
How often have you returned to play the course since last year?
A:
Unfortunately, I have not had the time to return yet. But I plan to try and get there in the weeks preceding this year's tournament to get in some practice.
Q:
Where does Augusta National rank among your favorite courses in the world?
A:
No. 1, of course!
Q:
Which green gives you the most trouble? Which specific pin placement?
A:
Obviously, there are many. A front pin on No. 4 is extremely difficult to get to, and back right on No. 6 is a VERY intimidating location as well.
Q:
Is there a lesser-known player out there whose game is suited to win the Masters -- the "Next Zach Johnson," so to speak?
A:
In many respects, anyone who qualifies to participate in the Masters must have some kind of profile, so that is hard for me to answer.
J.B. Holmes
certainly has a game custom-built for Augusta National, though being his first Masters he will need to learn the greens quickly.
Aaron Baddeley
is another player that I would watch as well.
Q:
Now that you're a Masters champ, you can reveal your secret to us. So what's the biggest key to winning at Augusta National?
A:
The banana pudding they serve in the clubhouse and hitting it fewer times than everyone else. By the way, am I off the Hot Seat now?
Q:
Yes, you are. And save some banana pudding for us.
Jason Sobel is ESPN.com's golf editor. He can be reached at Jason.Sobel@espn3.com
Golf Editor, ESPN.com
Jason Sobel, who joined ESPN in 1997, earned four Sports Emmy awards as a member of ESPN's Studio Production department. He became ESPN.com's golf editor in July 2004.
SPONSORED HEADLINES
MORE GOLF HEADLINES
MOST SENT STORIES ON ESPN.COM
2008 MASTERS TOURNAMENT


When: Thursday-Sunday, April 10-13
Where: Augusta National Golf Club
Yardage/Par: 7,445 yards; par 72
2007 champion: Zach Johnson
Details: Course | Field | Tee times
More: Past champs | Masters.org
Leaderboard: Follow the action
ESPN TV coverage
April 10
• Round 1: ESPN/ESPN360.com, 4-7; 8-11 p.m. ET
April 11
• Round 2: ESPN/ESPN360.com, 4-7; 8-11 p.m. ET
ESPN Video
•
Van Pelt/North: Who Will Win?
•
Complete Masters video coverage
•
Amen Corner audio slideshow

•
Sunday Conversation: Tiger Woods
•
SportsCenter: Drew Weaver feature
•
Sobel: The aura of Augusta
•
Sobel: Preparing for the Masters
Features/Columns
From Augusta National:
•
Harig: Woods begins Grand Slam pursuit
•
Masters Tournament FOREcaster
•
Harig: Amen Corner is a nervy proposition
•
Harig: Masters Monday is like no other
•
Sobel: Wagner excited about Masters opportunity
•
Harig: Grand Slam has developed over time
•
Harig: Just another Sunday at Augusta National
•
Sobel: Sunday before Masters is peaceful
•
Weekly 18: Questions abound
•
On the Hot Seat: Zach Johnson
•
Harig: Monty's lesson? Play better
•
Alternate Shot: All about Tiger
•
Fact or Fiction: How should players prepare?
•
Fact or Fiction: Should winners reach Masters?
Masters Memories
•
Harig: O'Meara couldn't believe '88 win
•
Harig: Lyle still relishes '88 victory
•
Sobel: Player makes Masters history
•
Sobel: De Vicenzo's '68 gaffe still rings true
•
Harig: Palmer's '58 win still controversial
•
Harig: Past champs share Masters memories
•
'07 E-Ticket: Thompson's walk with his late father
Blogs
•
Sobel: Readers' best Masters stories
•
Sobel: Searching for Masters stories
Podcasts
•
Sobel with Jerry Kelly
•
Harig and Sobel: Weather or not?

•
Sobel and Anderson: Previewing the Masters

Games/Widget Center
•
Putting at Amen Corner
•
Masters Best Ball Challenge
•
Add a Masters widget
More coverage
•
GolfDigest.com's Masters Countdown
•
Golf World Masters preview edition
•
ESPNMag.com: Six words about Tiger
Golf Goes Worldwide
The Masters has an initiative to get people, especially kids, playing, watching and talking about golf. Send ideas.
English language version
•
French
|
Spanish
|
Chinese
|
Japanese
|
Korean