Commentary
Forty years later, De Vicenzo's gaffe remains unbelievable
Updated:
April 5, 2008, 12:45 PM ET
By
Jason Sobel
| ESPN.com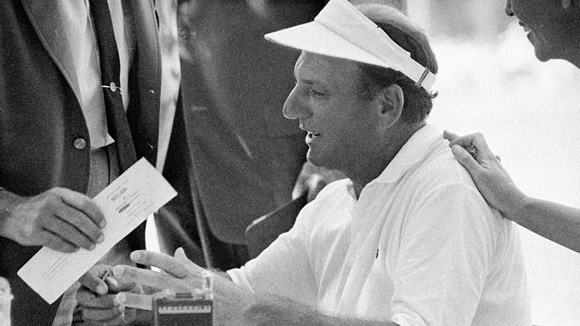 AP Photo/Eddie Kolenovsky"What a stupid I am to be wrong here," De Vicenzo said after realizing his misfortune.
Even today, 40 years later, the story reeks of insincerity. Like something straight out of "April Fools' Day for Dummies." Take a world-class professional golfer at the most prestigious tournament of the year. Watch him tie one other player for the lowest score through 72 holes, forcing an 18-hole playoff the next day. Then witness that bright smile disappear from his face as you inform him that, "Nope, sorry, due to a clerical error, you'll actually be finishing in second place this year."
1968 Masters Moment
Even 40 years later, Roberto DiVicenzo signing an incorrect scorecard is unbelievable. Take a look back with one of our series of Masters vignettes.
• Watch: DeVicenzo's scorecard error
• More moments/Masters video channel
Where's Allen Funt with the candid camera in Butler Cabin? A cry of, "Gotcha!" Or, "Surprise!" Even a belated, but befitting, "April Fools' Day!" Any of those would have sufficed for Roberto De Vicenzo, who became likely the only player in history to lose a major championship based on insufficient paperwork. If you don't know the story, here's the CliffsNotes version: On April 14, 1968 -- his 45th birthday -- De Vicenzo entered the final round of the Masters two strokes off the lead. But the reigning British Open champion played some of the best golf of his life that Sunday, firing a 7-under 65 to finish at 277 through four rounds, extending the tournament to an 18-hole playoff between him and Bob Goalby the next day. Or so he thought. On the 17th hole, De Vicenzo made a birdie 3, but playing partner Tommy Aaron, who was keeping his opponent's scorecard, put down a 4. That alone shouldn't have destroyed his chances at the green jacket … as long as he had found and corrected the mistake prior to signing the scorecard. Instead, De Vicenzo got caught up in the hubbub and hullaballoo of the moment. He signed the incorrect scorecard, meaning he had to take the higher score at that hole, giving him a 66 rather than the 65 he actually shot. And giving the Masters title to Goalby.
[+] Enlarge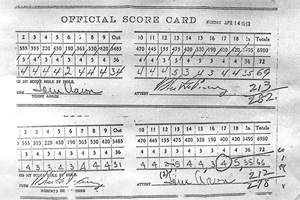 AP PhotoThat 4 at the 17th hole should have been recorded as a birdie 3.
Obviously grief-stricken following the final decision, De Vicenzo was left uttering one of the most conspicuous comments in golf's storied history: "What a stupid I am to be wrong here." The playoff never happened. Goalby received the green jacket and got his name in the record books, all the while remaining mum on the misfortune that befell De Vicenzo -- a fact that annoys the runner-up to this day. "For me, the Masters hasn't ended," De Vicenzo told Golf Digest in a 2006 interview. "Technically, the ending was legal. But there is something missing. The winner hasn't yet emerged. It lacks an ending. Someday, maybe in another place, it will be decided." De Vicenzo isn't the only one who feels this way. Goalby has received hate mail from fans who believe he didn't deserve the victory and those who feel he sabotaged De Vicenzo's scorecard. "I can see how Roberto might feel I could have changed things by asking for a playoff," Goalby said years later. "But even if I had wanted to playoff doesn't mean there would have been one. I couldn't change the rules of golf or what they had decided." Before crying for the man from Argentina, know that he often is considered a co-champion in some Augusta National circles. "After the tournament," wrote Golf Digest's Jaime Diaz, "chairman Clifford Roberts made a point of sending De Vicenzo a prize -- a sterling silver cigarette box engraved with the signatures of the previous winners -- the first and only time from 1954 to 1992 that it was given to anyone except the victor. More poignantly, a group of players surreptitiously sent him a custom tailored Augusta National green jacket with his name sewn into the lining. De Vicenzo has never worn the jacket." A member of the World Golf Hall of Fame, a man with more than 230 career professional victories, Roberto De Vicenzo is often remembered as the ultimate April Fool. Really, though, he was a victim of circumstance, the author of a poor decision at the worst possible time on golf's grandest stage. Even 40 years later, the story sounds too impossible to be true.
Jason Sobel is ESPN.com's golf editor. He can be reached at Jason.Sobel@espn3.com
Golf Editor, ESPN.com
Jason Sobel, who joined ESPN in 1997, earned four Sports Emmy awards as a member of ESPN's Studio Production department. He became ESPN.com's golf editor in July 2004.
2008 MASTERS TOURNAMENT


When: Thursday-Sunday, April 10-13
Where: Augusta National Golf Club
Yardage/Par: 7,445 yards; par 72
2007 champion: Zach Johnson
Details: Course | Field | Tee times
More: Past champs | Masters.org
Leaderboard: Follow the action
ESPN TV coverage
April 10
• Round 1: ESPN/ESPN360.com, 4-7; 8-11 p.m. ET
April 11
• Round 2: ESPN/ESPN360.com, 4-7; 8-11 p.m. ET
ESPN Video
•
Van Pelt/North: Who Will Win?
•
Complete Masters video coverage
•
Amen Corner audio slideshow

•
Sunday Conversation: Tiger Woods
•
SportsCenter: Drew Weaver feature
•
Sobel: The aura of Augusta
•
Sobel: Preparing for the Masters
Features/Columns
From Augusta National:
•
Harig: Woods begins Grand Slam pursuit
•
Masters Tournament FOREcaster
•
Harig: Amen Corner is a nervy proposition
•
Harig: Masters Monday is like no other
•
Sobel: Wagner excited about Masters opportunity
•
Harig: Grand Slam has developed over time
•
Harig: Just another Sunday at Augusta National
•
Sobel: Sunday before Masters is peaceful
•
Weekly 18: Questions abound
•
On the Hot Seat: Zach Johnson
•
Harig: Monty's lesson? Play better
•
Alternate Shot: All about Tiger
•
Fact or Fiction: How should players prepare?
•
Fact or Fiction: Should winners reach Masters?
Masters Memories
•
Harig: O'Meara couldn't believe '88 win
•
Harig: Lyle still relishes '88 victory
•
Sobel: Player makes Masters history
•
Sobel: De Vicenzo's '68 gaffe still rings true
•
Harig: Palmer's '58 win still controversial
•
Harig: Past champs share Masters memories
•
'07 E-Ticket: Thompson's walk with his late father
Blogs
•
Sobel: Readers' best Masters stories
•
Sobel: Searching for Masters stories
Podcasts
•
Sobel with Jerry Kelly
•
Harig and Sobel: Weather or not?

•
Sobel and Anderson: Previewing the Masters

Games/Widget Center
•
Putting at Amen Corner
•
Masters Best Ball Challenge
•
Add a Masters widget
More coverage
•
GolfDigest.com's Masters Countdown
•
Golf World Masters preview edition
•
ESPNMag.com: Six words about Tiger
Golf Goes Worldwide
The Masters has an initiative to get people, especially kids, playing, watching and talking about golf. Send ideas.
English language version
•
French
|
Spanish
|
Chinese
|
Japanese
|
Korean
MOST SENT STORIES ON ESPN.COM