Commentary
Shark prepares to return to Augusta
Originally Published:
March 25, 2009
By
Bob Harig
| ESPN.com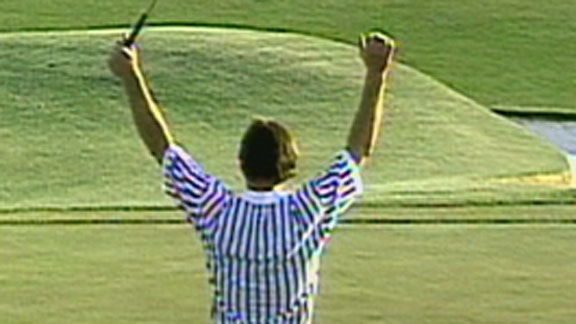 Masters Moments: 1996
NEXT VIDEO
There is no escaping it. Not now, not ever. The legacy is not one he wishes to embrace, but Greg Norman's ability to deal with the devastating defeats makes him one of golf's most endearing figures.
The Great White Shark is readying for his return to the place of great pain, and even a visit to Augusta National last week to prepare for the Masters could not pass without a reminder of all that has occurred.
"I went up there and I was playing with one of my member friends and two other guests," Norman said during a conference call with golf writers. "You walk back and they say, 'Where was Larry Mize when he chipped in?' [No.] 11 has changed a little bit, but I said, 'That's where he was.'
"As a matter of fact, when we played [on March 18], the pin position was almost identical to where Larry chipped it in. I said, 'That's where he was. Now you go over there and try to hit this shot.'
"It was one of those situations that sticks in your mind. It was a phenomenal shot and you never expected it to go in, and it went in. I made the comment many times: 'I never expected him to get up and down in two, and he got up and down in one.'"
Norman, as if any fan doesn't know, was referring to the 1987 Masters, where Augusta native Mize chipped in from 140 feet on the par-4 11th hole, the second of sudden death.
It was the second of three runner-up finishes at the Masters and one of eight top-five finishes at a tournament Norman seemed destined to win but never did in 22 appearances.
For the first time since 2002, Norman, 54, will be back at the Masters as a competitor, earning his spot in the field by finishing tied for third at the British Open last summer at Royal Birkdale.
At the time, Norman was in disbelief that his British Open showing got him a place at the Masters, where he had long ago reconciled his playing days to be complete. But once the idea sunk in, Norman embraced it by rearranging his various business interests so he could concentrate more on golf.
Although he has not played as often as he at first hinted, Norman is competing in his first regular Champions Tour event this week at the Cap Cana Championship in the Dominican Republic. He is then slated to play on the PGA Tour at the Shell Houston Open next week before the Masters.
"I think it's so neat that he played so great at the British Open," said Tony Navarro, who caddied for Norman for 14 years and now works for another Australian, Adam Scott. "He brought a lot of excitement to the game. I'm happy for him that he's playing. He's happy that he has a chance again. His son [Gregory] is going to be caddying for him. What could be better? And I tell you what, he'll play great. I wouldn't be surprised to see him earn himself back into next year's Masters."
A top-16 finish would get Norman a return trip, but he would be in the Masters field forever if he had been able to win the green jacket so many figured was just a matter of time.
Norman showed up at Augusta in 1981, virtually unknown, his nickname about to take off because of his Australian background and love for scuba diving, among other traits. It didn't hurt that he finished fourth in his first trip to the tournament.
It was in 1986 that Norman suffered his first heartbreak at Augusta. The 54-hole leader, Norman fell off the pace on the front nine, then birdied four straight holes on the back (Nos. 14-17) to tie Jack Nicklaus. A wayward 4-iron approach to the 18th green led to a bogey that cost him a playoff shot with the 46-year-old Golden Bear.
A year later, he narrowly missed a birdie putt on the 18th green that would have won and finished tied with Seve Ballesteros and Mize, who won with his dramatic chip shot on the second extra hole -- one major after Bob Tway had felled Norman at the PGA Championship with a final-hole birdie from a bunker.
Norman tied for fifth at the 1988 Masters and tied for third in 1989. Then he finished tied for sixth in 1992 and tied for third in 1995.
But 1996 might be remembered most of all. He shot a first-round 63, tying the course record, and took a 6-shot lead into the final round against Nick Faldo, only to come unraveled. By the 12th hole, the lead was gone, and Norman went on to lose by 5 strokes after shooting a 78 while Faldo came home in 67.
"That was another one of the bad ones," said Norman, who also contended on the back nine in 1999 before finishing third.
"It was a huge blow for all of us back in Australia," said Adam Scott, 28, who was just a teenager at the time.
Geoff Ogilvy, who also idolized Norman growing up, couldn't help but mention the Shark after winning the 2006 U.S. Open when Phil Mickelson made a double bogey at the 72nd hole.
"I feel kind of bad that no one ever did this for Greg," Ogilvy said. "If that was [Norman against] Phil, he would have holed out to win by a shot. Everyone in Australia has got a fair soft spot for Greg in the majors."
Perhaps that is why Norman is getting so much attention before his return to Augusta, where he tied for 36th in his last appearance in 2002.
Because of numerous media requests, Norman did a conference call with reporters. He'll undoubtedly be the subject of more inquiries this week in the Dominican Republic and next week in Houston and again when he gets to Augusta in early April.
All of which has not been lost on Norman.
When he went to the British Open last summer, he was on his honeymoon with tennis legend Chris Evert. He contemplated skipping the tournament, so poor was his game. There were many who were surprised to learn he was in the field.
And then he ended up leading through 54 holes.
"It's been a bit of an eye-opener," said Norman, who has won 20 times on the PGA Tour, including two major championships, and 90 times overall worldwide. "Sometimes you're so far out of the radar screen, like I have been the last couple of years, to get back into it really is poignant in a lot of ways.
"The fact that a lot of people did follow my career and are very excited about me getting back to Augusta ... It's going to be a lot harder to manage my expectations. It's going to be a very disciplined approach from my perspective to go in there and walk to the first tee on Thursday, and go, hell, I'm just here to have fun."
Bob Harig covers golf for ESPN.com. He can be reached at BobHarig@gmail.com.
SPONSORED HEADLINES
MORE GOLF HEADLINES
MOST SENT STORIES ON ESPN.COM
ROAD TO AUGUSTA

The elite in golf know how they are judged: By major victories. As we approach the year's first major on April 9, ESPN.com will share stories that bring to light the exceptional importance of these special tournaments.
STORIES
MASTERS MOMENTS VIDEOS