Commentary
Westwood owns narrow lead at Augusta
Originally Published:
April 10, 2010
By
Bob Harig
| ESPN.com
AUGUSTA, Ga. -- There's nothing quite like an Augusta roar. It sounds different and feels different and is different. The hallowed ground shakes and the tall pines sway and the thunderous cheers paint a picture your eyes cannot see.
It was one of those days at Augusta National, where the ball seemed to find the hole from downtown, and golf fans were the better for it.
Good luck keeping it all straight.
Lee Westwood stayed steady and emerged as the third-round leader by a stroke over Phil Mickelson, failing to follow the plot on a wild day at the Masters.
[+] Enlarge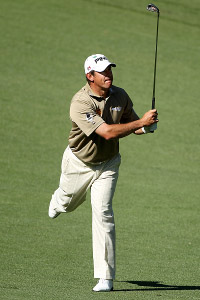 Andrew Redington/Getty ImagesLee Westwood posted scores of 67, 69 and 68 through three rounds of the Masters. In the 74-year history of the event, no player has shot four rounds in the 60s.
Mickelson nearly set the place on fire with back-to-back eagles. Fred Couples tried to match him with one of his own and Tiger Woods did an unusual yo-yo routine that still gives him a shot at the remarkable, winning his first tournament of the year.
"This is the greatest tournament in the world because the fans see a lot of great shots," said Couples, who at age 50 would become the oldest major champion in history if he can make up a 5-shot deficit on Westwood over the final 18 holes.
"The 12th, 13th, 14th, 15th ... those were amazing holes, and not just Phil, but there were other guys going through there with birdies. The roars are unbelievable, and tomorrow should be the same thing."
Westwood, 36, has his work cut out for him if he is to become the first Englishman since Nick Faldo in 1996 to don the green jacket.
With a 4-under-par 68, he survived a wild day and fared far better than countryman and playing partner Ian Poulter, whose 74 dropped him from a tie for the lead into a tie for sixth.
Westwood leads Mickelson by a shot and is four ahead of Woods and K.J. Choi.
But at one point early on the back nine, Westwood had built a 4-shot advantage, then through virtually no fault of his own, saw it turn into a 1-stroke deficit.
"It was probably one of those great days in golf, a major championship," said Westwood, who holds a 54-hole lead in a major for the first time. "I obviously wasn't privy to the things that [everyone else has] been seeing. But you know, I was well aware that somebody was making a charge, and I figured it was Phil.
"That's what major championships are about. They are tough ones to win, because people, great players do great things at major championships."
Yep, blame it on Mickelson, who put on quite a display. He knocked a 7-iron to 8 feet at the par-5 13th to set up an eagle, then holed a wedge from 141 yards for an eagle at the par-4 14th. When he nearly knocked in his third for another eagle at the 15th, the place was trembling.
"There were roars going up all over the place," said Mickelson, who shot 67. "You couldn't figure out who was doing what, because there were roars happening simultaneously throughout the course. I thought that it was really a fun day to see the leaderboard change."
"It kind of reminds me of the old days where you can make bogeys, birdies, eagles," said Kenny Perry, who stands tied for 16th. "There's a lot happening out there."
If there had been a knock on the place in recent years, it had been that Augusta National lost its way because it produced way more tears than cheers.
That seemed to change a year ago with a stirring final round and continued this year, capped by Saturday's captivating exploits.
"I think it's been quite sensational," longtime analyst Peter Alliss said on the BBC. "I don't think I've seen anything like it, really. … That savage burst of play by Mickelson was quite remarkable. It's a magical sort of hour and a half, hasn't it?"
Indeed.
All the while, Westwood maintained his composure, playing the back nine in 1 under par, making two birdies and a bogey. It wasn't spectacular, but it got the job done, and Westwood is now in position to get his long-awaited first major title.
If suffering through adversity is a prerequisite for winning a major, Westwood certainly has a résumé full of fodder.
His bookend European Tour money titles in 2000 and 2009 surrounded a very low point in 2003, when he dropped to 266th in the world. He has since rebounded, becoming a mainstay on European Ryder Cup teams and winning 20 times on that circuit, including last year's inaugural Dubai World Championship.
Perhaps more painful was his defeat at last year's British Open. Lost in Tom Watson's brush with the incredible was the fact that Westwood 3-putted the final green for bogey when he thought he would need a birdie to tie. Watson, however, bogeyed, meaning a simple par would have put Westwood in the playoff won by Stewart Cink.
"The deflation came afterwards when I was signing the scorecard and I heard the groan," Westwood said. "I wanted [Watson] to hit it close and win by 3."
It was the second year in a row Westwood missed out on a major championship playoff by a single stroke. At the 2008 U.S. Open, Westwood played in the final pairing with Woods and his 20-footer at the last hole was lost in the euphoria over Woods' remarkable birdie putt to tie Rocco Mediate. Had Westwood's putt -- which came up short -- dropped, he'd have joined them in the playoff.
All of that, he says, serves him well, having hardened him for the task ahead.
"I think it's going to be a scary day to be leading this," said Faldo, the CBS analyst who won six majors, including three Masters. "With these guys right behind him … what is going to happen with Tiger and Phil? If it's like the fireworks we had last year on the front nine? I think Lee Westwood has to be prepared for everything being thrown at him."
A year ago, Mickelson and Woods played together several groups in front of the leaders and lit up Augusta National unlike any time in recent memory. They eventually ran out of holes, but it was a pleasant reminder of what makes the Masters so great.
On Sunday, Westwood will be alongside Mickelson, with Woods a group in front. You could say he's got a great seat to watch history, but of course he's trying to make his own.
"The guys up on the leaderboard are great players," he said. "You have to expect the unexpected at times."
Bob Harig covers golf for ESPN.com. He can be reached at BobHarig@gmail.com.
SPONSORED HEADLINES
MORE GOLF HEADLINES
MOST SENT STORIES ON ESPN.COM
2010 MASTERS

Most of the bounces seemed to go Phil Mickelson's way Sunday at Augusta. None was better than seeing wife Amy greenside as he captured his third Masters title. Rick Reilly
The Masters
Date:
Apr. 8-11, 2010
2010 champion:
Phil Mickleson
Course:
Augusta National Golf Club
Where:
Augusta, Ga.
Yardage, par:
7,435 yards, par-72
TUESDAY
MONDAY
SUNDAY
SATURDAY
MASTERS.com