Commentary
Kuchar not just a pretty face anymore
Originally Published:
March 8, 2010
By
Jason Sobel
| ESPN.com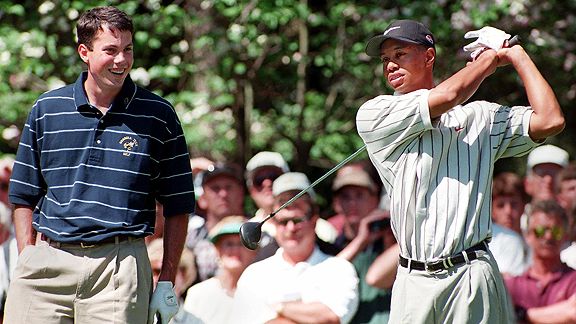 Timothy A. Clary/AFP/Getty ImageAt the 1998 Masters, amateur Matt Kuchar held his own against defending champion Tiger Woods.
Consider this quandary: You own a successful professional career, but are constantly forced to live in the past, forever reminded of a singular event in your life. When plying your craft, you often meet people and watch as they try to remember your previous achievements. Finally, with faces scrunched up and eyes squinting, that one specific instance is recalled, a flood of memories rushing back, accompanied by the words, "Hey, aren't you the guy ...?"
Welcome to Matt Kuchar's world.
Twelve years ago next month, the reigning U.S. Amateur champion took Augusta National by storm, finishing in a share of 21st place at the Masters Tournament as a fresh-faced, bright-eyed teenager. His eminent likeability was forged by his constant propensity for flashing that vaunted 1,000-kilowatt smile, enhanced by the fact that -- like tournament co-founder Bobby Jones -- he was an amateur from Georgia Tech and sealed by a performance so strong that it was the best result by a non-professional in two full decades.
"There's not a tournament week that goes by when I don't have a handful of people come by and tell me that they've been following me since my days at Augusta," Kuchar said. "So I hear about it a lot, and it's always great. It's how I'm viewed. I had a great time. I was living the fairytale for a week. I couldn't ask for anything more for my first trip down to the Masters."
In the time since, he has carved out a solid PGA Tour career that includes a pair of victories and more than $8 million in total earnings. His money list rank has increased in each of the past four seasons and he's coming off the most successful campaign in 10 years as a professional.
Even so, the majority of well-wishers still only want to discuss that initial romp through the azaleas.
And that's just fine with Kuchar. The comments don't faze him. Never have, really. Fact is, he tends to enjoy waxing poetic about that week, talking amiably about those little moments which remain clear in his mind. Like stopping on his way from the practice green to the first tee to give his grandparents a hug. Or standing over that opening tee shot, which he calls the "most nervous" he's ever been in competition. Or being paired with that year's defending champion, Tiger Woods, and coming within a stroke of his first-round score.
Kuchar has returned to the tournament on two separate occasions, qualifying for the 1999 edition via his top-24 finish one year earlier, then once again in 2002, thanks to his first career win at the Honda Classic. Neither appearance matched that first one, though, as he finished T-50 and missed the cut, respectively. He hasn't competed in the year's first major since.
That will change next month when Kuchar returns to the site that made him famous.
Follow Sobel on Twitter
Want to know what ESPN.com golf writer and blogger Jason Sobel is up to? Sign up now to track him on Twitter.
Follow him
• Follow ESPN_Golf on Twitter
"I'm very excited," he said. "It's always a goal and an aspiration, playing the Masters. To have an eight-year break, that's a lot longer than I ever thought I'd have. It's one of those special weeks that you always want to be a part of. It stinks to have to sit back home after having been there and done that and have to watch on TV. It gives you a little bit of incentive to work harder and get back there. I'm excited to make that trip down Magnolia Lane once again."
The timing couldn't be better. Already this year, Kuchar has posted a second-place finish at the Bob Hope Classic and a third at the SBS Championship, netting just less than $1 million in seven starts.
"I'm pleased with the way my game is going right now," said Kuchar, who has finished in the top 20 in eight of 11 appearances dating back to last year. "It's been a while since I've been around the course and I don't know exactly how it's going to be playing. ... I'm not the greatest long iron player, but if it's not playing super-long, I feel like I'm a good enough driver of the ball and hit my irons high enough to have a good chance. I always feel good when I get around the greens. I'm real pleased with where my game is at the moment."
Dallas-based instructor Chris O'Connell, who has been working with Kuchar since 2006, said Kuchar's short game will be key to a strong performance in early April.
"It's a second-shot golf course," O'Connell said of Augusta. "You need to be controlling distance with your irons, and for a player like Matt, I think his wedge game is going to need to be on, much like Zach Johnson when he won in 2007. Matt's a great wedge player and I would say when he's swinging well, he's a very good iron player, too."
The physical and technical parts of his game appear ready for the next major test. And on a course where experience is such a factor, Kuchar can rely not only on those three previous appearances, but plenty of casual rounds ever since, as the Atlanta resident travels to Augusta National at least once a year to tee it up.
As for the mental approach to the tournament, he will invoke a definitive strategy that may epitomize an "easier said than done" philosophy.
"I play best when I'm having a good time, when I'm enjoying myself," Kuchar said. "I'll go in with low expectations this year and have fun. I'll be challenging myself to play to the best of my ability. I think that is probably how I'll go in, with not much expectations, but looking to have a great tournament again."
If it all comes together from April 8-11 -- if his iron and wedge game is working well, if his course experience comes in handy, if his no-pressure philosophy suits him that week -- there's a chance that Matt Kuchar could make everyone forget about that original trip to Augusta National back in 1998.
Well, maybe not.
Offer up such a scenario to the man and he simply laughs, knowing he will always be remembered for the past no matter what happens in the future.
"Even if I have an incredible run," he said, "people are still going to remember me for my performance in 1998. Something about being an amateur kid, being my first time, I don't know if I can replicate that even with an incredible performance this year."
Jason Sobel is a golf writer for ESPN.com. He can be reached at Jason.Sobel@espn3.com.
Golf Editor, ESPN.com
Jason Sobel, who joined ESPN in 1997, earned four Sports Emmy awards as a member of ESPN's Studio Production department. He became ESPN.com's golf editor in July 2004.
2010 MASTERS

When the world's top players stroll down Magnolia Lane in April, each one will be in search of the famed green jacket awarded to the Masters champion. Championship Central
Date:
Apr. 8-11, 2010
2009 champion:
Angel Cabrera
Course:
Augusta National Golf Club
Where:
Augusta, Ga.
Yardage, par:
7,435 yards, par-72
TV coverage:
ESPN, CBS
ROAD TO AUGUSTA
MASTERS.com
MASTERS MOMENTS VIDEOS
MOST SENT STORIES ON ESPN.COM