Commentary
Anthony Kim's indoctrination to Augusta
Originally Published:
April 4, 2011
By
Anthony Kim
| As told to Jason Sobel
No disrespect to the U.S. Open or the British Open or the PGA Championship, but there's something about the Masters. Arriving at my first one in 2009, just driving down Washington Road was such a cool feeling. It felt great to be here with my parents, to be able to enjoy that ride together. But I didn't want to enjoy the ride and go home in two days, either.
[+] Enlarge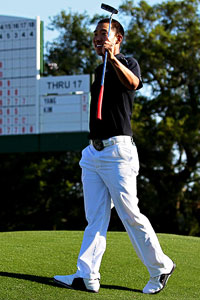 Andrew Redington/Getty ImagesAnthony Kim "didn't even know what was going on" when he set a Masters record with 11 birdies in the second round of the 2009 tournament.
Once I got to the course, I didn't know you couldn't have a cellphone here. I like listening to my iPod when I practice. They had a police officer tell me to turn it off, and I said, "I'm just listening to music. I'm not on the phone." And he said, "Seriously, you can't have your iPod on." I still thought he was kidding for another two or three minutes, but it's those little things that make it a lot more special than other tournaments.
That year, I set a tournament record with 11 birdies in the second round. I really don't know what was going through my head. I didn't even know what was going on. I was just enjoying being out there. I was grinding, because it was my first Masters. I had shot 75 the day before, so I knew I had to shoot par or better to make the cut.
I remember on the 18th hole, I felt like it would be pretty cool to finish off with a birdie, and I did it. I don't know what I was thinking, though. I need to think like that more often -- when I just completely blank out and enjoy being out here. I also had a double and two bogeys that day, so when I finished, I was like, "What did I shoot?" I started thinking, if I shot under par, I probably made a lot of birdies. Then somebody walked up, told me it was a 65 and said, "That was 11 birdies -- a new record."
I thought they were joking with me. I mean, how long has the Masters been going on with the best players in the world? I was thinking that somebody had to have made more than 11 birdies before me.
Then last year, in my second Masters start, I finished in third place. I wasn't really in contention until the back nine, but I felt like if I just kept hanging in there, I'd always heard that you can peel off a couple of birdies at Amen Corner. After I birdied 13 and 14, I felt like the tide was starting to turn and some putts were going to start falling for me.
Right before I hit my eagle putt on 15, I told my caddie, "If we birdie out after I make this putt, we're going to win this tournament." I cashed that one, then I cashed a 20-footer on 16 and I thought, "If I can drive these last two tee shots into the fairway, I'm going to win this tournament." It didn't happen, but it felt great to just be in that situation, where I had a chance to win the Masters -- the tournament I've dreamed about winning my entire life.
I think the more complicated you make it and the more pressure you put on yourself, the worse you're going to do. I definitely see that in some of the players. Even last year, some of the guys who were playing here for the first time, I could tell that they were looking at the trees and other scenery at the course.
Yeah, it's beautiful, but I'm not coming here to take a walk in the park. I'm coming to make birdies and win that green jacket at the end of the week. As beautiful as it is, I don't see that part of it as much. I'm trying to enjoy being on the golf course, but at the same time, it needs to be 90 percent business.
I don't have many superstitions, but I don't buy stuff before the event. I mean, you can play badly or something happens, you get sick -- now you have all this stuff that reminds you of missing the cut or withdrawing. Not that I've won that much -- I've won only three times -- but after I win, I just go order a bunch of stuff and give it all away to my friends.
Tribute To Jack

"Yes Sir: Jack Nicklaus and the '86 Masters" is a documentary, narrated by Jack's son and caddie Jackie, that looks back at one of the most memorable events in golf history. Watch preview
When I come here, I know that at the end of the week, I want to wear something green -- something that I didn't buy, something that they gave me. It's special to come here, but I always picture myself coming back with a green jacket. There's not a doubt in my mind that if I play well, I'm going to have a chance to win, because this course fits my game, fits my eye, and I feel like my game gets better when I get here.
I try not to allow myself to think about what it would be like to wear a green jacket. I know everything that goes into winning one. Obviously, I haven't done it yet, but I know there's a certain amount of luck that needs to happen. A lot of little bounces and breaks need to go your way to win, but you need to be playing at the top of your game during the week, too. So I'm not going to think that far ahead.
I'm sure that with three or four holes to go, though, if I have a chance to win -- whether it's this year or next year or in 10 years -- I'll start to dream about it.
SPONSORED HEADLINES
MORE GOLF HEADLINES
MOST SENT STORIES ON ESPN.COM
2011 MASTERS

Charl Schwartzel was just another intriguing talent until the final four holes of the Masters, when his unprecedented birdie charge changed his life forever. Bob Harig
• Championship Central
Date:
Apr. 7-10, 2010
2011 champion:
Charl Schwartzel
Course:
Augusta National Golf Club
Where:
Augusta, Ga.
Yardage, par:
7,435 yards, par-72
Augusta flyovers:
Front 9
|
Back 9
MONDAY
SUNDAY
SATURDAY
FRIDAY
MORE COVERAGE
MASTERS.com
MASTERS MOMENTS VIDEOS