Cooperative Zoeller burned by good intentions
Updated:
February 10, 2003, 4:58 PM ET
By
Bob Harig
| Special to ESPN.com
Rules are rules, but Fuzzy Zoeller's disqualification at the Royal Caribbean Classic was not right -- especially given the fact that Champions Tour media officials signed off on the incident that led to the DQ.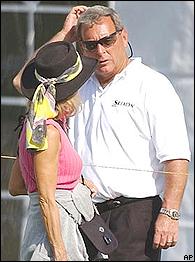 Fuzzy Zoeller was left scratching his head after his disqualification Friday.
The by-the-book version is that Zoeller got bounced from the event in Key Biscayne, Fla., because he went onto the course after the first round and hit a few practice shots. That's a golf no-no, a clear violation of Rule 7-1b, which forbids such practice. To a rules man, there is no leeway.
But Zoeller got burned because of his own good intentions. The Champions Tour has in place a number of initiatives to bring players closer to the fans. The idea is to be more friendly, more accommodating.
Zoeller was simply honoring a request to help a local television reporter. The shoot was supposed to take place on the driving range after the first round, but a media official suggested they go to the sixth tee. After Zoeller gave tips to the reporter, the cameraman asked the second-year Champions Tour player to hit a few shots he could record. Zoeller drilled three balls into a nearby lake. And that was it.
But because he hit shots off the sixth tee on the course where the event was being held, he was disqualified.
On the Golf Channel the next day, Zoeller said: "I know I wasn't supposed to hit shots on the course, but I thought the tour had waived that rule. I thought everybody had gotten the OK, so I was kind of caught in the middle. Is it my fault? Probably so. But I shouldn't be so damn nice.''
Ironically, the Champions Tour lost one of its biggest draws for the weekend because he was trying to help boost the tour.
"That was absurd," said tour player Dana Quigley. "There's no way that should be grounds for a penalty. This is when the rules officials should jump in and say this is one time we should make a precedent and not disqualify him, but just let all the guys know you can't do it."
No doubt, somebody would have balked had Zoeller not been DQ'd -- probably somebody who is also unwilling to go to the same lengths to appease sponsors, fans and media.
But in this case, there was no advantage for Zoeller to gain by hitting those shots. Common sense should have prevailed.
"They're sending the wrong signals to us," said Ed Dougherty. "They're telling us we've got to bend over (backward) and do everything. Fuzzy is doing something he thinks is right, and he gets disqualified? Geez, you talk about a black eye.''
Bob Harig covers golf for the St. Petersburg Times, and is a frequent contributor to ESPN.com. He can be reached at harig@sptimes.com
EDITORS' PICKS
Tiger's back to hitting golf balls, set for Dec. return.
Bob Harig »

Who might they be next on the HOF list?
Monday Four-Ball »

Ben Martin earns his first PGA Tour win in Las Vegas.
Story »