Ernie aside, first round a letdown for drama-seekers
Originally Published:
February 25, 2003
By
Ivan Maisel
| ESPN.com
CARLSBAD, Calif. -- When Tiger Woods starts out a match with 10 consecutive pars, it's a cry for help. The Accenture Match Play Championship needs an excitement transfusion.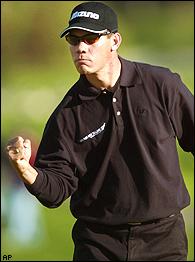 If it weren't for Phil Tataurangi's upset of Ernie Els, the first round would have been a total snoozer.
The format lends itself to comparison to the NCAA Basketball Tournament, from the 64 contestants down to this year's innovation, four 16-player brackets. But if the golf at the La Costa Resort and Spa is any indication, this event is much more than One Week Short of March Madness.
The opening day of the Match Play has the potential to be one of the best days in golf. Thirty-two matches that produce thirty-two winners and, what's more for drama fans, thirty-two losers. Ask college basketball fans for their favorite time of the year, and plenty of them will tell you the first two days of the NCAA Tournament. That's how Valparaiso becomes America's Darling, at least until its next game.
If it hadn't been for Phil Tataurangi's 20-hole defeat of Ernie Els late in the afternoon, the first round Wednesday would have been as tangy as a bowl of oatmeal. There's nothing like a Kiwi to add a bit of flavor. The 16th-seeded Tataurangi dropped a 25-foot putt to win No. 18 and extend the match into overtime. He won the second extra hole by hitting his tee shot within three feet at the 210-yard second.
Think of New Zealand A&T defeating Arizona.
"I'm just continuing my love affair with this golf course," Els said as he stood on the apron of the second green. He has not made it past the second round in any of the four Match Play Championships at La Costa. "I'm disappointed. This is what happens in 18-hole match play. It's tough."
Ask John Cook, who lost the opening three holes when Padraig Harrington birdied all of them by hitting his approach shots within eight feet. Harrington cruised to a 4-and-3 victory. The one-and-out format is supposed to provide the charm of this event. A year ago, when Woods, Phil Mickelson and David Duval lost their matches within a span of 20 minutes, the buzz deafened the golfing world.
On the other hand, as Jim Furyk pointed out, "This is what the guys in tennis go through. You show up and play until you lose."
And we all know how exciting men's tennis is these days.
Woods won his first-round match, 2 and 1, over Carl Pettersson. It's tempting to say that Woods put on a clinic -- a tax clinic. The best golfer on the planet didn't flick his charisma switch to the "on" position until the 16th green, when he poured in a 12-foot birdie putt on top of Pettersson's chip-in. Otherwise, as Woods described his round, "I went out there and really played solid golf."
Solid golf? Solid golf is a beige suit. In defense of his golf, Woods was one foot away from a birdie at the par-4 sixth when Pettersson picked up. According to the rules of scoring, Woods gets a 4, not a 3. Consecutive pars or not, however, Woods' plodding victory is all he wanted.
"I didn't take that many chances," he said, "because the wind is blowing so hard. You had to keep the ball in play, because in the rough, you can't get to the green."
No one expected the top seeds -- Woods, Els, Mickelson and Retief Goosen -- to have a walkover in the opening round. "If it was like basketball," said noted sports fan and first-round loser Scott Verplank, who fell to Angel Cabrera, 3-and-2, "the one-seeds would win 8-and-7."
One problem is La Costa itself. It's a spa. People come to La Costa to relieve tension, not to produce it. Another is the crowd, or lack thereof. The PGA Tour just left San Diego 10 days ago. Judging by the lack of a crowd Wednesday, the area has seen enough golf. As Els stood over his final bunker shot, a lone fan walked up and stood right behind him. Els stepped away, the fan apologized and moved over. When you're used to having a gallery four-deep around you, one guy can rattle you.
Els said he and his family will fly to their U.S. home in Orlando on Thursday. There he will decide whether to brave the possibility of war in the Middle East and play in the European Tour event in Dubai next week, or go to Miami for the Ford Championship at Doral.
"I'd love to go. It's one of my favorite tournaments," Els said of Dubai. "If we find it's going to be unsafe to go, I'm not going to go."
Woods, who also is supposed to play at Dubai, said he will make a decision in the next couple of days as well.
Sorry about the intrusion of the real world, but when the sports section induces sleep, it's time to turn to the front page.
Ivan Maisel is a senior writer at ESPN.com. He can be reached at ivan.maisel@espn3.com.
Senior Writer, ESPN.com
ESPN.com senior college football writer
Five-time FWAA award winner
28 seasons covering college football
SPONSORED HEADLINES
MORE GOLF HEADLINES
MOST SENT STORIES ON ESPN.COM
EDITORS' PICKS
Tiger's week went from bad to career-worst in Phoenix.
Harig »

Rory McIlroy rode a bogey-free 66 to a 4-shot lead in Dubai.
Leaderboard »

Lydia Ko could make golf history with a win Saturday.
Story »