Annika remains in a league by herself
Updated:
June 10, 2003, 4:04 PM ET
By
Mark Kreidler
| Special to ESPN.com
Dreadful shame, really. You hate to see Annika Sorenstam free-fall like this, losing her concentration after that foray into the muscular world of men's golf, surrendering her composure, seemingly forgetting all of the facets of her game that once made her the dominant female player on the planet ...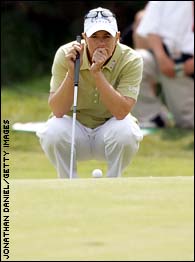 Photo by Jonathan Daniel/Getty ImagesAnnika Sorenstam has had no trouble figuring out the game of golf.
Oh, wait.
For those keeping book at home, that would be one major and one minor for Sorenstam since she stopped by Colonial to turn it on its collective ear. A week after bowing out with a second-round 75 against the boys in Texas, Sorenstam won her "Welcome Back" tournament on the LPGA Tour. Last Sunday, she followed up by capturing the LPGA Championship in Delaware, calmly making par on the first extra hole to defeat Grace Park.
All of which affirms two essential points about Sorenstam:
She may well need the PGA Tour, sooner or later, if only to find another challenge; and
You know what? We're really just talking physiology.

We're really only talking about the physical limits of Sorenstam's game when we talk about how she'd do on the extended men's tour (a guess: fair, not great), or what there is to "prove" (not much!), or how threatened anyone should feel. It needs to be noted that Sorenstam openly acknowledged the physiology involved in the thing by accepting the sponsor's exemption at Colonial, as opposed to somewhere else, because Colonial is one of the shortest tracks on the men's tour.

That was Annika's only real competitive calculation, and it was the telling one. It was Sorenstam's way of attempting to give herself the best chance to succeed by eliminating, or at least reducing, her greatest perceived disadvantage, which was distance down the fairways. (Right: We can talk about her need for an improved short game, which is what helped her win at Wilmington on Sunday. But still.)

Sorenstam, in other words, needs no compensation in the areas of mental toughness, concentration, perseverance and ambition -- the core characteristics of almost every brilliant athlete in world history. She may not be Tiger Woods, but she is well on her way to dominating the LPGA in a Woods-like manner. And no matter what Sorenstam says today, it isn't unreasonable to suggest that a place like Colonial might come calling again a year from now, and a year after that, and a year after that.

(Underreported side note of the season: Sorenstam's appearance in the Texas tournament was said to have raised perhaps an additional $1 million in charity money that week. You think a golf tournament, any golf tournament, wouldn't be interested in that kind of goodwill?)

No, Sorenstam will get another invitation, if not a truckload of invitations, to crash the PGA Tour's party again. She may well decide that it isn't in her best interests to accept. She may, on a purely pragmatic level, conclude that she cannot compete on some of the PGA Tour layouts because the courses are simply too long.

Which brings us to Michelle Wie, the 13-year-old who threatens 300 yards off the tee. What if, just thinking out loud here, Wie someday has everything necessary for the men's game except the right gender designation? What does the PGA Tour, whose bylaws do not specifically bar players on the basis of their sex, do then?

It's a premature question, but it's the question Sorenstam's existence has forced. Wie, or someone like her, could fulfill her promise and become a player unlike any the women's game has known. She could become a player whose game is well suited to the PGA Tour layouts -- long and true out of the box, good in the fairways, undaunted by a mammoth par-5.

And Wie, or someone like her, could quite imaginably grow restless on the LPGA Tour, begin looking for a greater challenge. That's the LPGA's nightmare, by the way; the tour must have been comforted by Sorenstam's declaration that her permanent place in golf was on the women's side.

In terms of a long future, I'm not convinced such sentiment will carry the day. Sports are primarily about competitive challenge; the joking lament you hear about Woods from time to time was that it's a shame there isn't a higher tour for him to join.

For Sorenstam, or Michelle Wie, or another woman even better, that may not be true. There may well be a higher tour for them to eye. And while Annika doesn't consider the possibility of actually trying to make a living playing the PGA Tour, there may soon come a day when some woman does. It'd be fascinating to see how the lords of the PGA Tour might react to that very particular challenge of their own.

Mark Kreidler is a columnist with the Sacramento Bee and a regular contributor to ESPN.com
Page 2
Regular contributor to ESPN.com
Author of "The Voodoo Wave" and "Six Good Innings"
Radio host, "The Rise Guys Show," Sacramento
SPONSORED HEADLINES
MORE GOLF HEADLINES
MOST SENT STORIES ON ESPN.COM
EDITORS' PICKS
Two of 2014's most compelling moments came off the course.
Farrell Evans »

Whaley's election puts her in line to influence much in golf.
Fields »

Tiger Woods opened his first golf course design Tuesday.
Harig »