Vijay cruises to fourth win of season
Originally Published:
October 26, 2003
Associated Press
LAKE BUENA VISTA, Fla. -- Vijay Singh has never been so close to ending Tiger Woods' four-year reign of the PGA Tour money list.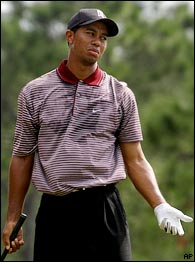 AP PhotoAfter bogeying the first hole, Tiger Woods rallied to shoot a 7-under 65 and finish tied for second.
At this rate, he won't rule out his chances of replacing him as No. 1 in the world.
Singh took a huge step toward the first goal Sunday with an easy victory in the Funai Classic at Disney, finishing with another long birdie putt for a 5-under 67 that vaulted him to the top of the money list.
''I hope I don't wake up from this dream,'' Singh said after his four-shot victory over Woods, Scott Verplank and Stewart Cink, his fourth of the year.
Singh finished at 23-under 265 and earned $720,000 to take over the lead on the money list at just over $6.8 million. He now has a $250,094 lead over Woods.
Advantage, Vijay.
The big Fijian is playing next week in the $4.8 million Chrysler Championship in Tampa, and could further pad his lead with a good finish.
Woods, who already has played eight fewer events than Singh, is taking the week off.
He did well to make sure the gap wasn't larger. Despite a bogey on the first hole, Woods shot 31 on the back nine at Magnolia for a 65 and wound up in a tie for second at 269.
In fact, Woods picked up an extra $98,000 in a matter of two minutes when Cink and John Rollins missed par putts on the final hole.
Even so, Singh could clinch the money title by winning in Tampa, which would be worth $864,000. Otherwise, the money title will be decided in Houston at the Tour Championship.
Singh addresses his rocky relationship with the media
Vijay Singh visited the media center for a news conference after winning the Funai Classic at Disney World on Sunday.

That would not usually be news, except that Singh had refused to come in the previous three days, instead submitting himself to a few brief questions outside the scoring trailer. But after accepting $720,000 from the sponsor, he could hardly pull the same trick again.

His relationship with the media, always strained, has plummeted to new depths over the past few months, ever since he was quoted in May, saying that if he missed the cut at the Colonial, he hoped Annika Sorenstam would, too.

Singh's reluctance to talk wouldn't matter if he was a journeyman, but he's No. 1 on the PGA Tour money list. After a few softball questions, he was asked what he felt his responsibilities were to the media, the tour and the tournament sponsor.

He didn't directly answer it, but made it clear that he didn't trust the press to quote him accurately.

"Everything was fine until the (Sorenstam) controversy came on," he said. "Those things hurt me. If it hurts me, it hurts you, too, because I will not talk to you if that's the case.

"Over time I will get comfortable and start talking again, but now I'm very uncomfortable talking to media guys separately because I can't trust what you're going to write."

Singh said such strained relationships have been going on forever, "not just with me, but with other sports."

"I would like to have a better relationship with the media," he added. "If I talk to you and you don't write what I say, I can't have that. You've got to quote what I say."

Singh said he had no problems with his public image.

"I'm very comfortable with my image," he said. "I am playing the best golf of my life. I have a lot of fans who support me, more than you can ever think about."
-- SportsTicker
''I'm in the best position to win the money title,'' Singh said. ''If I win next week, he can win the next week because he's not going to beat me.''
Woods did not seem fazed.
He said he's not playing in Tampa because he wants to be fresh for the $6 million Tour Championship, and he was not overly concerned when told that Singh could make the final event of the year a moot point.
''It's important, but it's not that important,'' Woods said. ''If he has it wrapped up, so be it. Anybody would rather have Player of the Year than the money title.''
Singh will go up to No. 2 when the World Ranking is released Monday, his highest position ever. Woods has been No. 1 since winning the 1999 PGA Championship, and still has a huge lead over Singh.
''I give myself another five years,'' the 40-year-old Singh said. ''It's going to be really hard to get Tiger from the No. 1 spot. He's playing so well every week. I just have to match that and play better than that in the next few years. We'll have to wait and see.''
Meantime, Singh clearly joined the race for PGA Tour Player of the Year.
Woods has five victories, one more than Singh, although the Fijian had a stronger performance in the majors.
Woods is a lock to win a fifth straight Vardon Trophy.
While the season-ending awards are up in the air, there was little doubt about the outcome at the Funai Classic on another balmy day across the Magic Kingdom, where Singh continued to play at the highest level of his career.
His four-shot victory was the widest margin at Disney since Jack Nicklaus won by nine shots in 1972, and it ended eight straight years of the tournament being decided by either one shot or a playoff.
That seemed unlikely when Singh, Cink Verplank and Rollins started the final round in a tie for the lead.
Verplank (71) and Rollins (72) failed to make a birdie on the front nine. The consolation prize for Verplank was moving up to 18th on the money list, assuring him a spot in the Tour Championship.
Cink had a 71, but managed to hang around the longest.
''It does not surprise me at all that out of the four that were 18 under, that it was him that went out there and took it,'' Cink said. ''He's on top of his game ... and I knew he was not going to make too many bogeys.''
Singh looked particularly strong, and motivated.
He is so confident in his swing that he hit driver on holes when other power players opted for fairway metals or irons, and that set him up for short irons into the greens.
Singh rolled in a 12-footer on No. 2 and was the first to go ahead. He took the lead for good on No. 8, when he recovered from an indifferent wedge into the par 5 by rolling in a 30-foot birdie putt.
The tournament effectively ended early on the back nine.
Singh's second shot into the par-5 10th covered the flag and left him a simple two-putt birdie from about 25 feet. Cink, playing in the final group behind him, came up short of the green and missed a 10-footer for birdie.
Singh got to 23 under with a 40-foot birdie on the 12th. Across the pond on the 11th green, Cink missed another excellent birdie chance from 8 feet.
All that mattered the rest of the way was his margin of victory, although Woods needed some help on the money list.
With Singh cruising to victory, it was crucial that Woods finish as high as possible, and he helped his cause by chipping in for eagle on the 10th hole and making enough putts to slowly climb up the leaderboard.
Whether it was enough will be determined in two weeks, if not sooner.
Notes
Tiger Woods was never in contention, although that didn't seem to matter to a large gallery following him. When the final group of Scott Verplank, John Rollins and Stewart Cink reached the fifth green, only 36 people were watching them. ... Hidemichi Tanaka, the only player to make par or better through the first three rounds, made a bogey on his first hole Sunday. ... Phil Mickelson shot 66 and tied for 30th. He will have to finish third next week in Tampa for any chance of making the Tour Championship. Lefty has never missed the season-ending event since he started playing a full PGA Tour schedule.

Copyright 2003 by The Associated Press
EDITORS' PICKS
Rory's day at Doral didn't quite go as he had hoped.
Bob Harig »

Before Bubba's Masters wins, he lost Doral by 1. Coincidence?
Harig »

Paula Creamer drained a bomb again, this time in heels.
Watch
MOST SENT STORIES ON ESPN.COM