40-somethings' 2003 success no fluke
Originally Published:
January 2, 2004
By
Bob Harig
| Special to ESPN.com
The future of golf might still be filled with strapping young bombers who manhandle golf courses with power and precision. There could very well be a day when workout-crazy players dominate the PGA Tour, where limber bodies filled with youth rule the land.
TIME TO TAKE OVER
By ESPN's Andy North
It's all well and good that the 40-somethings showed signs of life in 2003, but what the tour really needs is for the younger generation to take the reins in 2004. Golf needs the 20-somethings desperately. The PGA Tour needs guys like Chad Campbell, Jonathan Byrd, Sergio Garcia, Charles Howell III and Adam Scott to take their games to the next plateau this season. Otherwise, we're going to be talking about the same cast of characters for the next five years. And that's bad for golf.

These guys aren't kids anymore, you have to remember. They're peers of Tiger Woods, who turned 28 a few days ago. Most of the players we're talking about are four or five years into their careers and should be ready to take that next step.

A couple of years ago, a handful of young players earned their first victories, only to follow that up with disappointing seasons in 2003. Now it's time for a few of these guys to produce multi-win seasons or contend in majors. They're a talented bunch, and here's hoping they're ready to showcase that talent week in and week out on tour.
But it has yet to happen. And it might still be awhile before it does.
If last season was any indication, the 40-something generation will still be a force in 2004.
When the season-opening Mercedes Championships commences in Hawaii next week, there will be more players 40 or older (11) in the winners-only field than 20-somethings (six). In fact, one of them, Craig Stadler, is 50.
Other 40-somethings who came up big in 2003 but won't be in the Mercedes field include Jay Haas, now 50, Nick Price, Jeff Sluman and Brad Faxon, who had his best season since 1997.
"You can't put a price on the experience factor, because it's huge,'' said Kenny Perry, 43, who had a career year, winning three times and having a stretch of eight consecutive top-10 finishes. "I've been out here a long time, and I know these golf courses, what pins to hit at or not. And it's rare I'm going to come across a putt I haven't already had.''
In 2002, the tour had 18 first-time winners, suggesting a trend of fearless newcomers taking on the elite. But last year, that was far from the case.
In 2003, there were just seven first-timers, highlighted by the major championship victories of Ben Curtis and Shaun Micheel and the Tour Championship win by Chad Campbell.
Meanwhile, Stadler won the B.C. Open, while Vijay Singh, 40, had a career year, claiming the tour money title and winning four times. Then there was Perry with three wins. Scott Hoch, 47, Fred Couples, 44, Peter Jacobsen, 49, Bob Tway, 44, Kirk Triplett, 41, J.L. Lewis, 43, Tommy Armour III, 44, and John Huston, 42, all won tournaments.
The winners in their 20s: Tiger Woods, Ben Crane, Rory Sabbatini, Curtis, Adam Scott and Campbell.
"People talk about all the money we're playing for,'' said Price, a three-time major championship winner. "Well, I'm not hitting balls thinking about how much money I'll make. I'm hitting balls because I feel I have a chance to win.''
So are the younger players doomed? Hardly.
It's just that they are not making the quick impact expected. The leap from college stardom to pro success is huge and not guaranteed.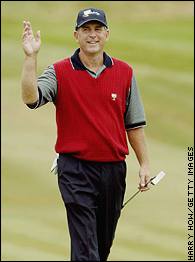 Jay Haas turned 50 last month, but showed in 2003 he can still hang with the best of the best.
And, perhaps, it has something to do with all the expectations. The pressure to perform combined with awareness by older players that they need to gear up has led to a tougher existence.
Charles Howell III failed to win in 2003 and has just one PGA Tour victory despite big credentials. Long-bombing Hank Kuehne had a strong season to finally earn his PGA Tour card for 2004, but he has found getting into contention as tough as getting onto the fairway.
Campbell, the PGA Championship runner-up to Micheel, has been said to be destined for stardom, and maybe his Tour Championship victory will lead to many more.
Scott won the Deutsche Bank tournament in Boston and gave Woods a scare at the Match Play Championship. Howell, Campbell and Scott are still the best bets to have a profound impact.
Trends come and go in golf. It could very well be that a slew of younger players emerges this year to challenge.
But it won't be easy.
What the older players lack in limberness, they make up for in guile.
Sluman went eight years without winning but has four victories since turning 40. Hoch has eight consecutive $1 million seasons. Loren Roberts was winless until age 38 but has knocked off six wins since his 40th birthday.
The 40-somethings credit desire for most of their success.
"I think you have a passion and a love for the game at this age to go out and compete against these young kids,'' Sluman said. "So I think there is a whole bunch of little reasons that go into the whole recipe of guys being able to continue to play well. And when you see somebody else doing it, you say why can't I? And I really think that has an effect on a lot of guys.''
"There are a lot of reasons, but I still think if a person has got a desire, I think your body can only start giving out when you get to your mid-50s in golf,'' Price said.
Some success undoubtedly has to do with the Champions Tour, which provides an incentive for players to continue competing throughout their 40s. Although there are many examples of players who tapered off as they approached the magical age of 50, there isn't much letdown from someone like Haas, who is now eligible for senior golf but plans to play more on the PGA Tour and hopes to qualify for the U.S. Ryder Cup team.
Many players point to Hale Irwin for inspiration. The Champions Tour's all-time victory leader is 58, yet he led the money list for a time in 2003 and won twice.
"Look at what Hale Irwin has been able to accomplish on the senior tour,'' Sluman said. "And the quality of play. I think you see that as you get into your mid-40s, and late 40s, you realize it really isn't the end of the road. There is a reason to still work hard on your game and stay competitive.''
All of this makes Woods' success even more remarkable. He began his first full season as a pro seven years ago, spawning the supposed age of the fearless young player.
But for every Charles Howell that comes along, there are far more players like Bryce Molders, an All-America at Georgia Tech a few years ago who was unable to make it out of the second stage of PGA Tour qualifying school last fall.
For most, surviving, let alone winning, takes time. And the "old'' guys know what it takes, how good they've had it. And they aren't quite ready to step aside.
Bob Harig covers golf for the St. Petersburg Times, and is a frequent contributor to ESPN.com. He can be reached at harig@sptimes.com
SPONSORED HEADLINES
MORE GOLF HEADLINES
MOST SENT STORIES ON ESPN.COM
EDITORS' PICKS
Tiger's article likely produced the opposite intended effect.
Harig »

Park, Lewis are unquestionably the top two LPGA Tour players.
Voepel »