Motivation no problem for evolving Woods
Originally Published:
January 6, 2004
By
Bob Harig
| Special to ESPN.com
Another birthday recently passed, and Tiger Woods had to blow out all of 28 candles. It is a fact easy to forget whenever Woods' game is dissected, his greatness measured. Has he even hit his prime?
MY TAKE ON TIGER
By ESPN's Andy North
I predict Tiger Woods will come out with a chip on his shoulder in 2004. Last year, there was actually talk about other players being in the same league as he was, and down deep that had to irk him. He'll want to make sure to put some distance between himself and the rest of the PGA Tour the way he did a few years ago, to put himself back atop the pedestal. That'll be his mission.

He may not make his statement in the next month, but once the Accenture Match Play and Players Championship roll around, you better watch out. He's going to be really focused by the time he visits Augusta in April, particularly because of all the negative hype surrounding his so-called "major slump."

All that talk last summer was just ridiculous. If you compare his season (five wins, Vardon Trophy, second on money list) to any other player's other than himself, it's a career year. But because Tiger has set the bar so high for himself, some folks will try to tell you it was a letdown. Please.

Woods will enter 2004 with something to prove, and we've seen the kind of golf he can play when he's got that look in his eyes -- it's not good news for the rest of the PGA Tour. The other guys had their chance to pull even with Tiger; now it's his turn again.
As the 2004 PGA Tour season commences, his eighth as a full-time member, Woods is still a very young man in a game that allows success for a long time, conceivably well past the 40th birthday.
So there is no great urgency to this season, no "time-is-running-out" feeling. At least you wouldn't think so.
But if we have learned anything from Woods, it's that he finds ways to derive motivation. And given his stated goal to win major championships, that could very well be what drives him this year.
He may not feel he has anything to prove -- not after winning five PGA Tour events last year (more than any other player), capturing his fifth consecutive Player of the Year award and running his career PGA Tour victory total to 39. But the 2003 season was still disappointing by Woods' standards, as he was shut out in major championships for the first time since 1998.
And then there is the issue of his personal life, a factor long speculated as a possible hindrance to excellence. Woods proposed to girlfriend Elin Nordegren late last year, and who knows what effect his upcoming marriage will have on his game, his life. Many have wondered how his immense focus would change. Woods hasn't announced a wedding date, but will having a wife -- and perhaps children -- complicate his professional aspirations?
There is at least one man who believes such changes will be good for Woods. Jack Nicklaus, whose 18 majors is the number Woods is chasing, has five children, one born before his first tour victory and three by the time he was 25. A family never stopped the Golden Bear.
"He will have somebody to share it with, to do it for,'' Nicklaus said. "And when he has kids, his kids will keep him playing. Tiger may say in three or four years that he's had enough, or he may refocus and win 30 majors. Who knows?''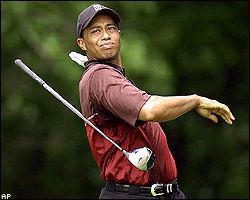 Tiger Woods' swing was a bit off in 2003.
Nicklaus never faced the kind of scrutiny Woods endures today. Many times, Nicklaus has told the story of how, when he won the 1970 British Open, he was told that he needed just three more majors to tie Bobby Jones, whose record included his amateur titles.
"It had never entered my mind,'' Nicklaus said. "But suddenly, Jones' record became something to break.''
Woods' quest began seemingly when he was born. He accumulated eight major championships so quickly -- winning four in a row in 2000-2001, then winning the first two in 2002 -- that reaching and surpassing 18 seemed inevitable.
But a year without one again showed how difficult that task will be. Woods would need to win one major a year for the next 10 years to tie Nicklaus, or go on a multiple-major spree, which he has already done but which is also proving to be more difficult.
Vijay Singh, Davis Love III and Mike Weir had career years in 2003, and only Weir captured a major. Players nobody expected to win, Ben Curtis and Shaun Micheel, stepped up to snag majors. Woods remains at eight and holding.
Can he win them all? That seemed to be the question just two years ago. Now it's more along the lines of if he can win one. That will be the type of pressure he faces at each major.
That said, Woods continues to evolve. His swing suffered in 2003, likely due to offseason knee surgery and a breakup with longtime coach Butch Harmon. Woods experimented with so many drivers that it's difficult to keep count. And yet, it is a tribute to Woods that he still led the tour in scoring average.
"I'm more consistent now,'' he said at the end of the season. "I've worked my tail off to become more consistent and not have as many flaws in my swing or game. The biggest thing that's improved is my course-management skills. I've learned. I've made a ton of mistakes. But I've learned from those, and I think that's why the game has become easier, because I've got more course management skills than I had before.''
It will be interesting to see where that takes him in 2004. A learning, evolving Tiger can't be kept without a major for long.
Bob Harig covers golf for the St. Petersburg Times, and is a frequent contributor to ESPN.com. He can be reached at harig@sptimes.com
EDITORS' PICKS
Harrington counts his blessings after Honda win.
Harig »

Scott Van Pelt updates the old caddie credo.
Listen

Lydia Ko claimed her 10th career victory Sunday in the New Zealand Open.
Story »
MOST SENT STORIES ON ESPN.COM