Time remains for Els to achieve greatness
Updated:
April 19, 2004, 1:26 PM ET
By
Ron Sirak
| GolfWorld
One of the lingering images from The Masters was Ernie Els sitting on his golf bag, eating an apple, while he waited to see if he would be in a playoff with Phil Mickelson.
It was the epitome of the Big Easy image we all have of Els, an image that occasionally leads some to speculate that he does not have the competitive fire of a true champion. Not so. What the public didn't see was an angry and disappointed Els after Mickelson holed the winning putt, angry not because Mickelson won, but because he lost. No one knew better than Els how much a green jacket would have elevated his status and put him on the verge of being considered among the best to ever play the game. And there is still plenty of time for him to achieve that status.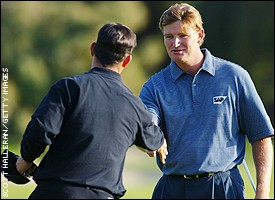 Ernie Els, who has won three major titles, finished second to Phil Mickelson at The Masters.
There are a couple of ways to look at Els' career -- either by focusing on the wins or by focusing on the near misses. In many ways, the big South African is the victim of the same phenomena that plagued
Greg Norman
: He puts himself into position to win so many times that it is easy to say the conversion rate of opportunities to victories is not what it should be.
But that would be an unfair indictment of both players. Certainly, Norman should have had at least one more major -- the blown six-shot lead in the 1996 Masters -- but more often than not he was the victim of someone else who was destined to win (see Larry Mize in the '87 Masters or Corey Pavin in the '95 U.S. Open). Els, quite simply, has been the most consistently great player other than Tiger Woods over the last decade. In fact, you could argue that while he has not been as great as Woods, he has been more consistent.
There was Els again on Sunday at Hilton Head, closing with a 69 to tie for third at the MCI Heritage. There are a lot of players who would have mailed in their effort after the disappointment Els experienced at The Masters. But perhaps one of the phenomena we are seeing right now is that several of the stars who have lived the last eight years in the Woods shadow sense an opportunity to fatten their résumés.
With Woods no longer invincible -- at least for now -- the frustration level has eased enormously. Remember in 2000 when Els finished second to Woods in both the U.S. Open and the British Open, but was a combined 23 strokes behind? That'll throw some cold water on your competitive fires.
When Woods burst on the scene with his 12-stroke victory in the 1997 Masters, it was Els who responded in a way that made you think he would be Gary Player to Tiger's Jack Nicklaus. Els won the next major -- the U.S. Open at Congressional with a magically graceful 5-iron to the 71st green under the most intense pressure. But Els then went another 21 majors until winning again at the 2002 British Open.
With two U.S. Opens -- he won at Oakmont also in 1994 -- to go with his Claret Jug, Els needed a Masters victory to get three-quarters of the way to the career Grand Slam, something only accomplished by Gene Sarazen, Ben Hogan, Nicklaus, Player and Woods. Els is truly that close -- another major championship or two -- away from joining the elite in the history of the game. He is already a slam-dunk for the Hall of Fame.
Els has 14 victories on the PGA Tour and another 35 overseas. In 47 career major championships he has finished in the top 10 an astounding 21 times, with three victories, five second-place finishes and two thirds. Of his five runner-up finishes in the majors none was more painful than this year at Augusta. But the simple fact is that he shot 67 on Sunday, made two eagles in a six-hole stretch and put pressure on a player who refused to crack. Els was simply caught up in Mickelson's karma. He didn't make bogeys; the other guy simply made more birdies.
Els, who has been very loyal to the South African Tour and the European Tour, the two places where he got his professional start, has indicated he may travel less beginning next year and perhaps focus on winning more PGA Tour events and possibly plan his schedule more with the idea of peaking for the majors. He has at least another half-dozen years to play at the top of his game -- perhaps more because that swing is so reliably fluid -- and could catch Nick Faldo, who has six career majors.
And one more past that -- seven professional majors -- puts him in a class with Arnold Palmer, Sam Snead, Sarazen, Harry Vardon and Bobby Jones. Not bad company. And it's company with whom Ernie Els may well deserve to hang out.
Ron Sirak is the executive editor of Golf World magazine
Subscribe to:
SPONSORED HEADLINES
MORE GOLF HEADLINES
MOST SENT STORIES ON ESPN.COM
EDITORS' PICKS
No caddies in the HOF? That's appalling.
Michael Collins »

As far as the course design business, Tiger and Jack are on different paths.
Bob Harig »

Need help finding a present for that golfer you know?
Gift Guide »