The Homestead (Cascades)
Originally Published:
April 27, 2004
Golf Digest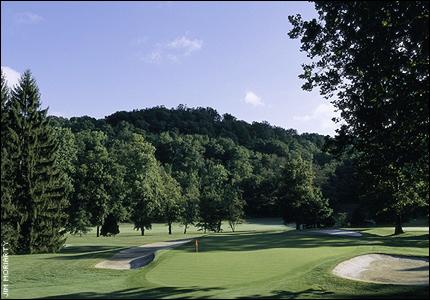 The 15th hole: a 229-yard par-3.
Golf Digest's Best Places to Play rating: ★ ★ ★ ★ ★
Need To Know
The Homestead (Cascades)
U.S. Route 220 Main Street
P.O. Box 2000
Hot Springs, VA 24445
(540) 839-3860
The Homestead's therapeutic hot springs have welcomed visitors since the resort opened in 1766 and golf was first played here on a six-hole course in 1892. Sam Snead grew up a mile and a half from the Cascades Course and caddied there as a youngster.
As befitting one of the few courses in the country rated five stars by Golf Digest's Best Places to Play, The Homestead has been the site of seven USGA championships, including the 2000 U.S. Mid-Amateur. The Cascades Course also has hosted more than 50 Virginia State Amateurs as well as the 1995 and 1996 Senior PGA Tour Shoot-Out Championships.
A William S. Flynn design, it has been said that Flynn used the mountain location to influence play, but not to dictate it. Most who play here tend to agree with that assessment.