Champions cart flap still simmers
Updated:
April 29, 2004, 2:48 PM ET
By
Bill Fields
| Golf World
It is an issue almost as old as the Champions Tour itself, one that seemed to be settled when the tour decided that starting in 2005 only players who qualified under the Americans with Disabilities Act would be permitted to ride a cart in competition. But the debate hasn't ended with the edict.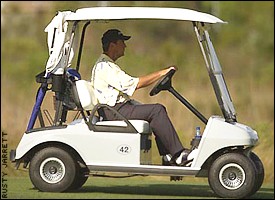 Rusty JarrettSuffering from a back ailment, Tom Purtzer claims he can't compete without using a cart.
"I wish there wasn't a cart issue," said 62-year-old Dave Stockton. "I'm not a cart rider, but it's divisive to our tour right now. I don't think it necessarily should be. If the carts in fact go away, I think there is going to be a lot of screaming and yelling."
There already is dissent, led by 52-year-old Tom Purtzer, whose victory earlier this season at the Toshiba Senior Classic was dominated by his criticism of the forthcoming cart ban, including comments that a painful back condition, spondylolisthesis, in which his disks slip out of place, might make it impossible for him to defend his title if he can't use a cart.
Purtzer, whose tie for sixth at the Liberty Mutual Legends of Golf in Savannah, Ga., was his fifth straight top-10 finish in 2004, said he discussed the issue for 90 minutes last week with PGA Tour commissioner Tim Finchem. "At least Tim listens," said Purtzer. "I think he heard what I'm saying. I don't think anything is going to change, but at least he listened. I told him every chance I get I'm going to have to mention it [to reporters]. Like I told him, you're messing with my livelihood -- the board is, the tour is -- and it just isn't right."
Rick George, a former tournament director of the PGA Tour event in New Orleans who became president of the Champions Tour last year, said the cart ban is one element in the tour's "fan- friendly" approach. "Walking down the fairways rather than riding, it fits the direction of where our tour is going," George said. "There are a lot of things we're doing, but this is the one that has caused a lot of anxiety for some people. At this point we have every intention of staying the course because we think it's the right thing for our tour. But we're always listening."
Purtzer, whose condition pinches nerves and causes pain and spasms, is known for having one of the sweetest swings in golf. If he rides, he says, he usually can get through a round without much problem. "Granted it does look better without carts," Purtzer said of the tour's image. "But is it worth not having some guys playing? We talk about the fan-friendly stuff, but how about being a little player-friendly?"
According to George, who visited every event during his first year, "We talked to a lot of players. It was discussed. It has been discussed since 1986. It's not a new subject. There are people on both sides of the fence. We just feel we made a good decision that's good for our tour. We know some people don't agree with that."
One of four players on the Champions Tour division board, Allen Doyle, doesn't believe player complaints will have much effect. "I think some players think if they keep huffing and puffing about it, they'll get the tour to back down, but I don't see that happening," Doyle said. "At the last board meeting, the attorneys told us there is no problem, that we're on solid legal ground. If I thought this was to run people off the tour, I'd be against it. But it isn't. It's a better product without carts. Things are supposed to change. Change is good most of the time."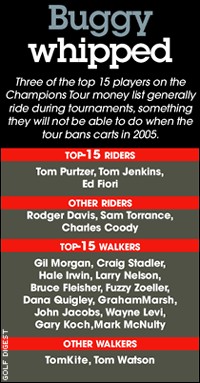 Gold Digest
But that might not be the majority opinion, according to fourth-year Champions Tour member Bruce Lietzke, who would like to see a vote of all players decide the issue. "I've heard more guys talking about it this week," Lietzke said. "Guys are talking about lawyers. I don't want to see it come to that, but it seems like this issue has some legs to it."
"That would be my absolute last resort," Purtzer said of taking legal action. "Who knows what the courts would do? It probably would come down to who has the better lawyer."
"[A legal challenge] would be a distraction from what we're doing, and it would be unfortunate," George said. "We certainly don't want that and wouldn't invite something like that. We feel this tour is making tremendous progress."
Controversy over the cart ban is the one cloud over a tour that has regained some momentum. "I think we're in great shape," Stockton said. "If the cart issue was gone, guys would find something to complain about, but it'll be a lot harder for them."
While acknowledging the vital image that the tour is trying to project, Stockton also pointed out, "We're not 25-year-olds. The players are in great shape, but some of the guys get injuries and they need to be able to ride. I hope we're able to retain [carts] and quickly, so we get this bull behind us."
Bill Fields is a senior editor for Golf World magazine
Subscribe to:
SPONSORED HEADLINES
MORE GOLF HEADLINES
MOST SENT STORIES ON ESPN.COM
EDITORS' PICKS
Adam Scott looks to be the name to win at Firestone.
Picks »

The odds Tiger can make the playoffs look remote.
Four-Ball »

The ball used by Rory McIlroy to win the Open Championship goes up for auction.
Darren Rovell »