Cog Hill Golf Club (No. 4)
Updated:
May 19, 2004, 12:30 PM ET
Golf Digest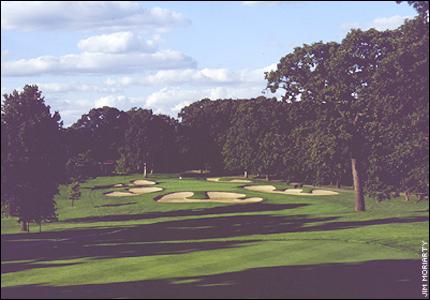 Bunkers are everywhere at Cog Hill -- especially around the green at No. 6.
Golf Digest's Best Places to Play rating: ★ ★ ★ ★ ½
Need To Know
Cog Hill Golf Club (No. 4)
12294 Archer Ave.
Lemont, IL 60439
630-257-5872
Cog Hill, on the outskirts of Chicago, is one of the top public facilities in the nation. The course was designed by Dick Wilson and Joe Lee and opened in 1964. The No. 4 Course here features 120 bunkers and can be stretched to 7,300 yards from the tips, two of the many reasons it is known as "Dubsdread."
The Western Open, which has been played on Cog Hill's No. 4 Course since 1991, is one of the oldest tournaments in the world. Willie Smith won the inaugural Western Open in 1899, the same year he won the U.S. Open. In 1997, the course garnered additional national attention as the site of the United States Amateur Championship.
Nick Price was one of two PGA Tour players to post back-to-back wins in 1993 (David Frost was the other). Price followed his win at Hartford with a win here in the Western Open. At the time his 18-under 269 was one stroke shy of the tournament record.