On Wie, putters and who's saying what
Bob Green, rest his soul, covered golf the way professional golfers thought the game should be covered. As golf writer for the Associated Press, Bob wrote about shots and scores and results.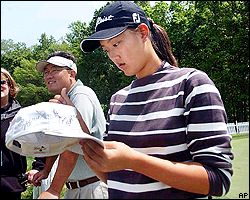 Michelle Wie's popularity at LPGA events isn't a distraction. 'It makes her work harder,' her father says.
It was clearly a different era in the game's history. Golf has become buzz-driven, controversy-inspired, issue-orientated and micro-analyzed. Birdies and bogeys just don't make for good copy anymore.
Michelle Wie, the 14-year-old amateur, gets an exemption to the U.S. Women's Open. Sounds good to me. Makes for a better Open. Puts more eyes on women's golf. Allows her to qualify for the Men's Public Links, which could be an avenue to Augusta. Besides, it wasn't the Men's Open.
Ron Sirak, my colleague and the spirited voice of women's golf for Golf World, passionately writes in his weekly internet column that the rules and the spirit of the game have been violated. Somebody needs to put us on "Pardon The Interruption," so we can yell at each other for 20 seconds before moving on to ...
Long putters! The cover of this week's Golf World. (Nothing personal, Steve Flesch.) The hottest subject in golf (before the USGA gave Wie the freebie), temporarily replacing Tiger and Butch, Tiger and Elin, Tiger and Hank. If you're a purist, the long putter is legalized cheating.
Ernie Els was asked about Trevor Immelman using a belly putter after his South African countryman took the opening round lead of the Deutsche Bank-SAP Open. Knowing the headlines his response would generate on Fleet Street, Els prefaced his remarks by saying, "Here we go." Then he strongly stated the putter should be banned because nerves are part of the game. "You know," Els said, "take a tablet if you can't handle it."
Beta Blockers was the controversy over a decade ago, but Ernie popping off certainly beat details of Immelman's 65 and became theme for the week. Immelman went super sensitive after winning Sunday. He thought it was "controversial" when a writer asked him if he were going to play more in the United States. It sounded like he needed one of those tablets.
So did Craig Parry after Johnny Miller said he swung "like a 15-handicapper." Nobody talks more golf smack than Johnny, who has become the Charles Barkley of golf by speaking his mind and not worrying about the political consequences.
Recently, Barkley told Bob Verdi (Golf World, May 21, 2004) that he'd like to see Tiger Woods take a stronger stand on issues. Well, Tiger recently did, rebuking grand old Colonial, a bandbox of a golf course where the doglegs are 225 yards out (slight exaggeration) and he'd only hit driver twice (maybe a reason why he should play).
For that momentary lapse of glibness, Tiger spent the week as golf's whipping post. Loyalists of old-style design and Texas tradition rushed to the defense of sacred Hogan's Alley. Imagine what the feedback would be like if Tiger used his fame to deliver messages on some of the world's more important problems. That's why Tiger will probably not become to this volatile world what Ali was to Barkley's generation. It's just not worth it.
The game has grown (thanks to Tiger), and media coverage has grown exponentially with it. Hootie and Martha, then Annika and Vijay dominated the first half of last year. Phil Mickelson mentioned "inferior equipment," and you would have thought he was taking a shot at Tiger's family. It's why Mickelson goes with the stock answer instead of the spontaneous "Real Phil" he showed Letterman, Leno and Kilborn.
At the Byron Nelson, I asked Phil to explain this.
"On the record, or off," he said.
Phil's decided to go John Kerry. Talk a lot. Say nothing. Let the other guys make the mistakes. It's the safe play.
Tim Rosaforte is a senior writer for Golf World magazine
Subscribe to:
SPONSORED HEADLINES
MORE GOLF HEADLINES
MOST SENT STORIES ON ESPN.COM
EDITORS' PICKS
@ESPNCaddie shares who to track in golf on Twitter.
Story »

Relive 2014's most memorable golf moments -- in photos.
The Masters

Ryder Cup defeat caused the PGA to look in the mirror.
Bob Harig »