Bill Haas makes pro debut at Booz Allen
Originally Published:
June 9, 2004
By
Bob Harig
| Special to ESPN.com
The list is short. Especially in golf. Sons who follow their fathers into sports have the blessing of excellent preparation, but the curse of expectations. Having the same type of success typically proves too difficult.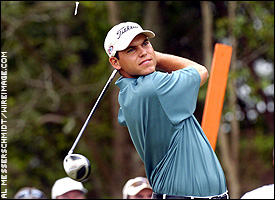 Bill Haas came into Sunday at the U.S. Open in at 6-over.
Ask the sons of Jack Nicklaus, Gary Player and Raymond Floyd, major championship winners who have all had sons try professional golf. It is almost unfair.
The latest to try is Bill Haas, who makes his pro debut this week at the Booz Allen Classic after competing with his father, Jay, at last week's U.S. Open. They became just the second father-son tandem to make the cut in the same U.S. Open.
Jay never had major-championship success, but his nine PGA Tour victories and overall consistency are still impressive feats. At age 50, he is playing some of the best golf of his life, still ranked among the top 20 players in the world.
Where they're playing

This week:
Booz Allen Classic
Site:
Potomac, Md.
Course:
TPC at Avenel
(6,987 yards, par 71)
Purse:
$4.8 million (Winner: $864,000)
Television:
Thursday: 4-6 p.m. ET (USA)
Friday: 4-6 p.m. ET (USA)
Saturday: 3-6 p.m. ET (ABC)
Sunday: 3-6 p.m. ET (ABC) Defending champ:
Rory Sabbatini

This week:
Rochester LPGA
Site:
Pittsford, N.Y.
Course:
Locust Hill Country Club
(6,192 yards, par 72)
Purse:
$1.5 million (Winner: $225,000)
Friday: 2-4 p.m. ET (ESPN2)
Saturday: 3-4 p.m. ET (ESPN2)
Sunday: 4-7 p.m. ET (ESPN2)
Defending champ:
Rachel Teske

This week:
Bank of America Championship
Site:
Concord, Mass.
Course:
Nashawtac Country Club (6,729 yards, par 72)
Purse:
$1.55 million (Winner: $232,500)
Television:
Friday: 5-7:30 p.m. ET (TGC)
Saturday: 5-7:30 p.m. ET (TGC)
Sunday: 5-7:30 p.m. ET (TGC)
Defending champ:
Allen Doyle
"People always ask me if it's been tough or a lot of pressure growing up as his son and trying to live up to expectations or whatever,'' Bill Haas said at the Open. "I try to explain that it's just not like that with us. Don't get me wrong, he's the reason I play golf. He's been my teacher, my mentor and idol as a golfer growing up. But he's never put pressure on me, and he was just as supportive when I was younger. He's been a great role model as a golfer and a father.''
Bill Haas, 22, has a sponsor's exemption into the Booz Allen Classic, one of seven he can receive this year. He will try to earn enough money to get special temporary membership status -- thus allowing him to accept unlimited exemptions -- with the hope of earning his PGA Tour card for 2005 without going to the qualifying tournament. He'll need to be among the top 125 money winners by the end of the year.
Last month, Haas graduated from Wake Forest, where his uncle, Jerry, was the coach. He won five individual titles as a senior and set an NCAA record for scoring average at 68.93. Ryan Moore of UNLV beat him at the NCAA championships but Haas was named the collegiate golfer of the year.
Haas had never made a cut in a PGA Tour event before tying for 40th at the U.S. Open. He knows his college success now means very little.
"I'm nervous, but I'm certainly not intimidated,'' he said. "I haven't done so well in previous PGA Tour starts, but I'm anxious to see what happens once I get out there a little more regularly. I really think the toughest part is going to be mental because I feel good about my game. If I can get out there and make a few cuts and start to feel like I belong, I think I'll settle in and do pretty well.''
Five Things To Watch
1.
Rory Sabbatini defends his title at the Booz Allen Classic, formerly known as the Kemper Open.
2.
Justin Leonard, the 1997 winner of the tournament, has never missed a cut in eight previous appearances at the TPC of Avenel.
3.
With a good number of players taking the week off after the U.S. Open, this might be a good time for a first-time winner. The event has had seven in 17 years at the TPC at Avenel.
4.
Rachel Teske defends her title at the Wegmans Rochester LPGA event.
5.
Allen Doyle defends his title at the Champions Tour's Bank of America Classic near Boston.
THE COURSE: TPC AT AVENEL

The TPC at Avenel has been home to what is now called the Booz Allen Classic since 1987, when Tom Kite won at the par-71 course that now measures 6,987 yards. Like other TPCs, there is plenty of room for fans on spectator mounds, and some nice landing areas in the fairways.

But players don't go way low here. Sabbatini's winning score of 270, 14 under par was shot with rounds of 68-66-68-68. The teeth of the course comes at the four finishing holes, starting with the 467-yard par-4 15th. The 17th is a 195-yard par-3, followed by the 444-yard par-4 18th.

The tournament dates to 1968, when it was known as the Kemper Open. Arnold Palmer won it in Sutton, Mass. It then moved to Charlotte from 1969 to 1980, when it moved to Congressional Country Club in Bethesda, Md. The tournament is scheduled to return to Congressional for a year in 2005.

ONE MAN'S OPINION ON SOARING U.S. OPEN SCORES

For the first time since 1963, no player broke par during the final round of the U.S. Open. There were 28 players who shot in the 80s. The scoring average was the highest since the final round of the 1972 U.S. Open. It was brutal at Shinnecock Hills on Sunday. And it was great.

Yes, the players have legitimate gripes about the setup. When the best golfers in the world are putting off greens and nearly half of them are not breaking 80, something is wrong. This time, the USGA went over the top, but was that any surprise?

The U.S. Open has always been the ultimate survival test. Last year's Open at Olympia Fields yielded a record-tying winning score by Jim Furyk. USGA history suggests that wouldn't happen again so soon. So the difficult conditions should have been expected.

It is good to see such demanding conditions once in awhile, and that's what makes the U.S. Open special. For all the talk, Retief Goosen and Phil Mickelson shot lower 72-hole scores than anyone previously at Shinnecock Hills. They shot 71s on Sunday when nobody went lower than 70. They found a way to put the ball in the best position off the tee and in the best spots on the greens. Goosen had 11 one-putts, which ultimatelly won him the tournament.

Unfair? Probably. But no surprise.

MAILBAG: ASK BOB HARIG

Got a question about the PGA Tour? Ask ESPN.com golf writer Bob Harig, who will answer a few of your inquiries in each installment of This Week in Golf.
Q. If these golfers are pros, why do they gripe when the USGA makes the course too hard. These pros are "supposed" to be role models but complain like babies when the rough is too high or the greens are too fast. The way I see it, put on your bib and take it like a man. Quit bitching, you're getting paid big money to play something I'd love to go back and do.
Kevin
Beaumont, Texas

A. The bottom line is every golfer had to deal with the same conditions at the U.S. Open (except for the first two groups on Sunday, who saw the seventh green watered after they played it). And they expect the conditions to be difficult. The argument they make concerns whether the USGA made the course quirky or unfair in its attempt to make it difficult. Several holes would not accept good shots. Balls were putted off greens. To the players, that often means that luck is rewarded more than good golf. But typically, the players who handle it the best perform the best. Retief Goosen hit just five fairways and only six greens Sunday but made up for it with an incredible putting round.

Q. What are your feelings with the handling of hole seven, on Sunday at the US Open? I believe this is the first time I have ever seen this type of action taken, I felt that No. 7 made Saturday's golf very exciting. Instead of the usual birdie fest, they were really sweating it on hole seven.
Doug Waring
Kansas City

A. The light watering that occurred at the seventh hole Sunday did not matter much. The water barely soaked in, and shots were not holding. It might have made putting a touch easier, but barely. Many believe it is nice to see the pros sweat it out for a change, and that was certainly the case at the seventh. But the severely sloping green that was designed some 70 years ago was not meant for the type of green speed that is prevalent today. Tom Kite said that before the tournament and it proved to be correct.

Q. Why do so many writers say (in a nice way now) that Phil choked? Why even write that? Nobody ever just gets beat anymore, they had to "choke". The guy made a double bogey on 17, Goosen made 1,000 one putts and won. Norman in the 96 Masters choked, painfully public, he'll tell you he choked. Phil, like 90 percent of the field on Sunday, made a double bogey. Choking brings the images of seizing up, not being able to finish your swing, flubbing shots, not three putting a "brown" (those things didn't qualify as greens) that was smooth and as fast as my bath tub. Why not write Gossen's putter won him the US Open and the golf course beat Phil and 100-plus other golfers? Jack finished second 19 times in the majors. What a choker!
Mark
Athens, Ohio

A. Those who believe Mickelson choked are in the minority. His double bogey at the 17th was not the result of nerves, or choking, but simply bad luck. By the smallest of margins, he missed hitting a perfect bunker shot that would have given him a tap-in par putt. Still, he had a 5-footer -- and who wouldn't be satisfied with that out of a bunker? But that 5-footer was treacherous, and if it didn't go in the hole, he'd have a tough one coming back. Mickelson's final-round 71 was bettered by just a single player. Unfortunately for him, the guy he was chasing shot the same score. From here, it's very tough to criticize Mickelson in this situation.
Bob Harig covers golf for the St. Petersburg Times and is a frequent contributor to ESPN.com. He can be reached at harig@sptimes.com.
SPONSORED HEADLINES
MORE GOLF HEADLINES
MOST SENT STORIES ON ESPN.COM
EDITORS' PICKS
A famous Tiger ruling came where he starts his 2015 season.
Harig »

A hole-in-one by an amateur turned the already loud TPC Scottsdale crowd up a notch.
Michael Collins »

Jerome Bettis birdied the loudest hole in golf.
Michael Collins