Wie is on verge of stardom
Updated:
July 29, 2004, 6:05 PM ET
By
Jason Sobel
| ESPN.com
A moderate golf fan should be able to recognize Carlos Franco, this week's PGA Tour winner.
A diehard golf fan might be able to recognize Wendy Doolan, this week's LPGA Tour winner.
But perhaps only close relatives and some Delaware neighbors could recognize Pete Oakley, this week's winner of the Senior British Open, who made Todd Hamilton and Ben Curtis look like favorites in their British crusades.
The Weekly 18 starts with a young woman whose face is recognized as the future of women's sports and who soon -- yes, sooner than you may think -- could be winning titles of her own.
1.
We want Wie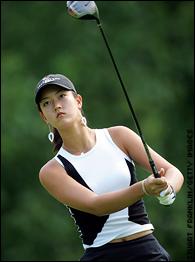 Wie's had bigger successes, but she's never proved as much as she did in France.
When
Michelle Wie
shot 72-68 to miss the cut by a stroke in January's Sony Open, it was viewed as one of the greatest recent accomplishments in golf. And as well it should have been. After all, a 14-year-old girl holding her own against the best male golfers in the world was not only astonishing, it was unprecedented.
Don't look now, but Wie's performance this past week may have been even more impressive.
In case you weren't glued to the TV screen watching the Evian Masters, here's what Wie did: 71-71-76-69 to finish T-33. Yes, she has had better finishes, but none after traveling halfway around the world (the Evian is in France) to do so.
At the Sony, Wie was playing on a course she knows, in her home state, with her family at her side. In France, she was dealing with different media, a new course and new experiences. Her performance at the Evian proves two things: Firstly, that she will become a household name around the world. Think Tiger Woods in a ponytail, and that may only scrape the surface of her worldly appeal. Secondly, and most importantly, she may be ready to contend on a high level sooner than anyone would have imagined. Can we be looking at a 15- or 16-year-old major winner in the next few years?
Much of Wie's future -- which companies she will represent, her allegiance to coach Gary Gilchrist (who recently left his position at the Leadbetter Academy) -- remains in doubt. But her success only remains a matter of when.
2.
Soren-stomped
Coming up this week
PGA Tour
Buick Open
So, you thought the Ryder Cup picture was just beginning to clear up? Here's a prediction that will make things even foggier: Chris DiMarco will win the Buick. DiMarco, who has two T-2 finishes in the past three years at Warwick Hills, ranked 18th on the points list entering the U.S. Bank; a win here would have him knocking on the door of the top 10, making things even tighter for the likes of Jay Haas, Jerry Kelly and Scott Verplank.


LPGA Tour


Weetabix British Open

Ben Curtis. Todd Hamilton. Pete Oakley. Who are we to mess with a pattern? While Annika Sorenstam will be the popular pick entering the tour's final major of the season, history says a little-known American will once again claim a British Open title. Michelle Redman and Pat Hurst are possibilities, but the pick here is Wendy Ward, who finished T-6 a year ago and enjoyed four good rounds at the Evian Masters. Ward has four top-10s this year, but hasn't won since the 2001 Wendy's (appropriately enough).


Champions Tour


U.S. Senior Open

The tour heads to St. Louis for its second major in as many weeks (and third in the last four weeks). Pick your favorite Missouri native in this one, as Hale Irwin (Joplin, Mo.) and Tom Watson (Kansas City) could be battling down the stretch on Sunday. The pick here is Irwin, as last man standing in the St. Louis heat could take home the trophy.

Annika Sorenstam
entered the final round of the Evian Masters with a three-stroke lead. If you've followed Sorenstam's career even a little, you know she only makes it a habit of extending these leads, not losing them; she's the LPGA's version of the Los Angeles Dodgers' Eric Gagne -- you know, "Game Over." But on Saturday, Sorenstam lost the lead, lost the tournament and, perhaps, lost a little of the mystique that comes with being the world's top-ranked golfer. Doolan proved what others have been learning throughout the year: Annika is beatable.
3.
No practice makes perfect
Sure, Franco won the U.S. Bank Championship on Sunday, but you get the feeling he would have rather been somewhere else than on the golf course. Like fishing. Franco spent much of his week eschewing the driving range in favor of a friend's pond, fishing for bass. Much like
Bruce Lietzke
, Franco's never seen a practice tee he liked, to the bewilderment of noted range rat
Vijay Singh
. "He tells me, 'Practice more, practice more,'" Franco says of Singh. "I say, 'I don't like it. Maybe I need it, but I don't like it.'"
4.
Milwaukee's best
Of the top 26 finishers at the U.S. Bank, 25 were Americans. The only non-American in the group? Franco, who's from Paraguay.
5.
Paraguay? More like Birdie-aguay
It was a big week for Paraguayan golfers. Not only did Franco take the U.S. Bank, but fellow countrywoman Julieta Granada won the U.S. Girls Junior Championship on Saturday. In a tournament that included much-hyped youngsters Paula Creamer and Morgan Pressel, it was 17-year-old Granada who outlasted Jane Park in the second playoff hole of the final match to win her first USGA championship.
6.
The long and short of it
Entering the week, there was plenty of talk about how the renovations to Brown Deer Park GC would make the course play much tougher. It was said to be even more of a "shotmaker's course" -- one that would reward accuracy over length -- and that pars would be at a premium. But the fact is, a 6,739-yard course on the PGA Tour is obsolete. Franco's winning score of 13 under ranked it the 14th-toughest tournament (tied with the BellSouth) in relation to par of the 30 PGA Tour stroke-play events this season.
7.
The big cheese
Jerry Kelly
calls it "my major," and most of his Wisconsin peers on the PGA Tour echo those sentiments. But no homegrown golfer has ever won the U.S. Bank (formerly known as the Greater Milwaukee Open). Kelly took low-Wisconsonian honors with a T-13 finish this year, placing well above notables
Steve Stricker
(T-36),
Skip Kendall
(T-72) and
J.P. Hayes
(MC).
8.
Easy Ryder?
Fred Funk
was highly criticized last week (and for good reason) when he skipped the British Open in favor of the much less prestigious B.C. Open in order to win Ryder Cup points. Funk's T-40 finish at the B.C. (only top-10 finishes merit points) was likely met with smirks from fellow Ryder Cup hopefuls. However, if nothing else, staying on U.S. soil better prepared Funk for this week's U.S. Bank Championship, where he took a share of second place, while others challengers to make the team (such as Jerry Kelly and
Stewart Cink
) failed to cash in on points.
9.
On the rhode
Growing up in Rhode Island,
Patrick Sheehan
was an accomplished junior golfer -- just not as accomplished as
Brett Quigley
. They often finished one-two in state tournaments, with Quigley always getting the best of Sheehan, who also lost to Brett's father, Paul, and his uncle, Dana, in state tournaments over the years. But on Sunday, Sheehan and Brett Quigley renewed their friendly rivalry on unfamiliar turf -- in the final pairing of a PGA Tour event. Quigley shot 69 to finish T-2; Sheehan shot 70 to finish T-4. They were joined in the top five by fellow Rhode Island native
Billy Andrade
, who finished T-4.
10.
On the rhode again
Brett Quigley's father roomed with him all week in Milwaukee, but that doesn't mean dad was rooting for his son. Paul Quigley was caddying for fellow Rhode Islander
Brad Faxon
, who used to caddie for Paul before joining the tour. Paul admitted to not even following his son on the leaderboard because he was on Faxon's bag for the week.
11.
Has Gossett lost it?
Coming out of the University of Texas,
David Gossett
was a phenom. As a 22-year-old, he won the 2001 John Deere Classic on a sponsor's exemption -- the first golfer to win on such an exemption since Tiger Woods at Las Vegas in 1996. After keeping his Tour card by finishing 84th on the money list in 2003, Gossett has missed the cut in 16 of 18 events this season. His $21,250 ranked him 236th entering the U.S. Bank, where he shot 80-83. Gossett hasn't broken par in 23 consecutive rounds, going back to the first round at Bay Hill in March.
12.
Mmm...mmm...not so good
A year ago at this time,
Chad Campbell
was the Next Big Thing. After a second-place finish in the PGA Championship and a win in the Tour Championship, it was clear that Campbell had arrived. Then a funny thing happened on the way to superstardom; his progress stalled a bit. This season, Campbell is one of only five players to miss the cut at all three majors, and he backed into his only win at Bay Hill when
Stuart Appleby
shot a final-round 76. Based on that win and a second place in the Colonial, he is ranked 13th on the money list, but those are the only two tournaments in which he has contended for the title. Currently seventh in the U.S. Ryder Cup points standings, Campbell is still a budding star, but all those who predicted greatness have to be scratching their heads at his lack of productivity this season.
13.
Watts up?
Wondering what ever happened to
Brian Watts
, the man who almost won the '98 British Open? He surfaced on TV sets and airwaves across the country this week to discuss his friend Todd Hamilton's Open win. Watts, who played with Hamilton for years on the Japan Tour, has played in only four PGA Tour-sanctioned events this season (making the cut in two) while playing on a major medical extension.
14.
Quite a racket
If you perused the scores from the U.S. Women's Junior Amateur Championship this week, one name stood out from the others -- Marika Lendl, the oldest daughter of former No. 1 tennis player Ivan Lendl. While dad is still pursuing his dream to become a touring pro (he has previously attempted to qualify for the U.S. Open), Marika won her first two matches before falling in the round of 16.
15.
Against all odds
Oddsmakers in Britain called it a 40,000-to-1 chance. No, not the odds on Pete Oakley to win the Senior British Open, though those odds weren't much better. It was the chances of any golfer making holes-in-one on the same hole in one tournament, and Australian Graham Marsh was able to beat the odds. After holing out a 9-iron on the 11th at Royal Portrush on Thursday, Marsh used an 8-iron to match the feat on Saturday. For his troubles, Marsh received 340 bottles of wine, prompting him to say, "There's no better prize I could have been given, being a wine connoisseur. This could just about take me out of professional golf. It's a freaky situation."
16.
Art imitates life
OK, so it's a golf movie, but it doesn't quite follow the rules (like winning the fictional Waterbury Open to gain membership on the PGA Tour). Still, while watching "Happy Gilmore" on ESPN this past Thursday, one line brought a reminder of what life is like for some golfers on tour. After all, when Shooter McGavin responds to a question about Happy Gilmore by saying, "I didn't have a chance to see him play. I was busy winning," doesn't it remind you of some of the recent questions posed to PGA Tour winners about Tiger Woods?
17.
Quote of the week
"Dad, I'm only 38!" --Todd Hamilton on ESPN Radio's Mike and Mike Show, after his father Kent claimed he's been proud of his son for 39 years.
18.
Bonus quote of the week
"Frankly, I considered heading for the beer tent." -- Evian Masters first-round leader Laura Davies, who bogeyed four of the first five holes Thursday.
Information from ESPN.com's wire services is included.

Jason Sobel is ESPN.com's golf editor. He can be reached at Jason.Sobel@espn3.com.
Golf Editor, ESPN.com
Jason Sobel, who joined ESPN in 1997, earned four Sports Emmy awards as a member of ESPN's Studio Production department. He became ESPN.com's golf editor in July 2004.
SPONSORED HEADLINES
MORE GOLF HEADLINES
MOST SENT STORIES ON ESPN.COM
EDITORS' PICKS
Tiger Woods shot 82 to miss his 13th career cut.
Bob Harig »

Tiger Woods' most dangerous foe is Tiger Woods.
Ian O'Connor »

World No. 1 Rory McIlroy leads by 1 at the Dubai Desert Classic.
Story »