For Tolles, pro golfer is a job to dye for
Updated:
August 4, 2004, 11:49 AM ET
By
Bob Verdi
| Golf World
Today's essay is about hair, so you can relax because that automatically means it's about someone else, not me. In this case, someone else is veteran golfer Tommy Tolles, although it might as well be Daniel Chopra or John E. Morgan or even Tiger Woods. But we chose Tolles because he seems to be using his head a lot recently, which is to say his normal brown coiffure has been going somewhere over the rainbow in search of green or turquoise.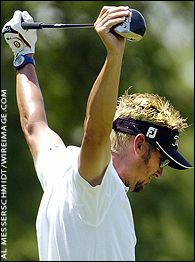 Tolles has been known to bleach his hair blatantly blonde...
At last week's Buick Open, Tolles showed up in a basic bleached-blonde 'do, something you wouldn't think could be construed by authorities as a 'don't do.' "But I know they're watching," said Tolles, recalling a recent chat with Henry Hughes, senior vice president of the rather cautious PGA Tour. Hughes is a nice man who, like a lot of us, needs a comb the way a bowling ball needs a comb. Not the point. "Golf has an image, and Henry was just doing his job," Tolles went on. "One of my blue dye-jobs caught his attention, and he wanted to know where I was going with it. I told him, 'Not pink.' I think the PGA Tour doesn't want a Dennis Rodman out here."
Rodman is the former basketball eccentric who never had a good hair day and attached various pieces of hardware to sundry parts of his body. Sometimes it appeared as though he dressed at Home Depot. As his career neared an end, Rodman also announced plans to play his final game naked, prompting NBA commissioner David Stern to say, "Dennis is right about one thing. It will be his final game."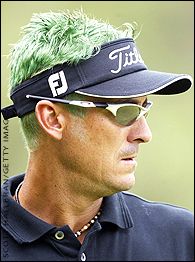 ...or go for ghastly green...
Tolles, meanwhile, is high class and low maintenance. After shooting 75 last Thursday, and before talking about hair, he stopped to sign autographs. "I don't have any piercings, don't have any tattoos, and I don't do crazy things, either," he said. "I'm not even the first one on the dance floor. I'm just doing this for fun. Same as the other guys."
Chopra, a tour newcomer born in Sweden, merely highlights his hair, but doesn't color it. Morgan, a Brit, lost a bet and went aqua at last year's B.C. Open. He "won't rule out purple" in his golf future. "And I won't have to lose a bet," he added. "I just want to be myself." Even Woods, the all-American hero, experiments. Not long ago, he emerged from the winter with kind of a rustic look, bordering on prematurely orange. "I don't know if Tiger wanted to bleach it real light and didn't leave the stuff on long enough or what," said Tolles, who dyes his hair himself rather than pay $100 or so at a salon. My great and good friend Bobbie Abare, a professional stylist from the Beau Nash beauty shop not far from the Buick Open, was somewhat aghast when she heard that. "Oh, if you're not sure what you're doing, you can make a real mess up there," she warned. "I mean, we have kids now who instead of buying a tube of color use Jell-O mix in their hair to change it. Have you ever tried to get Jell-O mix out of your hair?" Can't say that I have.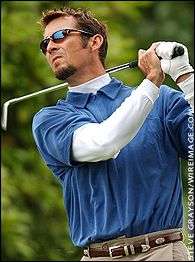 ...or even boring brown.
Tolles' most daring and most satisfying foray into follicles occurred during last year's Nationwide Tour championship, conducted around Halloween. "I did an orange with kind of black streaks," said Tolles. "Pretty proud of that." A tie for 12th there helped him regain his PGA Tour card, a privilege that didn't seem threatened when Tolles was pulling in big money: $872,000 in 1996, $826,000 a year later.
Tolles is polite, reserved and popular with peers. He is neat, scrubbed and fit, having discovered the gym ahead of the curve. That hair apparent is the only way he calls attention to himself on tour, and that goes double when he and wife Ilse, whom he met in South Africa, adjourn to Flat Rock, N.C. "It's a little town with a population of about 2,000 that's famous for being the home of Carl Sandburg, the poet," said Tolles. "It's a pretty conservative, laid-back place. When I go to the store, if they haven't seen it before, I might get a few strange looks. But basically, in a town that size, you know just about everybody. If I go into a bar with blue hair, and you'd think some of the regulars would give me a rough time ... well, chances are I either know them or their relatives. I don't have any problems."
Tolles doesn't expect any from the PGA Tour, nor should he. A couple untested hues are still out there, such as electric lava and ultra midnight, and Tolles is tempted. What's a player supposed to do during idle hotel hours? Watch The Golf Channel? There is no hair manifesto in the player manual, but there is a "conduct unbecoming" clause that can be all-encompassing.
"I've never been fined, and I don't plan to be," said Tolles. "Do I think the tour could loosen up a bit? Absolutely." Some players, offended by accusations that they are boringly similar, or similarly boring, have campaigned for the right to wear shorts in hot weather. "Ooh, I don't know about that," Tolles said. "I love Tim Herron to death, but have you ever seen those legs?"
Can't say that I have there, either. Did she say Jell-O?
Bob Verdi is a senior writer for Golf World magazine
Subscribe to:
SPONSORED HEADLINES
MORE GOLF HEADLINES
MOST SENT STORIES ON ESPN.COM
EDITORS' PICKS
Spieth's growth in the past year has been phenomenal.
Blog »

How is Jordan Spieth trending? Michael Collins breaks it down.
Watch »

What should be Tiger Woods' next move?
Monday Four-Ball »