Nantucket Golf Club
Originally Published:
August 28, 2004
Golf Digest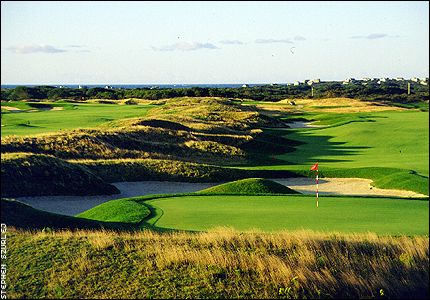 Strategic shot placement is at a premium, especially on holes like the par-4 9th.
Golf Digest's Best Places to Play rating: ★ ★ ★ ★
Need To Know
Nantucket Golf Club
250 Milestone Rd.
Siasconset, MA 02554
508-257-8600
This striking private facility on Nantucket Island is home to one of the best new courses in the U.S. Although water never comes into view, the atmosphere is one of pure links golf. Strategic placement of shots is at a premium at all times.
The Rees Jones design is among the best-manicured courses in the country and with good reason-the fee to join this ultra-exclusive club is among the highest in the country as well. Still, holes such as the marvelous par-4 ninth (shown) make it worth every penny to the members.
EDITORS' PICKS
Ted Bishop called Ian Poulter a "little school girl."
Story »

Murdaca leads by 8 shots at the Asia-Pacific Amateur Championship.
Story »

Russell Henley's 10 one-putts gave him the early McGladrey Classic lead.
Story »