Lakewood Shores Resort (Gailes)
Originally Published:
September 20, 2004
Golf Digest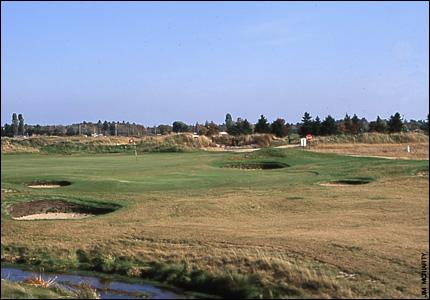 Hole No. 16: 165 yards, par 3.
Golf Digest's Best Places to Play rating: ★ ★ ★ ★ ½
Need To Know
Lakewood Shores Resort (Gailes)
Cedar Lake Road
Oscoda, Michigan 48750
800-882-2493
The Gailes course here is a Scottish links in northeast Michigan. Designed to recreate the look and feel of those famous seaside courses of Scotland, the Gailes was rated the Best New Resort Course in the United States for 1993 by Golf Digest.
Hidden hazards await all around here in the form of deep sod-faced bunkers that are poised to pounce on less than perfectly placed shots and thick, gnarled mounds of knee high fescue. Mix in the boisterous winds off of Lake Huron and you will be hard-pressed to remember that you are still in Michigan.