U.S. representation becoming an issue
Updated:
October 11, 2004, 2:44 AM ET
By
Jason Sobel
| ESPN.com
Is there a more appropriate PGA Tour stop than Las Vegas?
In Sin City this week, players rolled the dice at the Michelin Championship, hoping to cash in on the jackpot.
A big payday was in the cards for long shot Andre Stolz while third-round leader Tom Lehman simply crapped out.
But the Weekly 18 begins with a gamble that wasn't taken by many big-time U.S. golfers.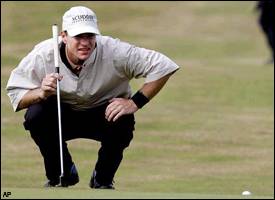 After being snubbed as a Ryder Cup captain's choice, Verplank jumped at the chance to play in the World Cup.
1.
What is the World (Cup) coming to?
The WGC World Cup is a terrific idea. Teams of two players from 24 different nations compete over a four-day span, with the winner determined during Sunday's final round. If golf were ever to become an Olympic event again, it may look very much like this tournament.
This year's tournament, to be played Nov. 16-21 at the Real Club de Golf de Sevilla in Seville, Spain, should prove to be an entertaining affair yet again. The host country will be represented its two biggest stars, Sergio Garcia and Miguel Angel Jimenez. They will be joined in the field by European Ryder Cup counterparts Padraig Harrington and Paul McGinley of Ireland, Paul Casey and Luke Donald of England, Thomas Levet of France and a bevy of other world class-level players.
Meanwhile, the United States counters with Scott Verplank and Bob Tway.
Read that last sentence again. That's right, the U.S., with nine players in the top 20 of the current World Ranking, will be represented by Verplank and Tway, the 22nd- and 53rd-ranked golfers in the world, respectively. Those two are both fine golfers and could very well win the event this year, but it's the way they were chosen wherein the problem lies.
The WGC invites the top-ranked players from each nation and lets that player choose his own partner. Call it the Tiger Rule. A few years back, WGC officials wanted Tiger Woods in the field, but he balked at being teamed with the next highest ranked U.S. golfer -- Phil Mickelson. So a mandate was established that once a player accepted the invitation, he could choose his own partner. For the record, Woods picked David Duval that year.
But this year Tiger turned down the opportunity, despite the fact that he could have chosen Duval, Mark O'Meara, John Cook or any of his buddies, no matter their standing in the World Ranking. Mickelson turned it down, too. So did Davis Love III, Stewart Cink, Jim Furyk, Chris DiMarco, Kenny Perry, Todd Hamilton and David Toms until Verplank finally accepted the nomination.
And you wonder why the United States hasn't fared well in recent Ryder Cups?
Of course, Verplank and Tway are both fine golfers who could very well win this year's event. After all, a year ago Rory Sabbatini and Trevor Immelman of South Africa took the title after fellow countrymen Ernie Els and Retief Goosen declined to play. But Tiger and Phil could have won this event, too, had they buried the hatchet and decided to give pairing together one more shot. Or Furyk and Love, two of the more accomplished Americans of the past decade. Or Cink and DiMarco, who have each said how much they enjoy competing for their country.
For those who think U.S. Ryder Cup players would fare better if they got paid, its a moot point in this situation; the World Cup has a $4 million purse. Instead, the top players aren't representing their country because, well, they simply don't want to. And until the best American players devote themselves to playing for their country whenever they can, the U.S. will continue to look apathetic in international competitions.
2.
Next question
Now that Tiger and Elin have answered the five "W" wedding questions -- Who (will attend)? What (will it be like)? When (will it happen)? Where (is it)? Why (won't they divulge any information about it)? -- the next query from media and fans will undoubtedly be How (will Tiger play now that he's a married man)? Unlike the answers to the W questions, which Woods did not disclose before his wedding day, this is an unknown variable in his professional career. Some have said being married will help ground Woods and make him a better player; others have contended that marriage will be a distraction. You heard it here first: Tiger will -- surprise! -- still be a really good golfer now that he is married. The effect that Elin has on his golf game will be seen only by Tiger and those close to him; their relationship will not be reflected on leaderboards.
3.
Andre the Giant
Earlier this year, it was rumored that not one person placed a wager on Todd Hamilton at the British Open, where sports betting is a legal endeavor. The smart money says that number was probably equaled in the amount of people placing money on Andre Stolz to win the Michelin Championship -- and with good reason. Entering this week, Stolz had made only six cuts in 19 starts on the PGA Tour this season; his best finish was a T-34 at the HP Classic in May. The $720,000 that Stolz made for winning was over eight times more than the $88,373 he had earned in those previous 19 events.
4.
The First-Timers Club
With Stolz's victory at the Michelin, there are now nine first-time winners on the PGA Tour this season. Time to separate the contenders from the pretenders. The best of the bunch are
Stephen Ames
, Todd Hamilton and
Zach Johnson
. Ames has established himself as one of the best ball-strikers on tour and should contend for a top-10 spot on the moey list for years to come. Hamilton is no one-hit wonder; in fact, he won the Honda Classic before claiming the British Open in July. He's an experienced player The next tier of first-timers includes
Mark Hensby
,
Rod Pampling
and Stolz -- all members of the Australian Invasion which is currently storming the tour. Hensby is the best of the bunch, a gritty competitor who knows how to win. Pampling and Stolz are experienced players, but tend to be very streaky. The final grouping of first-timers includes
Bart Bryant
,
Heath Slocum
and
Vaughn Taylor
, all of whom won "alternate" events in weeks in which the world's best weren't in the field (Bryant won the week of the Ryder Cup; Slocum and Taylor won the weeks of WGC events). These three are now, like all winners this season, fully exempt through 2006. It will be interesting to see how they fare during that time.
Coming up this week
PGA Tour
Funai Classic at Disney
Tiger Woods has been the prohibitive favorite at Disney for seven years running, but he's skipping this year's event, perhaps too enthralled with wedded bliss to worry about golf. No matter, this time of the year is all about keeping your card anyway, as Brent Geiberger and Andre Stolz have secured two-year exemptions with wins in each of the past two weeks. We like keeping with a trend, so look for John Rollins, Tom Carter and David Peoples -- all of whom finished in the top-12 at Disney a year ago, but are struggling to keep their card in 2004 -- to compete for the title.


Champions Tour


Charles Schwab Cup Championship

Like its counterpart on the PGA Tour, this tour championship event hasn't always yielded a winner from the top of its money list. We like a guy plucked right from the middle of the field of 30, so we're going with Morris Hatalsky, currently 15th on the Champions Tour money list. Hatalsky wields one of the hottest putters on tour and is returning to his native California for this one.
5.
Tag! You're it!
Tag Ridings
' 2003 rookie season was highly unsuccessful. After qualifying for the PGA Tour by finishing 14th on the 2002 Nationwide Tour money list, Ridings made only one cut in six events before succumbing to a herniated disc in his back and a shoulder injury. This season he is playing on what the tour calls a Major Medical Exemption. Basically he needed to earn $456,220 in 23 events in 2004 to keep his tour card. Entering the Michelin, Ridings' chances didn't look too good. He had earned $183,770 in 14 events, leaving him $272,450 short of his goal. But a share of second place with Tom Lehman and
Harrison Frazar
earned Ridings $298,667, ensuring that he will be a fully exempt member of the PGA Tour in 2005.
6.
The dirty dozen (strokes)
No,
Chez Reavie
isn't a chic new French restaurant. Chez (pronounced phoenetically, not Shay) is actually an accomplished amateur golfer who turned professional in June and played in the Michelin on a sponsor's exemption. And he played well, too, for the first two rounds. Reavie was amongst the leaders after shooting 66-64, then followed with a 3-over 75 in Saturday's final round. On Sunday he had a chance to make a nice check in his pursuit of earning a PGA Tour card for 2005. Reavie was 1 under through four holes. Then he made bogey on 5. And another on 6. And one more on 8. And again on 12, 14 and 15. But those were nothing compared to what happened on 16. Reavie made a septuple-bogey 12 on that hole, shooting a back-nine 47 en route to a final-round 85 and a 72nd place finish -- nine strokes behind the next closest finisher.
7.
Flying high
The main airport for the city of Las Vegas is named McCarran International Airport. The PGA Tour's official media guide lists flying among
Scott McCarron
's hobbies. Coincidence? Umm ... yes. But McCarron does usually soar amongst the leaders at the Michelin. The Reno, Nev., native nearly won there a year ago, falling in a playoff to
Stuart Appleby
and owns three other top-five finishes at the event in his career. This week McCarron had a brief layover on the leaderboard after a first-round 66, but followed up with rounds of 71-67-69 for a T-32 finish.
8.
Sweet 16
The 560-yard par-5 16th hole at TPC at Summerlin may sound like a monster, but players devoured it on Sunday. Of the 72 players competing in the final round, 41 drove the ball over 300 yards on the hole. Topping the list was winner Andre Stolz, who bombed his tee shot 355 yards before making birdie.
9.
Three for one
Playing one tournament on separate courses is an interesting idea. It's one that works at the Bob Hope, Pebble Beach Pro Am and certainly this week's Dunhill Links Championship, where the courses each own a distinct personality, helping the television viewer differentiate between which golfer is on what course on what day. The idea is much less successful at the Michelin Championship, where the overflow of golfers on different courses tends to be confusing and not very TV friendly. Sure, the PGA Tour likes showcasing two TPC courses to one of the richest resort golf regions in the world, but now that Michelin is in place as sponsor, it would do well to eliminate the extra two courses and level the playing field.
10.
He never 'tires' of watching golf
Just over one month ago, the PGA Tour event in Las Vegas was in danger of not happening this year if it didn't receive backing from a sponsor. Then Michelin stepped in to save the day and save the tournament, at least for the time being. While the company, the tour and its players all benefited from this relationship, the real winners were the fans -- not necessarily for the golf, but for the large, inflatable Michelin Man which hovered over the gallery at TPC at Summerlin and the smaller, more pliable Michelin Man who worked the crowd and mugged for face time with Stolz on the 18th green after the final round had ended. The Funai Classic has Mickey and Minnie and the John Deere has plenty of tractors, but the Michelin Man may be the PGA Tour mascot MVP this season.
11.
Going downhill at Dunhill
Vijay Singh
? T-18. Ernie Els? T-7. Retief Goosen? T-23. Padraig Harrington? MC. In a star-studded field at the Dunhill Links Championship, none of the four players ranked in the world's top 10 contended for the title. Instead, little-known
Graeme McDowell
and littler-known Stephen Gallacher battled it out down the stretch on Sunday. Gallacher persevered on the first playoff hole after McDowell put his ball in a water hazard, collecting his first career European Tour win.
12.
Unknown no more
Entering the Ryder Cup,
David Howell
was easily the least recognizable face on either team. A strong European Tour player, he scarcely plays in the U.S., but is becoming more well-known with seemingly every tournament he enters. This week was no different as Howell held the lead entering the weekend at the Dunhill Links, before finally finishing T-5. The 29-year-old is only getting better. Expect to see him playing more and more on U.S. soil in coming years.
13.
Action with Jackson
What's cooler than having a second-round lead at St. Andrews? Having a second-round lead at St. Andrews after playing a few rounds with Samuel L. Jackson. That's exactly what Howell did, and Jackson should be considered for Best Supporting Actor for his role in Howell's post-round interview that ran on The Golf Channel. A stone-faced Jackson looked on with utter importance as the golfer described his round of 65. No word yet as to whether Howell will be cast in the John Travolta role if a
Pulp Fiction II
is ever made.
14.
Bottom of the 'Cup'
What's not as cool as playing with Samuel L.? Being paired with Kevin Costner, who has parlayed an average, eight-year-old golf movie (
Tin Cup
) into dozens of pro-am appearances over the years.
If you build it, he will come.
More like,
If you ask him, he will come.
Harrington had the honor of playing with Costner at the Dunhill Links this week.
15.
Hale of a win
At 57,
Larry Nelson
isn't a prototypical U.S. Ryder Cup captain. He's not around the PGA Tour players enough, he's far removed from Ryder Cup competition and, despite winning three career majors, he's not a big name like
Fred Couples
or
Paul Azinger
. But he wants the job and the PGA of America is seriously considering him to captain its 2006 team. If Nelson doesn't get the job, however, he can take consolation in the fact that he is still competitive on the Champions Tour. Nelson proved as much with a first-hole playoff win over
Hale Irwin
at the inaugural Administaff Classic, his 19th career win on the senior circuit.
16.
Not-so-easy Ryder
Down on the Americans after the drubbing at the hands of the Euros in the Ryder Cup? Try this: Grab 23 of your closest friends (or friends of friends, cousins, uncles, guys hitting balls on the range ... you get the picture) and play your own one- or two-day Ryder Cup. Nine holes of Foursomes, nine holes of Four-ball and an 18-hole singles match for each player. Then go walk up to the first tee, tee up your ball and think about playing not for yourself, but for the other 11 guys on your team. If you don't get a touch of the nerves, maybe you should take Mickelson's spot at The K Club in 2006. After all, magnify that feeling right there by about a billion times -- with cameras following your every move, fans rooting
against
you and, oh yes, the weight of a nation riding on your back -- and that's what it must feel like to play in a Ryder Cup. Yikes.
17.
Quote of the week
"I'm kind of weird. When I play well, I play really, really well. But when I play bad, I'm horrible. I need to fix that.''
--Andre Stolz, after Saturday's third round.
18.
Bonus quote of the week
"I wasn't that excited when I putted. I thought I had more work to do."
--Stolz, admitting he thought his two-putt par on the 18th hole only qualified him for a playoff, not the victory.
Information from ESPN.com's wire services is included.

Jason Sobel is ESPN.com's golf editor. He can be reached at Jason.Sobel@espn3.com.
Golf Editor, ESPN.com
Jason Sobel, who joined ESPN in 1997, earned four Sports Emmy awards as a member of ESPN's Studio Production department. He became ESPN.com's golf editor in July 2004.
EDITORS' PICKS
Rory's game is what other pros judge themselves by now.
Harig »

Can Rory McIlroy keep his impressive play going?
Bob Harig »

Tiger might do best to learn from other pros with back issues.
Harig »
MOST SENT STORIES ON ESPN.COM