Stonewall GC at Lake Manassas
Originally Published:
November 6, 2004
Golf Digest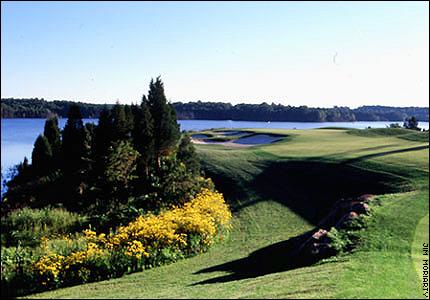 Stonewall was designed by Tom Jackson, but named after Gen. Thomas J. Jackson.
Need To Know
Stonewall Golf Club at Lake Manassas
Gainesville, Virginia
703-753-5101
Less than hour outside Washington, D.C., this Tom Jackson designed this 18-hole course that's filled with history and excitement. The layout, named after the Confederate Brigadier General Thomas J. "Stonewall" Jackson, features several holes flanked by the famed Carolina Trail that was used to shift troops during the Civil War, with its old ruts still visible in places.
The course rambles through open land along the lake as well as meanders through densely wooded hills. No. 15 (shown) is a spectacular dogleg-left par 4 that demands a drive over water.
EDITORS' PICKS
The Masters is less than 10 days away, and Tiger Woods' status remains a mystery. Should he return to golf in Augusta? Bob Harig

The name is unfamiliar, but the year's first LPGA major still comes replete with its cherished traditions. Bill Fields »

The name is unfamiliar, but the year's first LPGA major still comes replete with its cherished traditions. Bill Fields »