Kite, Aoki among other inductees
Updated:
November 11, 2004, 5:23 PM ET
Associated Press
ST. AUGUSTINE, Fla. -- Charlie Sifford only wanted a chance to play.
Despite a warning from Jackie Robinson that he would face taunts and threats, Sifford fought the PGA Tour over its Caucasian-only clause until he became its first black member in 1960. Full privileges didn't come for another five years. He couldn't stay in hotels at some of the tournaments he played.
Sifford measured success by surviving a hostile environment that infiltrated a genteel game.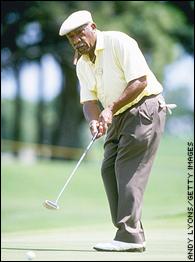 Charlie Sifford won twice during his revolutionary PGA Tour career.
So imagine how it must feel to join one of the most exclusive clubs in golf, a membership that includes only the best who ever played -- Bobby Jones and Ben Hogan, Jack Nicklaus and Arnold Palmer.
Listen to him when he answers his phone.
"Charlie Sifford, Hall of Famer," he says in a voice finally full of optimism.
An iron-willed man who spent his career fighting for inclusion, Sifford will break down another barrier Monday night when he becomes the first black member inducted into the World Golf Hall of Fame.
His credentials include only two PGA Tour victories, the 1967 Greater Hartford Open and the 1969 Los Angeles Open. He was never invited to the Masters, a wound that only healed when Tiger Woods won the green jacket in a record-setting performance in 1997.
But many believe Sifford's election through the Lifetime Achievement category was overdue.
"Charlie won tournaments, but more important, he broke a barrier," Nicklaus said. "I think what Charlie Sifford has brought to this game has been monumental. To be inducted into the Hall of Fame ... I think it's about time."
Others to be inducted at the World Golf Village:
Tom Kite, whose 19 victories included the 1992 U.S. Open at Pebble Beach. He finished in the top 20 on the PGA Tour money list 15 consecutive seasons and twice won the money title. Kite's most productive year was 1989, when he won The Players Championship, the Tour Championship and was voted PGA Tour player of the year.
Isao Aoki, with 73 victories worldwide and the only Japanese player to win on six tours. He was the first Japanese player to win on the PGA Tour, holing out for eagle on the 18th hole in the 1983 Hawaiian Open.
Marlene Streit, the first Canadian in the Hall of Fame. She has won elite amateur titles the last six decades, and captured the U.S. Senior Women's Amateur title last year at 69.

The induction ceremony will bring membership in the World Golf Hall of Fame to 104.

Sifford, 82, still remembers the April afternoon when PGA Tour commissioner Tim Finchem called to tell him he was in the Hall of Fame, with instructions not to tell anyone until the official announcement.

"I couldn't tell anyone," Sifford said, "because I didn't believe it myself."

Sifford's goals were modest by most standards. He wanted to win on the PGA Tour, play in the three U.S. majors and get inducted into the Hall of Fame.

The challenge was getting a chance.

Sifford dominated the all-black United Golfers Association, winning five straight national titles. He longed to test his game against the best, only to run into the same roadblock as Teddy Rhodes and Bill Spiller before him -- the PGA of America had a whites-only clause.

In his autobiography, "Just Let Me Play," Sifford tells of meeting Robinson in California, about the time Robinson was trying to break the color barrier in baseball.

"He asked me if I was a quitter," Sifford said. "I told him no. He said, 'If you're not a quitter, you're probably going to experience some things that will make you want to quit."'

It didn't take long for Sifford to find out. During the 1952 Phoenix Open, one of the few events blacks could play, Sifford found human feces in the cup when he got to the first green. Even more bothersome was his first trip home to North Carolina after he had his PGA Tour card.

Sifford received death threats over the phone at the '61 Greater Greensboro Open. He heard racial slurs as he walked the fairways of Sedgefield Country Club. And he still managed to finish fourth.

"I felt a larger victory," Sifford wrote. "I had come through my first southern tournament with the worst kind of social pressure and discrimination around me, and I hadn't cracked. I hadn't quit."

Sifford's courage paved the way for other blacks to play on the PGA Tour -- Pete Brown, the first black to win at the 1964 Waco Open; Lee Elder, the first black to play the Masters in 1975; Calvin Peete, whose supreme accuracy off the tee sent him to 12 victories, including The Players Championship.

Brown now works as the head pro at Madden Golf Club, a public course in Dayton, Ohio. He was thrilled to hear that Sifford, with whom he traveled the tour in a car, was taking his place among the greats in golf.

"That's better than Lee going to the Masters," Brown said. "Not everybody makes the Hall of Fame. He worked awfully hard for it under the circumstances. It took a lot of guts for him to go through what he did."

Woods said he considers Sifford a grandfather figure, saving every letter Sifford has written him since they first met when Woods was in high school.

Sifford did not go to the '97 Masters; he has never set foot on the hallowed grounds of Augusta National, still bitter over qualifications that kept him out of the Masters despite victories in Hartford and Los Angeles.

"If it wasn't for Charlie and players like Teddy Rhodes, Bill Spiller and others, we wouldn't be here," Woods said. "I certainly wouldn't probably have been introduced to the game of golf because my dad wouldn't have played. Without Charlie's diligence and dedication ... we owe everything to him and to others like him."

Woods' father considers Sifford one of his sports heroes, along with Jim Brown, Hank Aaron and Joe Louis.

"He took the punishment, the ridicule and he still persevered," Earl Woods said. "For that, he should always be remembered. Because nobody else did it but him. He was the first one."

That will be Sifford's legacy -- the first black on the PGA Tour.

And now, the first black in the World Golf Hall of Fame.

Sifford has had six months to prepare a speech for the induction ceremony and said he will speak from the heart. He remembers the closed doors, the racial slurs, the faces in the gallery who wanted him to fail.

"There is always a way to forgive," Sifford said. "But I cannot forget what I went through to get to the Hall of Fame. I know I had some bad days, some tough days.

"But it looks like everything worked out fine."


Copyright 2004 by The Associated Press
SPONSORED HEADLINES
MORE GOLF HEADLINES
MOST SENT STORIES ON ESPN.COM