A simple answer, but a complex problem
Updated:
November 15, 2004, 11:52 AM ET
By
Ron Sirak
| Golf World
ST. AUGUSTINE, Fla. -- Charlie Sifford, the first African-American to play regularly on the PGA Tour, is now the first African-American in the World Golf Hall of Fame.
Surely, his induction this week at St. Augustine, Fla., tells us how far we have come from the days when pigmentation meant closed doors in golf as it did in other areas of our society. But Sifford's induction is also a reminder of how far we still have to go.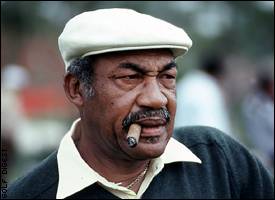 Sifford had many African-American peers in his playing days on tour. Tiger has none.
The fact that two of the top three male golfers in the world -- Vijay Singh and Tiger Woods -- are men of color is compelling and, on the surface, inspiring. But that inspiration is only skin deep. A glimpse just a shade below the surface reveals a reality closer to despair than hope. Simply put, 30 years ago there were 10 African-Americans with PGA Tour cards. Today, there is one -- Tiger Woods.
If the color line was broken more than 40 years ago by Sifford, Pete Brown and others why then are there fewer -- 90 percent fewer -- African-Americans playing professional golf today than there were in the mid-1970s, more than a decade after the PGA Tour dropped its "Caucasian Only" clause? Why, more than eight full seasons after Woods turned professional, has no other African-American golfer earned a PGA Tour card?
The answer is frighteningly simple and the solution is frustratingly complex. The dilemma is not one of race as much as it is one of class. Despite all efforts, and until recently those efforts have been dubious at best, golf has become more expensive, more time consuming and less welcoming of new players. It is a closed fraternity and the secret handshake has been denied to most.
For a variety of reasons -- the dramatic dwindling of caddie programs chief among them -- golf, perhaps more than ever, has slammed the door shut on those of modest means. It will take more than Woods to re-open that door. Thankfully, the golf industry -- through programs like The First Tee, which brings the game to children not from country club backgrounds, and Golf 20/20: Vision for the Future, a grow-the-game initiative of the golf industry -- is taking steps to address the problem.
What we have learned is that a role model like Tiger Woods is of limited importance without an organized effort to exploit that popularity. If the talent base of golf is to grow it will occur through a concerted effort, not happenstance.
Why hasn't Woods had a more major impact on the growth of golf? Well, the truth is that it is likely too early to tell what effect he has had -- at least among male players. On the female side, where athletes reach a physical peak at an earlier age, it is not a stretch to say that the talent represented by teen sensations like Michelle Wie, Paula Creamer and others are the tip of the Tiger iceberg. They were seven and 10 years old, respectively, when Woods turned pro. It could be that a similar influx of male talent is a few years down the road.
But that expansion of the golf talent pool has been successful because the game has been able to lure away talented middle class and upper class athletes from other sports -- like soccer, baseball, basketball and football. The game has not, however, had much success in terms of reaching across economic lines to bring in kids from poor or working class backgrounds. At least not yet.
If the greatest skier in the world were an African-American it is highly unlikely that it would lead to an explosion in the number of black skiers. The fact is that most African-Americans don't live near mountains. The fact is also that kids of modest means have had the golf mountain moved farther away from them. Some of the game's greatest players -- Gene Sarazen, Byron Nelson, Ben Hogan and African-American players like Sifford, Lee Elder and Calvin Peete -- had their first exposure to golf through being caddies. But because carts generate hundreds of thousands of dollars in revenue for courses each year, caddies have become an endangered species. As a result, talented athletes from financially challenged backgrounds have been locked out of the game -- both black and white. They can't get to the mountain so golf has to bring the mountain to them.
The First Tee, the initiative started by the World Golf Foundation in 1997, has to date reached 395,000 children in its mission to provide affordable, accessible facilities for every kid who wants to play the game. Currently, 178 First Tee facilities exist nationwide. The game has also been taken into the schools though the National School Golf Program, an initiative of the First Tee, which has reached 50,000 boys and girls through 130 elementary schools. The idea is simple: Expose children to the game of golf and its positive life skills -- honesty, discipline, playing by the rules -- and then make certain that every child who expresses an interest in playing the game has that opportunity.
When Tiger turned professional in 1996 he said he wanted to make golf look like America. Eight years later the PGA Tour looks more like the America of 1954 than it does of 2004. Golf 20/20 was founded five years ago with the goal to add 20 million new golfers by the year 2020. Early efforts were sabotaged by the fact that the industry was obsessed with trying to grow the game by expanding its core market -- basically white men who play a lot of golf already -- rather than trying to reach out to new golfers. Thankfully, that corner has been turned. This year's conference at the World Golf Village in St. Augustine, Fla., displayed a much stronger interest in making golf look like America. Minorities, children and women were targeted as growth areas for the game.
Charlie Sifford's PGA Tour record does not qualify him for the World Golf Hall of Fame, but the uphill fight he fought against bigotry and ignorance does. We should never forget that there was a time when skin color closed doors and we should never forget that this is still a time in which privilege begets privilege and that there are many children out there with a ton of talent in all fields who simply need to be given the opportunity to succeed. Golf is but a small corner of the world, but it is the corner of the world in which we function and the world is changed by first changing your own neighborhood. Making golf look like America by increasing the numbers of minorities and women in the game will help make America a better place.
Charlie Sifford would likely rather be remembered as a player but his importance is as a pioneer. He taught us right from wrong, now we have to build on those lessons.
Ron Sirak is the Executive Editor of Golf World magazine.
Subscribe to:
EDITORS' PICKS
What was Henrik Stenson so worked up about?
Bob Harig »

Who might slip on the winner's boots at the Valero Texas Open?
Picks »

Recent progress gives Rory McIlroy confidence heading into Augusta.
Bob Harig »
MOST SENT STORIES ON ESPN.COM