Pine Tree Golf Club
Originally Published:
November 20, 2004
Golf Digest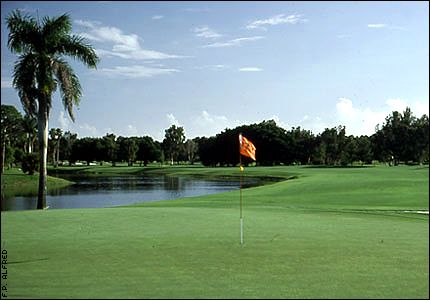 Sam Snead once won the club championship at Pine Tree.
Need To Know
Pine Tree Golf Club
10600 Pine Tree Terrace
Boynton Beach, FL 33436
561-732-6404
Ben Hogan once called Pine Tree "the best flat course in the world." One of the reasons is that architect Dick Wilson is remembered for being able to defend a green with the best golf course designers in the world. No further evidence is need than his work at Pine Tree where each approach must be played with pinpoint accuracy.
Known as a "player's club," Pine Tree members were still taken a little aback when fellow member Sam Snead entered the club championship in 1979. Despite the protestations from his fellow members, Snead played and won the stroke-play event-only to hand the trophy over to the runner-up at the awards ceremony. Sensing Snead might do just that, the club had a second trophy at the ready to give to Snead.
EDITORS' PICKS
Tiger's new coach might be just what the doctor ordered.
Harig »

The PGA elected Suzy Whaley as its first female office Saturday.
Story »