Emotions will overflow on Monday at Q School
Updated:
December 5, 2004, 9:55 PM ET
By
Wayne Drehs
| ESPN.com
ESPN.com's featured players
ESPN.com will be tracking the progress of three players throughout Q School week. Ken Green, 46, is a five-time champion on the PGA Tour, but hasn't won since 1989. He finished 233rd on the 2004 money list. Brian Kortan, 33, played in seven Q Schools without reaching the final stage before earning his first tour card on his eighth try last year. He finished 200th on the 2004 money list. Tim O'Neal, 31, was on the cusp of reaching the tour in 1999. On the final hole of Q School, needing only a bogey to secure his card, O'Neal made triple-bogey. This is his first trip back to the final stage since then.

Here's how these three players fared in Sunday's fifth round:

Ken Green

| | |
| --- | --- |
| | |
| | Green |
Saturday: 73 (+1)
Overall: 363 (+3, T-99)
Playing on the more difficult Stadium Course in adverse conditions, Green was solid for much of the day, but didn't do anything spectacular to get himself back into tour card contention. A double-bogey on No. 6 and a pair of bogeys on the back nine kept him from a round in the red.
"I pressed too hard. When you're pressing and try too hard to make something happen, the putts don't go in." -- Green
Brian Kortan

| | |
| --- | --- |
| | |
| | Kortan |
Saturday: 77 (+5)
Overall: 363 (+3, T-99)
In one hole, the dream ended. With his putts not falling for much of the day, Kortan came to the 572-yard par-5 at even par for the day, looking to make something happen. On his second shot, he had 200 yards of water to clear and failed. After a drop, he still had 171 yards of water to clear. That shot went in the water too. As did the next one. Before it was over, Kortan would take an 11. And his chances of returning to the PGA Tour were likely gone.
"You can't beat yourself up. We made a decision and it didn't pan out. The way I was playing forced my hand a bit and I didn't make the shot. That's it." -- Kortan
Tim O'Neal

| | |
| --- | --- |
| | |
| | O'Neal |
Saturday: 70 (-2)
Overall: 356 (-4, T-44)
All O'Neal has asked for is a chance. Heading into Monday's final round, he'll have just that. O'Neal rode the golfing roller-coaster on Sunday, with six birdies, two bogeys and a double-bogey. He was 3 under through seven, but found himself even through nine. Now he heads back to the course that's gotten the best of him thus far and hopes that the golf gods will finally be on his side.
"That course owes me one -- I'm telling you. I've got one coming to me. Hopefully it will be tomorrow." -- O'Neal
LA QUINTA, Calif. -- For the better part of the last five days, the cutthroat, pressure-packed tournament that is PGA Tour Qualifying School has seemed more like a friendly member-guest. Players have chatted up and down the fairway, encouraged one another to "play well" and even offered consolation to those who have struggled.
But when the sun rises in the southern California desert Monday morning, that will all change. That's when players who have stayed cool, calm and collected all week will melt into mush.
That's when drivers and putters will get tossed into trash cans. When players step onto the first tee and their stomachs will tell them they need a trash can themselves.
In a sport where organizers pray for a final day gut-wrencher, hoping for the drama of six guys within three shots of the lead on the final nine, Q School's grand finale guarantees dramatic golf theater.
Eighteen holes will be all that stands between the PGA Tour and the mini tours, between playing in Chicago and playing in Scottsbluff. And 40 players currently sit within four shots of the projected cut.
Before it's all over, players will cry. Wives will cry. Children will cry. Guys will retire, realizing the dream of reaching the PGA Tour is just that -- a dream.
"It's the ultimate test of nerves," said Nationwide player Bob Heintz. "Either you're made of what it takes to get the job done or you aren't. And you bail."
Sometime Monday afternoon the top 30 (plus ties) will earn their 2004 PGA Tour membership cards. It means that roughly 97 percent of the 1,239 players who participated in the qualifying tournament will have failed.
Compared to the NFL (which has roster spots for 900), baseball (room for 700), or even the NBA (approximately 360 players), the largest field for a PGA Tour event is 156 players.
Come Monday, all that will be on the line for the 167 remaining competitors is their livelihood. By earning your card, even if you have a mediocre year on tour, the sponsorships and prize money can be lucrative. After earning his first tour card in 2003, Brian Kortan finished 200th on the PGA Tour money list and, with endorsements, made in excess of $150,000.
"I haven't made a million dollars," Kortan said. "But I've made more than if I had to sit in an office all day and do something I wasn't crazy about."
Which makes the pressure all the more palpable. Even on Saturday, with 36 holes left, the atmosphere began to change. Clubs were slammed into divots. Players coming off the 18th tee started pointing finger guns at their temples. Agents and sponsors began combing the grounds, hoping to latch onto the next Todd Hamilton or Ryan Palmer. And for the first time all week, live television cameras showed up, broadcasting the drama nationwide.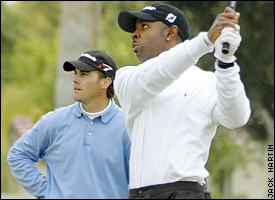 Jack HartinFive years ago, O'Neal needed a bogey on the final hole and made triple-bogey. Will things be different on Monday?
By Sunday, players were slamming their clubs with greater frequency. Omar Uresti smashed his hand against the scorer's trailer and whispered a few unfriendly words. In one hole, Kortan went from even-par on the day and still within striking distance in 51st place to 6 over and T-99.
He shot an 11 on the par-5 17th on the Jack Nicklaus Tournament Course.
Come Monday, the tumultuousness will be taken to a whole new level.
"If you have one hint of doubt in your brain on the back nine on Monday, you're not going to make it," tour veteran Ken Green said.
"You're going to see a lot of grown men running around with stains in their slacks," one caddie said. "And I'll be right there with them."
One thing is certain: Something unthinkable will happen and it will likely cost someone his card.
In 1999, it was Jaxon Brigman, who signed an incorrect scorecard. Brigman's playing partner wrote down a 4 when he actually made a 3. PGA rules required that his incorrectly high score stand, giving him an official 66, not the 65 he had shot. It was good for a six-round total of 413, not the magic 412 he needed to earn his card.
Afterwards, he held his wife and cried.
"It was almost like a death in the family," said Brigman, who has yet to reach the PGA Tour and is currently tied for 79th. "For five minutes, I had my PGA Tour card."
Then there's Tim O'Neal, who in 2000 had aspirations of joining Tiger Woods as the only African-American golfers on tour. O'Neal needed only bogey-bogey on the last two holes to earn his card, but after bogeying 17 he sliced his drive into the water on 18 and made triple-bogey.
"There's nothing -- no tournament, no event -- that compares to the pressure out here on a Monday," O'Neal said. "But you just have to get through it."
That same year, one of Joe Daley's putts ricocheted off the lip of a cup that was improperly installed and he missed by one stroke.
In 1995, Eric Epperson bogeyed six of the last nine holes in 1995 to lose his card. Two years later, John Riegger shot triple-bogey, bogey, triple-bogey and walked off the course after the 17th hole.
In 2001, Roland Thatcher hit his approach on the final hole onto the clubhouse roof. He dropped, made triple-bogey and missed by one shot. That same year, Bud Still accidentally stepped on his ball on the 16th hole, admitted the mistake, took a one-stroke penalty and eventually missed by -- you guessed it -- one stroke.
"I was so mad at myself, I about started crying," Still said at the time. "No way this can happen. But those are the little things that make Q School so interesting."
Already this week, two players have withdrawn. And another, S.K. Ho, was disqualified for signing an inaccurate scorecard.
If history is an example, it's only the beginning.
"You're going to see things that you never imagined were possible on a golf course," Green said. "It's the type of thing that's painful to watch, like a car crash. The key is to make sure you're not in it."
Wayne Drehs is a staff writer for ESPN.com. He can be reached at Wayne.Drehs@espn3.com.
Senior writer for ESPN.com
Written for ESPN.com since 2000
Three-time Sports Emmy Award winner
SPONSORED HEADLINES
MORE GOLF HEADLINES
MOST SENT STORIES ON ESPN.COM
EDITORS' PICKS
Tiger's week went from bad to career-worst in Phoenix.
Harig »

Martin Laird posted a second straight 66 to lead in Phoenix.
Leaderboard »

Lydia Ko could make golf history with a win Saturday.
Story »