Looking back at a few Masters moments
Updated:
December 22, 2004, 2:01 PM ET
By
John Hawkins
| Golf World
Memories are not meant to be ranked. Moments that leave a lasting imprint are subjective and personal -- what is quickly forgotten by some might be remembered forever by others. My wedding day doesn't mean a damn thing to you, and in terms of "importance," I can't say how it compares to the births of my children.
My three holes-in-one? Totally different story.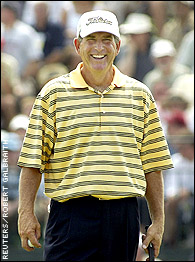 An impromptu putting lesson from Haas was one of Hawkins' favorite moments of the year.
Rankings are provocative, conversational and the cheapest presentational format you'll find. Allow me to prioritize my favorite memories while covering the PGA Tour in 2004. I promise never to bore you with details of my aces.
10. Eating dinner with Fred Couples at an Outback Steakhouse in Maui. Every middle-aged guy in the place turns into a 12-year-old once we've secured the bar's corner booth. A 45-minute parade of well-intentioned worshipers helps you realize you can't control fame. It controls you.
9. Getting one-on-one time with Tiger Woods during any tournament is difficult; majors are brutal. At the U.S. Open, I had to ask Woods about swing-criticism comments Butch Harmon had made earlier that week. When approaching Woods, you try to read his body language, knowing his caddie, Steve Williams, might greet you the way a doberman reacts to a delivery man at the front door. I asked Tiger for a minute. He said no. I said, "Well, Phil Jackson is out as coach of the Lakers and Butch had some pretty pointed things to say about your swing." Now I had Tiger's attention. "That's not being very diplomatic, now is it?" he replied, suggesting such rhetoric is a big reason the relationship ended.
8. Thursday at the Ryder Cup, U.S. captain Hal Sutton was a genius for pairing Woods with Phil Mickelson. Twenty-four hours and two defeats later, Woods-Mickelson had become the worst partnership since Julia Roberts and Lyle Lovett. As Sutton highlighted his end-of-the-day news conference with a flurry of memorable quotes, clearly exasperated by his team's play, it hit me: Why would anyone want that job?
7. The short-game practice area doesn't see much action at the AT&T Pebble Beach National Pro-Am, which made it easier for Vijay Singh to spend an hour showing his partner, zillionaire Ted Forstmann, how to chip from scraggly rough to a tight pin. Although Forstmann struggled to execute what he was being taught, I sensed Singh would have spent the entire afternoon working with his friend if it saved them one stroke that weekend.
6. As I walked down the second hole at Waialae CC Friday afternoon at the Sony Open, having watched a 14-year-old girl smash another drive past a PGA Tour pro and the best male player in Hawaii, I had this thought about Michelle Wie: Cross-gender golf involving ninth-graders seems like a great idea as long as the laboratory rat doesn't shoot 85.
5. Dumb luck had me standing in front of the Shinnecock Hills clubhouse Wednesday afternoon as David Duval arrived at the U.S. Open after an eight-month absence. Duval hopped out of a car with his wife of three months, who was promptly denied clubhouse entry for unspecified reasons. A true USGA welcome if I've ever seen one.
4. The putting lesson from Jay Haas midway through the PGA Championship. Five strokes off the lead at the time, Haas spent 45 minutes showing a few choppers the swinging-door stroke popularized by Stan Utley. You won't find a more worthwhile guy to root for, and I would have told you that before a few 15-footers started going in the hole.
3. Team Europe's victory celebration on the 18th green at Oakland Hills -- lots of song and champagne, piggyback rides and unrehearsed joy. There are a hundred reasons why we lose the Ryder Cup, none more significant than the natural camaraderie that bonds every Euro squad. Closeness breeds desire, and when you're playing for a flag, desire is worth two strokes a match.
2. A hug from Mickelson about an hour after he'd won the Masters, the best sporting event I've covered in 20 years. Mickelson and I have had our squabbles, but I've never felt happier for a golfer than I did for Lefty that evening.
1. About 30 seconds after Mickelson's winning putt, I started up the hill near the 18th green to find Ernie Els walking away from the madness, his latest Masters bid shattered in historic fashion. Our paths would cross near the clubhouse, but with 10 feet of space between us, the Big Easy was nowhere to be found. "Don't you [bleeping] come near me!" Els growled in a voice I'd never heard.
Wrong place at the wrong time, I reasoned -- no way I'd have stopped Els there, anyway. Talking to his wife 20 minutes later, I felt a large hand on my shoulder. "Sorry about that," Els said with a grin. "Heat of the moment."
Seven months later, I still can't believe he apologized.
John Hawkins is a senior writer for Golf World magazine. This column first appeared in the Dec. 17 issue.
Subscribe to:
SPONSORED HEADLINES
MORE GOLF HEADLINES
MOST SENT STORIES ON ESPN.COM
EDITORS' PICKS
Martin Kaymer's Players win catapulted him higher in 2014.
Bob Harig »

Rory McIlroy sealed his place in golf's elite with PGA win.
Harig »

Rory's Open win set him on course for a great stretch of golf.
Harig »