Wie needs to learn to win
Originally Published:
January 11, 2005
By
Bob Harig
| Special to ESPN.com
If last year's foray into the world of men's professional golf at the Sony Open proved anything for Michelle Wie, it's that she deserved another chance.
With nobody giving her a snowball's chance in Oahu of making the cut at the first full-field event of the year on the PGA Tour schedule, Wie, now 15, came within one stroke of making it to the weekend.
It was a phenomenal achievement for a girl who is not yet old enough to drive and still just a sophomore in high school.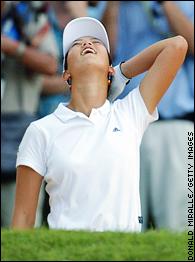 GettyWie came within one stroke of making the cut at last year's Sony Open.
And it was a hit for Sony, which got more attention for its golf tournament than would have ever been imaginable without Wie in the field. Let's face it, Wie is a marketing phenomenon in the making, and the second PGA Tour event of the season played during the meat of the NFL playoffs is hardly going to generate a yawn outside of the golf world.
Wie made the tournament matter, and she'll do so again this week.
But this is where the situation gets tricky for Wie. Does she continue to test herself against professional golfers, taking sponsor exemptions on the LPGA Tour as well? Or does she concentrate on beating people her own age?
Wie's lost at last summer's U.S. Women's Amateur pointed out again that being a prodigy does not guarantee victory. Wie lost in the second round of the tournament to In-Bee Park 1-up after squandering a 2-up lead with three holes to play. She three-putted the final green from 15 feet.
And that was probably more pressure than Wie ever faced playing in an LPGA Tour event.
The reason? She was expected to win that match at the Women's Amateur. Nobody expects her win -- at least not yet -- on the LPGA Tour. And when you are out of contention, how much pressure do you really feel when there is no paycheck on the line.
Yes, Wie blew it at the amateur -- she didn't defend her Public Links title, either -- which is why she needs to put herself in that position more often.
"This is my opinion ... there's an art form to winning," said Tiger Woods, who was asked about Wie at last week's Mercedes Championships. "And learning how to win different ways, learning how to win when you're dominating, learning how to win when you don't have anything at all, somehow you've got to gut it out and somehow win. There's so many different ways that you can win a golf tournament. I think I've gone through all of that, so I've learned.
"And it's served me very well once I got out here, because I found it's the same, so no matter what level I'm playing at you still have to overcome the same inner demons and the same process. And I think from that standpoint, I think what she's doing might hurt her ... From my own personal experience, I think winning breeds winning. My dad always believed that if I wasn't able to win at this level, we weren't moving up another level." Wie tied for 13th at the U.S. Women's Open and was fourth at the Kraft Nabisco, LPGA majors. Those were impressive performances, but really, how much pressure did she feel? Despite her fame, nobody expects her to win those tournaments. At least not yet.
Meanwhile, Wie is not learning how to win. She is not "dominating" at her level, which for her would probably considered the amateur circuit. Sure, many of those players are not as good as Wie. Maybe none of them are close. But everyone will raise their games to try and beat her. And for Wie, learning to deal with that kind of pressure will be invaluable.
Nobody is suggesting she should give up the LPGA experience or playing this week's Sony, which is in her hometown of Honolulu on a course she knows well. But she has plenty of time for professional events. Wie is all of 15, still a good 10 years away from the beginning of her prime. If she isn't going to turn pro, she should use the opportunity to play against her peers.
It will only help her in the long run.
Five Things To Bank On
1.
Two-time defending champion
Ernie Els
will be in contention again. The guy loves Waialae. He has shot 16 consecutive rounds in the 60s and is 56 under par during that stretch. In his last four appearances, Els has finished no worse than fifth.
2.
There are 25 players in the Sony field who played last week at the Mercedes Championship, and you'll likely hear them say there is no bigger difference on the PGA Tour than going from Kapalua to Waialae Country Club. The terrain, the greens, the wind ... it's a big change this week.
3.
Michelle Wie will need to hit the ball closer to the pin in order to make the cut. Last year, when she missed by a single shot, she did so with a second-round 68 that included two birdie putts longer than 50 feet. Her only close-in birdie was from 4 feet.
4.
The father-son combo of Craig and
Kevin Stadler
will be an interesting sub-plot. Craig, the Champions Tour player of the year in 2004, is still fully exempt on the PGA Tour due to his 2003 victory at the B.C. Open. Kevin earned a PGA Tour card by finishing among the top 20 on the Nationwide Tour.
5.
Last year produced 11 first-time winners on the PGA Tour and plenty of players without a victory get a chance for their first win this week. Among the best still searching for the elusive first title are
Harrison Frazar
, who lost in a playoff at the Sony to Ernie Els last year. Among others in the field without a win are
Joe Ogilvie
,
Briny Baird
,
Arron Oberholser
,
Ted Purdy
,
Hank Kuehne
and
Tim Petrovic
.
QUICK TAKE
| | |
| --- | --- |
| | |
| | Kite |
Tom Kite is playing in the Sony Open, which might seem like a nice trip down memory lane for the 1992 U.S. Open champion. But Kite is not doing so just for kicks. He plans to play a significant amount this year on the PGA Tour.

Kite's decision will be scrutinized, if not applauded. Kite, 55, has won just one tournament in the past two years on the Champions Tour, due mostly to poor putting. And he expects to have success on the PGA Tour, where such flaws might be exposed even more? It seems to be a bit of a mid-life crisis for Kite, who has been competitive in PGA Tour appearances but has not won since the 1993 L.A. Open.

Kite is using a one-time exemption for those who are among the top 50 on the PGA Tour money list. It will be interesting to see how he fares.
MAILBAG: ASK BOB HARIG
Got a question about the PGA Tour? Ask ESPN.com golf writer Bob Harig, who will answer your inquiries in each installment of This Week in Golf.

Q. What ever happened to Ty Tryon? I know he had a bad bout with mono, but did he make it out of Q-School for 2005?
Rolando Galbreath
Phoenix

A. Tryon, who qualified for the 2002 PGA Tour season before turning 18, did have a bout with mono that year and has never really recovered, at least in terms of his golf. Tryon, now 20, made just six out of 22 cuts on the Nationwide Tour in 2004 to earn $9,058. He did not make it to the finals of the PGA Tour Qualifying Tournament, meaning he will likely have to go the mini tour route this year or attempt to do a lot of Monday qualifying.

Q. How are the pairings and times determined for the first two days of a PGA tournament?
Dave
Kansas City

A. Players have priority rankings based on major victories, regular tour victories and the money list. Major winners are typically paired together, as are regular tour winners. They are also given better tee times. In other words, they are not the earliest or the latest on any given day. The lowest priority goes to Q School players, Monday qualifiers and sponsor exemptions. Players are also typically given either a morning or afternoon tee time for the first round, then switched for the second round.

Q. In regards to Tiger's record streak of not missing a cut -- does it include tournaments where there are no cuts? If it does, how meaningful is it since he did not miss the cut in such an event? If you remove all such tournaments, what would his streak total be?
Sasanka Ramanadham
St. Louis

A. Woods has now made 134 consecutive cuts, dating to the 1998 Pebble Beach Pro-Am, where the tournament was postponed due to weather and Woods elected not to return. He was deemed to have missed the cut. His streak does include all tournaments, such as the just-concluded Mercedes Championship, that do not have a cut. There have been 31 such tournaments during his run, so if you want, you could reduce his consecutive cuts streak to 103. However, it should be noted, that all players have the same advantage and can count tournaments with no cuts as made cuts. Still, the next best cut streak on tour? Vijay Singh with 25 in a row.

Q. Why is it said that every player starts even at the beginning of the PGA year? The 31 players in the Mercedes Championship get a big head start on the rest of the field. What's your opinion? A limited field official event should be at the end of the year, not the start. Unfair.
Patrick McGowin
Mobile, Ala.

A. A limited field, no cut event is an advantage to those players in it no matter when it is played. Everyone who teed it up in the Mercedes was guaranteed a paycheck, putting them ahead of the rest. However, that is one of the perks for winning on the PGA Tour.

Q. Quick question regarding Padraig Harrington -- Is he a member of the PGA? Sounds simple, buy I've searched high and low and have not reached a definitive answer. I know he wasn't in 2004, but does his Ryder Cup appearance give him an '05 membership?
Bernie Ugolini
Toronto

A. Harrington will be a member in 2005. The Irishman earned enough money to qualify for the PGA Tour Championship and whenever a player earns enough to be among the top 125, he can take PGA Tour membership. But he must declare that he is a member and play a minimum of 15 events. His Ryder Cup appearance for Europe did not automatically give him membership, although in his case, it would have been another way for him to become a tour member because he had already attained temporary PGA Tour status. Bottom line: Harrington is a tour member in '05.
Bob Harig covers golf for the St. Petersburg Times and is a frequent contributor to ESPN.com. He can be reached at harig@sptimes.com.
EDITORS' PICKS
How fast can Rory turn things around at Doral?
Four-Ball »

Paula Creamer drained a bomb again, this time in heels.
Watch

Harrington counts his blessings after Honda win.
Harig »
MOST SENT STORIES ON ESPN.COM