Father-Son combo enjoying life on tour
Originally Published:
January 25, 2005
By
Bob Harig
| Special to ESPN.com
You could argue that life would be simpler, and perhaps more professionally satisfying, if Jay Haas gave in to the date on his birth certificate and teed it up on the Champions Tour.
Haas, 51, is still playing phenomenal golf on the regular PGA Tour, flirting with top-20-in-the-world status. It is impressive.
But he has not won in 12 years, and maybe those days are gone. Victories would come quickly and easily on the Champions Tour.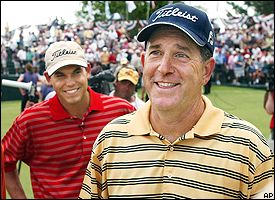 Jay, right, and Bill Haas will be trying to play PGA Tour events together as much as possible.
So why isn't he playing on the senior circuit? That's simple. It's because he wants to play in the same events as his son, Bill Haas.
And that is as good a reason as any for Jay Haas resisting the urge to join his peers.
For the second straight week, the older Haas will tee it up in the same tournament with Bill, this time at the Bob Hope Chrysler Classic.
Last week, both made the cut at the Buick Invitational. In fact, Bill, 22, missed finishing in the top 10 by three strokes, which is an important distinction at this point in his career. The younger Haas played on a sponsor's exemption, as he failed to earn his PGA Tour card last December at Q School. A top-10 finish gets you into the next tournament without needing an invite. Bill has another sponsor's exemption this week, but can only take seven for the year.
Jay wants to be there whenever possible.
"People ask me if this is a dream come true, and I tell them I couldn't even dream anything like this," the older Haas said. "When I first started, I felt if I could play 20 years and make enough money to go do something else, like go teach, that's what I would do. But to have the Champions Tour on the horizon and to be playing competitive golf on the PGA Tour at 51, it's not something I envisioned. And now it's a bonus to have Bill out here in a few tournaments.
"I would have loved for him to have gotten his card and been able to get into all these events. It will happen eventually, and if he can get out sooner before I'm gone, that will be even greater."
Jay Haas played well enough to earn an at-large selection from captain Hal Sutton for the U.S. Ryder Cup team last year. He has earned his way into all four major championships this year. And he's earned more than $4.5 million the past two seasons.
"I don't see him as a 51-year-old guy," Bill Haas said. "I see him as my dad who is playing unbelievable golf right now. When I play with him at home, he shoots 68 or 67. I see him as a professional player who is a great player and deserves to be out here."
Bill, who was an All-American at Wake Forest, where his dad also starred, knows how rare this opportunity is. And yet, it isn't that rare this week. Craig Stadler, 51, is also playing with his son, Kevin, 24, who earned exempt status on the PGA Tour by finishing 13th on the Nationwide Tour money list last season.
After this week, that is where Bill Haas is headed. Unless he finishes among the top 10, Bill will head to the season-opening Nationwide Tour event in Australia. A top-20 finish on the money list will get him on the PGA Tour in 2006. Or he could become a special temporary member by earning more money in seven PGA Tour events than the 125th finisher last year, or about $623,000.
"Golf is what I know," Bill Haas said. "I grew up watching professional golf. A lot of people go into the family business. I'm fortunate enough to have the opportunity. And I know that it's because of him I'm getting these opportunities right now. I had a good college career, but there are a lot of guys out here who have had good college careers who aren't getting sponsor exemptions into tournaments. It's because of him that I'm grateful. It's because of him that I'm here."
And it's because of Bill that Jay is here, too.
Five Things To Bank On
1.
You have to go low at the Bob Hope. Way low. There were 61 rounds of 65 or better during the last year's event, including one 60, two 62s and 12 63s.
2.
At just 6,478 yards, Indian Wells used to contribue to the low scoring. But after 43 years, the course has been replaced by Tamarisk Country Club. At 6,881 yards, Tamarisk won't be the second coming of Whistling Straits, but it'll play harder and longer than Indian Wells.
3.
The celebrity/athlete format at the Hope begs for someone to ham it up for the television cameras at the expense of real golf. Don't be surprised to see more yuks than shots during the first few rounds of the five-day event.
4.
Colin Montgomerie
and
Lee Westwood
make their first appearances of the season at the European Tour's Caltex Masters in Singapore. Montgomerie is the defending champion of the event.
5.
Hale Irwin
is bearing down on 60, but you can bet that won't stop him at this week's Turtle Bay Championship on the Champions Tour. Irwin has won the event four straight times. The event was played late in 2003 and skipped last year as it moved to early in the schedule.
QUICK TAKE
| | |
| --- | --- |
| | |
| | Howell |
It is almost impossible to fathom a worse break than the one that Charles Howell III got on Sunday at the final hole of the Buick Invitational. All golfers know that bad breaks occur in the form of bad bounces, whether from a tree root or a sprinkler head or a spike mark.

But this ... well, it would be tough to take, no matter the circumstances.

For Howell, it may have cost him a victory.

Howell hit what he believed was a perfect wedge shot to the final green. His was his third on the par-5 hole and the ball hit the flagstick and the back of the cup. It very easily could have gone in, should have at worst been a few inches from the hole. Instead, it bounced off the back of the cup, headed toward the front of the green and dribbled into the water.

Instead of an eagle 3 -- that would have put him in a playoff with Tiger Woods -- Howell now had to hit his fifth shot over water again. He came up short, then chipped in for a bogey that left him in a second-place tie, three shots back of Woods.

"I didn't know whether to laugh or cry,'' Howell said.
MAILBAG: ASK BOB HARIG
Got a question about the PGA Tour? Ask ESPN.com golf writer Bob Harig, who will answer your inquiries in each installment of This Week in Golf.

Q. Where is Steve Stricker playing this year? Did he go to Q School?
William Young
Danville, Ill.

A. Stricker lost his fully exempt status on the PGA Tour because he finished 151st on the PGA Tour money list in 2004, but he did not attend Q school. He will be able to get into some tournaments with his past champion status. Stricker has three career PGA Tour victories.

Q. How are the World Rankings calculated?
Irv
Toronto

A. Here is a brief summary from the Official World Golf Ranking website:

"The official events from the 6 Professional Tours (U.S. PGA Tour, European Tour, JGTO, SA PGA, Asian PGA Tour and the PGA Tour of Australasia) together with the Canadian, Nationwide and Challenge Tours are all taken into account and points are awarded according to the players' finishing positions. The points awarded are generally related to the strength of the field based on the number and ranking of the Top-200 World Ranked players and the Top-30 of the Home Tour players in the respective tournaments. However, the 4 Major Championships are rated separately to reflect the higher quality of the events together with The Players Championship in the United States. In addition, the Volvo PGA Championship in Europe, and the Australian, Japan and South African Open Championships are allocated higher minimum points levels to reflect their status.

"The World Ranking points for each player are accumulated over a two year rolling period with the points awarded in the most recent 13-week period doubled -- ranking points will then decline in eight equal quarter-year intervals (1.75 after 13 weeks, 1.50 after 26 weeks, 1.25 after 39 weeks, 1.00 after one year, 0.75 after 65 weeks, 0.50 after 78 weeks, 0.25 after 91 weeks and eliminated altogether after 2 years). Each player is then ranked according to his average points per tournament, which is determined by dividing his total number of points by the tournaments he has played over that two-year period. Players who have not participated in 40 tournaments over the two-year period have the minimum divisor of 40 tournaments applied to the calculation of their average points figure."

Q. I have always been a fan of Bob Burns. When he won in Orlando two years ago, I thought he might make the jump to be a player in the top 40-60. Bob struggled the past two years and now I do not see him listed as a member of the PGA Tour. Is Bob on tour? Will he be eligible to play in any events? Or has he taken time away from golf?
Daniel
Providence, R.I.

A. Burns, who won the 2002 Disney tournament, finished 130th on the 2004 PGA Tour money list, which means he is not fully exempt this season. Those players who rank 126th through 149th have partial status. That means Burns will be able to get into a fair number of tournaments. He is still considered a PGA Tour member.

Q. If an amateur makes the cut in a PGA event what happens to the money he wins. Is it added to the overall pot or given to charity?
Jeff
New York

A. In regards to prize money, an amateur's spot is treated as if he/she is not even there. If an amateur wins, the second-place finisher receives first-place money.

Q. Do PGA Tour members have to pay an entry fee for each tournament and if so, how much? Do certain members get performance money for showing up at tournaments?
Allan Tranter

A. PGA Tour members no longer pay entry fees and they are not allowed to accept appearance money for simply playing in an event. That is unlike the PGA European Tour, where appearance fees are common.
Bob Harig covers golf for the St. Petersburg Times and is a frequent contributor to ESPN.com. He can be reached at harig@sptimes.com.
EDITORS' PICKS
Who will win the 40th Ryder Cup this week in Scotland?
Vote »

Derek Fathauer won the Web.com finale.
Story »

The rub of the green impact the Ryder Cup result.
Jack Ross »