Nike continues to grow, thanks to more tour wins
Originally Published:
February 1, 2005
By
Bob Harig
| Special to ESPN.com
The victory did not elicit any great sense of relief, and no burden was lifted. When Tiger Woods won the Buick Invitational, it was to him, simply, a win -- even if it had bigger ramifications to the golf-following public.
Woods cited his November victory at the Dunlop Phoenix Tournament in Japan as a more monumental achievement. The eight-shot victory was deemed to be the place where his on-going swing changes finally took hold.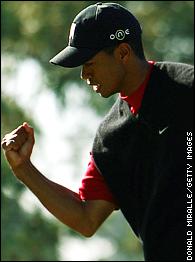 GettyTiger has finished in the top three in the last five worldwide tournaments he's competed in.
It was also where, for just the second time, Woods had a Nike Ignite 460cc driver in his bag. He used it for the first time at the Tour Championship, where he finished second. Since then, he has gone 2-1-1-3-1 in the five tournaments he has played using the driver.
Coincidence?
Justin Leonard won the Bob Hope Chrysler Classic on Sunday, his first victory in nearly two years; Leonard made the switch to Nike equipment at the start of the year. Paul Azinger, another Nike player, contended at the Sony Open, and Stewart Cink, who also has Nike clubs in his bag, has been the best American player not named Woods or Phil Mickelson in recent months.
OK, before we get carried away, there is also David Duval, who has been with a Nike contract for several years and just finished 30 over par at the Hope. The brand name on equipment does not solve all problems. And there are countless examples through the recent history of endorsement-driven golf contracts in which players wish, perhaps, they had stuck with what they had.
But the Nike story is interesting one in that less than a decade ago, it was barely a player in golf, if at all. An established, respected company such as Titleist still leads the way in golf ball sales and makes it difficult for anyone to put a dent in its huge market share.
Other industry heavyweights such as TaylorMade and Callaway continue to produce new and improved equipment that is popular with tour players and the public as well. But they have a lot more history. TaylorMade was the pioneer in medal wood clubs some 25 years ago and set sales records with the r7 driver last year. Callaway made a name for itself with the Big Bertha driver, of which another version, the Titanium 454cc, recently debuted.
Nike didn't really get serious about golf until it signed Woods to an endorsement deal in 1996. But at the time, it made no clubs or balls, only apparel.
"We always treated golf as a category," said Nike Golf president Bob Wood. "We never really focused on it, we never had the commitment to it. ... When we signed Tiger Woods, it's like, we're committed to this business."
It took until 2000 before Nike could put any equipment in Woods' hands. It did so with the Nike Tour Accuracy ball. Woods finished tied for second at the Buick Invitational that year and went on to have one of the greatest years in golf history, winning three major championships and nine PGA Tour titles overall. Woods' use of the golf ball helped legitimize the company.
In 2002, Woods used a Nike driver for the first time at the Pebble Beach Pro-Am and later that year, at the American Express Championship, he put the company's forged irons in his bag for the first time -- and won the tournament.
Since then, Woods has slowly put more Nike equipment in his bag, including 56- and 60-degree wedges. The 460cc driver was considered huge because Woods had resisted using the better technology available.
"When I was going through all my swing changes, I had a hard enough time hitting fairways," Woods said last week at a Nike function that was held in conjunction with the PGA Merchandise Show in Orlando. "Why would I want to hit the ball 20 yards farther when I can't hit a ball on the plate as it is. ... I had to feel comfortable with my technique before I could hit the ball 20 yards further. ... My techniques are more sound, so I can capitalize on it."
As Wood said: "He makes his living with our stuff, so the standard has to be high."
Actually, Woods makes a pretty fine living just from Nike alone. According to Golf Digest, he is paid some $25 million a year by the company, which includes profit sharing and bonuses.
That's a hefty sum for one person in a business that is struggling. Wood, the company president, is the first to admit that the economic climate for the industry is not good. Not enough new players, or too many who quit. The costs. The time constraints.
All of it makes for a competitive market that continues to evolve.
Five Things To Bank On
1.
Jonathan Kaye
won't repeat as champion at the FBR Open. This is really no stretch. No player has repeated since the tournament moved to the TPC of Scottsdale in 1987, and only two players,
Mark Calcavecchia
and
Vijay Singh
, have won more than once during that span. Kaye's finish last year was his only top 10 in seven appearances.
2.
After a rare week off, look for Singh to bounce back with a strong performance. He's been top five in Scottsdale the past two years, including a 2003 victory.
3.
Phil Mickelson used to make his home in Scottsdale (and he went to Arizona State) so he is a huge crowd favorite and should make a run at the title this week. Mickelson won the tournament in 1996.
4.
You have to like
Ernie Els
in Australia at the Heineken Classic, where he has seven top-10s in his last seven starts, including three straight victories. Els loves the course, Royal Melbourne, and makes his first start of the 2005 season on the European Tour.
5.
The Champions Skins Game could be one of the few chances this year to see
Arnold Palmer
in competition. Palmer, who played his 50th and final Masters last year, said he will not play in his Bay Hill Invitational in March. He will compete against
Jack Nicklaus
, Tom Watson and Craig Stadler.
QUICK TAKE
| | |
| --- | --- |
| | |
| | Kaye |
It is only fitting that the FBR Open be played on Super Bowl weekend. Fitting, because it is a golf tournament with a football-like atmosphere.

Crowds in excess of 100,000 often jam the TPC of Scottsdale. That's not for the entire week, but for single days on the weekend. Imagine that many people on a golf course, and how much noise they must make. A good number of tournaments around the country would be thrilled to see half that many people visit over four rounds.

Not all of the players like it, and some of them stay away because of the hysteria. But this tournament, this atmosphere, is good for the game and good for the PGA Tour.

It wouldn't work every week. In fact, a small dose is enough. But the stadium-type course is conducive to fitting in all the spectators, and they are looking, hoping, for anything to let them roar.
MAILBAG: ASK BOB HARIG
Got a question about the PGA Tour? Ask ESPN.com golf writer Bob Harig, who will answer your inquiries in each installment of This Week in Golf.

Q. Watching the Masters last year, they made a big deal about it being Arnold Palmer's last appearance in the tournament. (If I recall correctly, there were even tears involved.) I just looked at the list of players who are currently in the field, and Palmer's name is on it. What's the deal?
Chad
Baltimore

A. You probably saw a list of the invited players or those who are eligible. As a past champion, Palmer is eligible but said last year's tournament, his 50th straight, would be his last as a competitor.

Q. I've always been a fan of Esteban Toledo, given his humble beginnings. I know he lost his PGA Tour card in 2004. Is he on the Nationwide Tour this season?
Greg Frank
San Francisco

A. Toledo, 42, made just eight of 36 cuts in 2004 on the PGA Tour and lost his card. He returned to the PGA Tour Qualifying Tournament, where he did not finish among the top 30 and ties. He is a member of the Nationwide Tour this season.

Q. At the South African Open a few weeks ago, there were highlights of monkeys picking up players' golfballs and redepositing them elsewhere. What's the ruling on something like that? Does the golfer have to play the ball where the monkey (in my case it may be an alligator) drops the ball? What if the animal doesn't place the ball in a playable spot?
Patrick
Baton Rouge, La.

A. In the case of a monkey, or any animal, picking up a ball and moving it, the rule that applies is 18-1. The animals are considered outside agencies. If a ball at rest is moved by an outside agency, there is no penalty and the ball must be replaced.

Q. What does it mean when a player receives a sponsor's exemption?
Chris
North Palm Beach, Fla.

A. Most tournaments on the PGA Tour have extra spots in the field, anywhere from two to 12, that go to players who are otherwise not eligible. They are called "sponsor exemptions," as it is typically up to the tournament sponsor or a committee to invite players it might believe are deserving or could help sell tickets.

Q. With regards to the Buick Invitational being moved up in the PGA schedule: Do tournaments have any say as to where they are scheduled or are they at the mercy of the PGA Tour?
Patrick Yocum
Hanover, Pa.

A. The tour has final say, but it has to be sensitive to the wants and needs of title sponsors. No title sponsor is going to continually take a date that does not suit its agenda. That said, there is a logical sequencing of tournaments. The Buick Invitational was moved up to the third event this year, but it was still part of the tour's west coast swing.

Q. With the Players Championship coming up in less than two months, I want to know how come TPC-Sawgrass has never hosted a U.S. Open or PGA Championship?
Kyle
Lindenhurst, N.Y.

A. There are likely several factors for this. First and foremost is the Florida climate. The TPC-Sawgrass is considered at its best in the spring, when the Bermuda grass greens can be mowed short and made fast. Summer heat and thunderstorms would make that difficult, whether it be for the U.S. Open or PGA Championship. The U.S. Open has never been played in Florida, and the last time the PGA was in Florida, in 1987, it was deemed a disaster. Even if these issues could be overcome, it would be difficult to have a major championship at a venue already being used for the PGA Tour's marquee tournament. Would you play two tournaments there in a year? Or would the Players Championship move for a year? Both would seem unlikely.
Bob Harig covers golf for the St. Petersburg Times and is a frequent contributor to ESPN.com. He can be reached at harig@sptimes.com.
EDITORS' PICKS
In the gloomy weather, Harrington focuses on the positives.
Harig »

Don't read too much into Rory McIlroy's missed cut.
Bob Harig »

Vikings WR Greg Jennings tries to squeeze a little golf into an otherwise crowded schedule.
Nicole Elliott »
MOST SENT STORIES ON ESPN.COM