Scott, Garcia prove the future is now
Updated:
February 28, 2005, 2:35 PM ET
By
Jason Sobel
| ESPN.com
CARLSBAD, Calif. -- It's a question that can be asked in any sport, a way of measuring where the present and the future cross paths:
When does potential become greatness?
Its relevance is considerable in an era when superstars are younger than ever. We wonder: On which side of the fence does Ben Roethlisberger fall? Is LeBron James there or still getting there?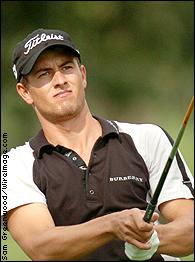 Scott, 24, knocked off his elder, Garcia, 25, in the third round of the Match Play.
And, perhaps most importantly, is it something we can see, something tangible that occurs before our very eyes?
Such may have been the case at La Costa on Friday. And that's what made the third-round match between 25-year-old Sergio Garcia and 24-year-old Adam Scott so exciting.
First things first. Scott won the match, 4 and 3, making five birdies and 10 pars in 15 holes to defeat Garcia and reach Saturday's quarterfinals of the Accenture Match Play Championship.
But this is merely the opening scene for a drama that should play out on courses around the world for years to come; two young, fierce competitors developing their games on a grand stage.
"It's a very friendly rivalry Sergio and I have," said Scott, who will face David Toms in the next round. "We want to do the best we can and we know that we can play at world-class level.
"We definitely push each other along."
Make no mistake, both Scott and Garcia are coming along just fine, thank you.
After winning last week's Nissan Open in a one-hole Monday playoff, Scott now owns eight professional victories worldwide, four on the PGA Tour. He also surged to seventh in the current World Ranking, trailing only the Big Four of Vijay Singh, Tiger Woods, Ernie Els and Phil Mickelson; reigning U.S. Open champ Retief Goosen; and the man he defeated on Friday afternoon, Garcia.
For his part, Sergio has won 14 international events -- five on U.S. soil -- and is in the process of becoming a marketing superstar; he's currently one of only a few tour players to appear in non-golf related national television advertisements.
Garcia is also on track to become -- far and away -- the winningest Ryder Cup player in the history of the event.
"He's a great match player," Scott said of Garcia after their round. "He's been fantastic in the Ryder Cups and he kind of plays his best under these kind of pressure situations."
While drawing parallels between Scott and Garcia isn't all that new of an undertaking, it does differ from the usual analogy he hears, the one that compares him with Tiger Woods.
And why not? His swing looks very much like that of a young Tiger. His coach, Butch Harmon, is the same man who worked with Woods when he was a younger professional. And the wins, well, a title this week would give Scott two more than Woods in the past 14 months.
"I certainly didn't pressure myself to achieve the same things Tiger did," Scott said. "I don't think that's realistic for anyone but Tiger. So I took it as a compliment and thought that maybe people think I've got a potential to be a threat to him, and that kind of kept me going."
Expect both Scott and Garcia to keep it going for this year and many more to come. After all, the future may be crossing paths with the present right before our very eyes.
Jason Sobel is ESPN.com's golf editor. He can be reached at Jason.Sobel@espn3.com
Golf Editor, ESPN.com
Jason Sobel, who joined ESPN in 1997, earned four Sports Emmy awards as a member of ESPN's Studio Production department. He became ESPN.com's golf editor in July 2004.
EDITORS' PICKS
Texas residents Jimmy Walker and Jordan Spieth will set up a hometown final at TPC San Antonio. Story »

Will Adam Scott use his anchored putter for the Masters, and was Dustin Johnson treated fairly?
#AskESPNCaddie

Baddeley's birdie at the Valero Texas Open included a penalty stroke.
Michael Collins »
MOST SENT STORIES ON ESPN.COM