What will the Florida swing bring?
MIAMI -- The first traces of March wind were blowing across the Blue Monster on Tuesday morning, but on the tee at dawn, Tiger Woods christened the start not only of the Florida swing, but the golf season. On doorsteps all across South Florida, the front page of the Miami Herald sports section showed a scoreboard with names of the top players who are entered in this week's Ford Championship at Doral. The only name missing among the top 11 was Ernie Els, who is playing in Dubai. In the world of golf, it is time to set the clocks to Augusta time.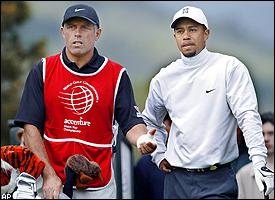 Woods lost in the second round of the Match Play, but is eager to get back to the Florida greens.
With the Masters and, before that, The Players, these are the weeks that can shape a season, and big guns have turned Doral into the sixth major. The 2005 season couldn't be off to a better start. Woods has won. Vijay Singh has won. Phil Mickelson has won -- twice. Adam Scott has won with an asterisk. Two Aussies, Stuart Appleby and Geoff Ogilvy, have won. Justin Leonard has proven that he could win again. And with one of the greatest performances in match play history, David Toms looks capable of more majors.
But as the wet West Coast swing segues into the blue skies of Florida, and the wait at Joe's Stone Crab goes up to two hours, there are questions to answer beginning with ...
Is Tiger playing well enough to win at Augusta?
Right now it's hard to say. Putting cost Woods the Mercedes Championship and masked his erratic ball striking at the Buick Invitational, where he won a stroke-play event for the first time in 15 months. Making Woods even harder to read were his performances on the lumpy Poa Annua greens at Riviera and LaCosta. His quote, just after entering Doral, was that he couldn't wait to get back to the greens of Florida.
Woods has won seven times in his adopted home state, including three straight at the Bay Hill Invitational (2001-2003) and the 2001 Players Championship. Before his second-round exit in the Match Play, he had won three of four stroke play events and was four back -- with all his bogeys (four) coming on three-putt greens -- when the Nissan Open was called after 36 holes.
What Tiger needs now are reps at a place where he's comfortable. Woods has never won at Doral, but in his two appearances he was T-8 in 1998 and T-2 in 2002, throwing Els into a near total meltdown on Sunday.
Is Vijay in a slump?
That would be too strong a word, but something's wrong. Other than the supposed tell-all interview with HBO's Bryant Gumbel that aired Tuesday on Real Sports, there hasn't been much noise from the Fijian since his victory at the Sony Open. He's played four events without a top-10, missed a cut (Pebble Beach), and was knocked out in the second round of the Match Play by Jay Haas. At this rate it won't be long before Woods regains the No. 1 ranking.
Some are blaming the caddie change Singh made after his victory in Waialae, but the problem isn't Paul Tesori's reads. Vijay just stopped making them after averaging 27.8 per round at the Sony. Now we'll see if it's the grass or the stroke -- and whether it reaches the point of going back to a belly putter. Remember, Singh went back to the conventional putter after making nothing at last year's British Open and ripped off Player of the Year honors.
Singh won three times in the Sunshine State, but only once (1999 Honda) during the Florida Swing. The Blue Monster and Bay Hill bring back good memories, but territorially The Players means more to him than anybody. For all those balls he's beat on the back end of the range, Singh has mixed results at the TPC-Sawgrass.
Is Lefty right where he wants to be?
There are no In-N-Out Burger restaurants in South Florida, but otherwise he's never been better. The back-to-back wins in Phoenix and Pebble Beach only seemed to motivate Philly Mick at the Match Play, where he ran into the hottest player (Toms) and was putted out of the competition. Looking sharp in every facet of the game, Mickelson averaged six birdies per match before exiting in the third round on Friday.
How does this plug into Florida for the defending Masters champion? The record shows only one win (1997 Bay Hill) and Arnie's Place -- where he's also finished second and third -- is no longer on his schedule. Last year's T-3 at Sawgrass was an example of the Mickelson who won at Augusta by controlling his power. The theme this year has been to bomb it and wedge it. That should work at Doral, where he'll be stoked to win one for the corporate sponsor, but not at the Stadium Course, the model for target golf.
Has anybody heard from Ernie?
Not lately. This is always Ernie's downtime, but how do you define downtime? For Els, the obligations and contracts can pile up. Back home in South Africa, he was in Fancourt two weeks ago for the Women's World Cup and then Oubaai for a golf course opening and meetings with the investors of his course in County Cork, the Kinsale Harbour Resort.
Last week was what Els described on his Web site as a "proper holiday," with "zero professional commitments," but on Sunday he was in Dubai, where he's designing a course and preparing for one of his favorite events, the Dubai Desert Classic.
They're still waiting for Ernie to defend his title at Doral, which he promises to do in 2006. Along the way Els added Qatar to his schedule, giving him four straight (including Bay Hill) through the Players. Is this the proper preparation for Augusta? It's not much different than it has been in the past and it certainly didn't hurt last year, when he shot 67 on Sunday to lose by one.
Is The Goose ready to fly again?
With all this talk about a Big Four, Woods told writers in Los Angeles that they shouldn't forget about the U.S. Open champion, Retief Goosen. The Goose is so quiet, that's always easy to do. But after a four-week vacation at his home in London, a DQ from the Nissan, and a third-place finish in the Match Play, Goosen was on a plane to Doral, where he finished third in 2004, one stroke out of the Craig Parry-Scott Verplank playoff.
Like just about everybody except Toms, he couldn't get out of California quick enough, but Florida has never been a great launching pad for the South African, who has missed five of six cuts at The Players. His best finish at Augusta (second in 2002) came a week after his win in the BellSouth Classic.
Tim Rosaforte is a senior writer for Golf World magazine
Subscribe to:
SPONSORED HEADLINES
MORE GOLF HEADLINES
MOST SENT STORIES ON ESPN.COM
EDITORS' PICKS
This week's Scottish Open might be the wave of the future.
Bob Harig »

How do you win at Royal Liverpool? The head pro explains.
Miller »

Wie should catapult to new heights with her major win.
Voepel »