The Moors Golf Club
Originally Published:
March 19, 2005
Golf Digest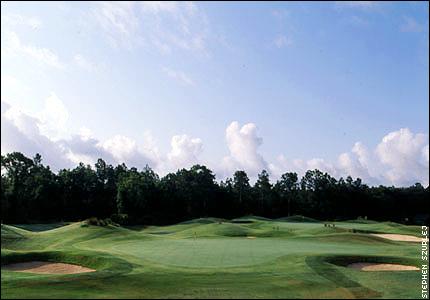 George Costanza might call this course, "The Moops."
Need To Know
The Moors Golf Club
3220 Avalon Boulevard
Milton, Florida 32583
850-995-4653
This John LaFoy design boasts generous fairways making the 6,828 yards (from the tips) seem very playable despite the abundance of water on many holes.
On No. 14, two recently added bunkers on the left side of the fairway have added difficulty. Three large bunkers guard the right side, requiring the golfer to either lay up short off the tee or gamble by carrying the bunkers. Three bunkers also protect the green, making this one of the more difficult holes on the course.
EDITORS' PICKS
Ryder Cup defeat caused the PGA to look in the mirror.
Bob Harig »

Martin Kaymer's Players win catapulted him higher in 2014.
Bob Harig »

Rory McIlroy sealed his place in golf's elite with PGA win.
Harig »