Creamer, Wie taking different paths to the top
Updated:
May 23, 2005, 1:08 PM ET
By
Ron Sirak
| Golf World
There was a time during Sunday's final round of the Sybase Classic when it appeared as if 18-year-old Paula Creamer was in over her head. She had made bogeys on three out of five holes and followed that with two shaky pars. It was not her time, it seemed, for the kid who graduates from high school this Thursday to get her first LPGA victory.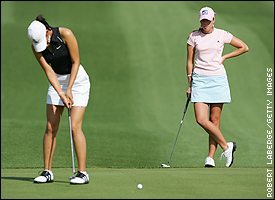 Robert Laberge/Getty ImagesWie and Creamer could form the LPGA's greatest rivalry for many years to come.
But Creamer managed to right the ship at the Sybase by reaching into her memory bag for a secret club: Her long history of success in junior golf. That's where Creamer learned not just how to play the game, but how to win. She transferred that knowledge brilliantly to the professional game over the weekend, closing with three birdies in five holes, including the winning 17-foot putt on the final hole.
While everyone is looking for a rival for Annika Sorenstam, Creamer set the stage Sunday for a compelling rivalry a little further down the road: Creamer versus Michelle Wie. It will be not only a clash of highly skilled players, but also a test between competing philosophies about how to get where you are going. By winning 19 national junior tournaments before turning pro, Creamer has followed the Tiger Woods model: Dominate your peers, and then move on. Woods, you'll remember, won USGA national championships in six successive years before turning professional.
Wie is following a formula closer to that of LeBron James: Jump in the water and see if you can swim with the big fish. Actually, the path Wie is trying is more akin to what it would have been like if Diana Taurasi had gone from women's college basketball to try to make it in the NBA. The Creamer method involves mastering each step before you move onto a higher rung. The Wie blueprint is to set the bar at world-record height and keep jumping until you clear it. Creamer climbed another rung with her victory at the Sybase. Wie made another leap at the stars a week earlier when she tried – and failed – to qualify for the men's U.S. Open. While it is way too early to judge whether the Wie way works, it is probably not premature to deem the Creamer course a success – for her.
Wie will make several more runs at the men this year, trying to qualify for the U.S. Amateur and the U.S. Public Links Championship, as well as accepting a sponsor's invitation to the John Deere Classic on the PGA Tour. Creamer will confine her activity to the LPGA, where she is now fourth on the money list and seemingly a lock for Rookie of the Year. Creamer clearly decided that college was not the place for her, a decision that became a lot easier to make last fall when she won LPGA Qualifying School by five strokes. But, just as clearly, she also does not feel that competing against the men is right for her.
"I have no desire to do that right now," she said at the Sybase tournament where, at 18, she became the youngest winner on tour in 53 years. "There's a lot of things I want to do on the LPGA Tour, let alone think about the PGA Tour right now. But maybe someday, not right now." Clearly, this is an extension of the philosophy she has followed so far: Learn how to beat your competition before you move on. For Creamer, as with Woods, the emphasis has been focused on building a résumé – and confidence – more than merely capturing headlines.
In a conversation many years ago, I asked Earl Woods when he knew Tiger was ready to turn professional. Earl said it was when Tiger shot a 66 in the second round of the 1996 British Open and then closed with back-to-back rounds of 70 to finish tied for 22nd. "I didn't want to do anything to hurt his confidence," Earl said. "I wanted to build up a mind-set of domination. I didn't want to send him out there until I was sure he could play with the big boys. More important, I didn't want to send him out there until I was sure he knew he could play with the big boys."
Tiger Woods, of course, turned professional the next month, after winning his third consecutive U.S. Amateur Championship, and won in his fifth event as a pro. The point made by the Wie camp is that there is more than one correct path to success, and in that they are absolute right. The question that remains is this: When exactly will it be the proper time to evaluate whether playing against the men is the best way for Wie to develop her game?
When Annika Sorenstam decided to play in the 2003 Bank of America Colonial, she said her purpose was a voyage of self exploration that she hoped would make her better on her own tour. That is exactly what happened. Since playing in the Colonial two years ago, Sorenstam has competed in 35 LPGA events and won 17 of them. Clearly, Sorenstam learned a lot from playing with the guys – particularly in the short game – and then took that information home to make herself into an even more dominant force on the LPGA.
There may come a day when Paula Creamer will want to try her hand at competing against the men. But all things in time. First, Creamer wanted to be the best in junior golf. Then she wanted to win on the LPGA Tour. Now she is shooting for multiple victories. The path she decided to follow to greatness is a trail built on stepping stones labeled with victories. Wie is walking a route on which she hopes failing against those better than her will lead to success. It is almost inevitable those paths – that of Creamer and that of Wie – will cross someday.
Another great player may not come along in time to be a true rival for Sorenstam, but the Creamer-Wie rivalry just down the road seems like one worth waiting for.
Ron Sirak is the executive editor of Golf World magazine.
Subscribe to:
SPONSORED HEADLINES
MORE GOLF HEADLINES
MOST SENT STORIES ON ESPN.COM
EDITORS' PICKS
As far as the course design business, Tiger and Jack are on different paths.
Bob Harig »

Two of 2014's most compelling moments came off the course.
Farrell Evans »

Need help finding a present for that golfer you know?
Gift Guide »