In golf, you just have to keep hitting shots
Updated:
June 2, 2005, 3:01 PM ET
By
Ron Sirak
| Golf World
It was about the time David Toms' eagle putt on No. 16 caught the low lip and curled in that the message was sent home once again: Among the many great things about golf is that you can't play defense or run out the clock.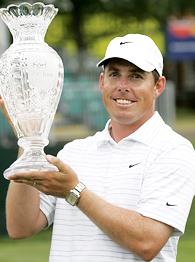 AP Photo/Bill HaberLeonard came close to losing his eight-shot lead in the final round at Memphis.
Justin Leonard was still four strokes ahead, but he was also playing two holes behind Toms and had started the final round of the FedEx St. Jude Classic a whopping eight strokes clear of the field. And when Toms followed his eagle with a chip-in birdie on No. 17, the noose began to tighten. And Justin began to gag. As much as he wished he didn't have to, Leonard knew he had to hit the next shot.
Certainly, playing with the lead can be difficult, especially playing with a big lead. Since 1970, 21 players had entered the final round of a PGA Tour event with an advantage of seven or more strokes, and all won. Still, taking that kind of margin into the last round is a major no-win situation. If the guy pulls off the victory, he was supposed to. If he blows it, then he is bashed as a choke of the first order. That's when golf becomes even more of the mental torture test than it normally is. That's when you'd like to be able to run out the clock, but there is no clock to run out. You have to hit the next shot.
We see it all the time in other sports. You can pitch around the big hitter in baseball. In basketball, you can milk the clock or, if you are not shooting well, you can concentrate on other aspects of the game, like defense or rebounding. A football team can go into the prevent defense or try to shorten the game by grinding up time with the ground game. But in golf there is no place to hide. You have to hit the next shot.
Collapses in golf can certainly be career damaging. Greg Norman was never the same after he squandered a six-stroke lead in the last round of the 1996 Masters. Arnold Palmer never won another major after he blew a seven-stroke lead with nine holes to play in the 1966 U.S. Open. And Helen Alfredsson never became the player people expected her to become after she was seven strokes ahead through 44 holes in the 1994 U.S. Women's Open, three putted from three feet and played the next 18 holes in 85 strokes. All of them learned one of the hard lessons of golf: You have to hit the next shot.
Just a few weeks ago, we watched in bewildered amusement as Sergio Garcia blew a six-stroke lead in the Wachovia Championship. Anyone who has ever played this game understands what happened. Anyone who has played this game knows that feeling of fear when you have to hit a shot that really matters. I put together a high school golf career of enough chokes to speak with some expertise on the matter. And that was certainly what Leonard was feeling when he followed the 5-foot miss on No. 15 with an even shorter miss on the next hole. Now the noose was really tightening. With Toms safely in the clubhouse at 13 under par, Leonard stepped to the 17th tee 15 under par, his eight-shot advantage down to two. As much as he didn't want to, Leonard knew that you have to hit the next shot.
The next shot was not what Leonard wanted. He blew his drive into the right rough and was blocked from the green by a stand of trees. After leaving his approach short, a sturdy pitch left Leonard with a 6-foot downhill putt for par that he desperately needed. According to the PGA Tour's ShotLink stats, Leonard had made 11 of the first 12 putts he had between 4 and 8 feet in the tournament. But that was before he missed on No. 15 and No. 16. The par-saving putt Leonard made on No. 17 was huge, enabling him to go to the final hole knowing he could make bogey and win. Still, he had to hit the next shot.
And that next shot was his drive on No. 18, a dogleg left guarded by water all down the left side of the fairway. Because of the gutsy putt Leonard made on the 17th hole he was able to play the 18th safe -- or so he thought. In his version of the prevent defense, Leonard drove into the right fairway bunker and then hit his second shot into the right rough, leaving a pitch across sand to a green sloping away from him and toward the water. Not the most comfortable of situations. Once again there was no place to hide. He had to hit the next shot.
The next shot was almost a complete disaster as he came within inches of dumping it into the sand. Even though he escaped that fate Leonard was faced with needing to two-putt from 45 feet to win -- far from the comfort zone of the eight-stroke lead he had when the day's play began. The 3½-foot putt he had for the victory was much like the way the day started: He was expected to be successful, and a miss would be total embarrassment.
It is quite likely that among the thoughts that went through Leonard's head as he got over that putt was puzzlement as to where his eight-stroke lead had gone. And it would not be surprising that even then he was rethinking his conservative final round-strategy that almost squandered an advantage that seemed too large to lose. Those are the kinds of thoughts you have to shake from your brain and focus on the task at hand. It is precisely those kind of thoughts that choking is all about. When that final putt dropped for the victory, Leonard could breath the sigh of relief. It was not the prettiest of victories, but it was a victory. And there were no more shots to hit.
Ron Sirak is the executive editor of Golf World magazine.
Subscribe to:
EDITORS' PICKS
The Masters is less than 10 days away, and Tiger Woods' status remains a mystery. Should he return to golf in Augusta? Bob Harig

The name is unfamiliar, but the year's first LPGA major still comes replete with its cherished traditions. Bill Fields »

The name is unfamiliar, but the year's first LPGA major still comes replete with its cherished traditions. Bill Fields »
MOST SENT STORIES ON ESPN.COM