Hey Jack, can we please have one more?
Updated:
June 8, 2005, 3:36 PM ET
By
Ron Sirak
| Golf World
Let's be entirely selfish about this: Jack Nicklaus should play his last competitive round of golf at Augusta National Golf Club. We got a little bit of a taste of what it would be like on Friday in the Memorial Tournament when Jack walked up the 18th fairway, on the course he built, to a wild ovation from hometown fans knowing they might be seeing him in the event for the last time.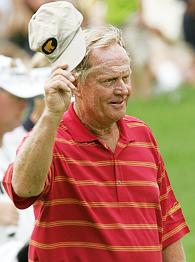 AP Photo/Terry GilliamNicklaus said the Memorial may be his last U.S. event, but we'd like to see him in one more.
It was a special moment. And it will be special in July when Nicklaus walks to the 18th green at St. Andrews in his last British Open. But both would be a mere whisper lost in the roar that would accompany the Golden Bear up the final fairway at The Masters. Jack may not feel like he needs a formal send-off from the game he redefined, but we need it. We need to thank Jack for all the thrills he gave us.
The first time I saw Nicklaus in person was at the 1967 American Golf Classic at Firestone Country Club in Akron, Ohio. It was on the second tee and I was standing just a few yards from him as he teed off. The power of his swing took my breath away. He swung with such a controlled intensity I felt as if I was going to be sucked into the vortex of its fury. This was a game no one else had ever played. Never before had anyone ever hit the ball as far as Nicklaus, and certainly not as hard and with the same accuracy. It was the beginning of the power era in the game.
Jack was an acquired taste for me, only for this reason: I was born and raised in Pennsylvania, about 70 miles from where Arnold Palmer first swung a club. It was with great reluctance that I embraced the man who knocked the King off his throne. It took me awhile to accept that Palmer and Nicklaus occupied two very different spots in the history of the game. Palmer was the most dynamic personality, a tireless giver to the game who did as much to popularize golf as Babe Ruth did baseball. Nicklaus was simply the greatest winner ever and, in my book, along with Ben Hogan, No. 1 and 1-A as the greatest players ever.
The most enduring memory I have of Nicklaus is of him hunched over a putt for what seemed like an eternity, frozen as if he were never going to take the club back, before finally rolling the rock into the heart of the cup. In my mind a very large part of what separated Nicklaus from his competition was that he was the greatest clutch putter in the history of the game. Putting stats are a lot like the save statistic in baseball: It's not how many you have that is key, but rather when you convert your opportunities. Jack, it seemed, never missed a putt that mattered -- especially in the 6-foot to 8-foot range. He was automatic. He was Mariano Rivera.
I remember being at the 1996 British Open at Royal Lytham and St. Annes when Nicklaus, then 56 years old, followed up his opening round 69 with a 66 and was one stroke off the lead going into the weekend. I walked up the 18th fairway with Jack to the green as he finished that second round and the welcome he received left me viewing the scene through misty eyes. It made no difference that Nicklaus faded on the weekend and finished tied for 44th place. What he did on that Friday was what Jack was all about.
| | | |
| --- | --- | --- |
| | " | [Nicklaus] swung with such a controlled intensity I felt as if I was going to be sucked into the vortex of its fury. " |
| | | |
Actually, what Nicklaus is really all about can be found simply by looking at his first and his final PGA Tour victories. Jack's first win on tour was the 1962 U.S. Open, and his last was the 1986 Masters. He book-ended his brilliant career with victories in two of golf's most important events. If Nicklaus brought the power game to golf, his other legacy is making the majors the measuring stick of greatness in the game. His total of 20 majors -- six Masters, five PGA Championships, four U.S. Opens, three British Opens and two U.S. Amateurs -- made us totally rethink the game the Nicklaus way. He planned his year to peak at the majors, just as a man named Tiger Woods does now.
Here is why Jack needs to say goodbye to the game at Augusta National: If Jack redefined the importance of the majors, the major with which he is most associated is the Masters. He has six green jackets. And it is the one course where he could quite possibly bid us farewell with a magical moment. If there is anyplace Nicklaus could still make the cut, it is Augusta National. He has forgotten more about that course than more players will ever learn. It was there in 1986 -- nearly six years removed from his last major championship -- that a 46-year-old Nicklaus shocked the world by winning. And it was there in 1998 that a 58-year-old Nicklaus shot 68 on Sunday and finished tied for sixth, just three strokes off the lead.
I was standing near the seventh green that Sunday afternoon in 1998 when Nicklaus, playing with Ernie Els, rolled in a birdie putt that moved him within two strokes of the lead. The roar of the gallery was among the loudest I have ever heard on a golf course. The hair on my arms stood on end as the realization crossed my mind that I could be witnessing one of the most unfathomable victories in the history of sports. I remember looking at Els as the endless roar rippled on and seeing in his eyes that he was no longer a competitor but rather a fan pulling for Jack. I remember looking at Jack and seeing in his eyes the unshakable belief that he could win the tournament.
Yes, it was moving to see Nicklaus walk up that final fairway at the Memorial on Friday. And it will be even more emotional to witness his last round at St. Andrews, the home of golf. But I want to see the Bear stride up that hill to the 18th green at Augusta National on Friday -- or, even better, on Sunday -- to one final ovation as a competitor.
The last time I violated my journalistic objectivity and applauded a player was at Oakmont Country Club in 1994 when Palmer was too choked up to speak after his final U.S. Open round. I'll cross that line separating my professional and personal self again at Augusta National -- if Jack gives me the chance.
I hate to put you in this position Jack, but you owe it to us. Allow us to show you how much we appreciate being able to see you play.
Ron Sirak is the executive editor of Golf World magazine.
Subscribe to:
EDITORS' PICKS
Will Adam Scott use his anchored putter for the Masters, and was Dustin Johnson treated fairly?
#AskESPNCaddie

Baddeley's birdie at the Valero Texas Open included a penalty stroke.
Michael Collins »

What was Henrik Stenson so worked up about?
Bob Harig »
MOST SENT STORIES ON ESPN.COM