Sorenstam seeks third straight major at Open
Originally Published:
June 22, 2005
By
Bob Harig
| Special to ESPN.com
CHERRY HILLS VILLAGE, Colo. – They could try to take out her knees, but in the genteel world of golf, that would be considered terribly unsportsmanlike.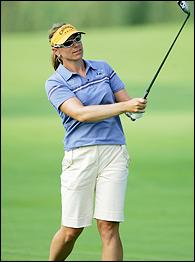 "I think she intimidates a lot of people," Cristie Kerr says of Sorenstam.
They could try to hit the gym for more strength and stamina, but that won't work overnight.
Mental game? Short game? Too little, too late.
Annika Sorenstam is so far ahead of her peers on the LPGA Tour, there is no quick fix that will help stop her.
The U.S. Women's Open begins Thursday at Cherry Hills Country Club outside Denver, and Sorenstam is the preeminent favorite to capture her third straight major this year.
In each of the previous two, Sorenstam built a huge lead through 54 holes and enjoyed a Sunday coronation. Is the Grand Slam going to be that easy?
"The bottom line is we can't let her get too far away, because it's really hard when you have a player of her caliber who doesn't make many mistakes," said Cristie Kerr, second on the LPGA money list to Sorenstam by more than $600,000. "If somebody is going to be in contention some Sunday, and assuming she's there, we're going to have to keep the heat on."
And the only way that happens, it seems, is if Sorenstam is off her game.
Much as during Tiger Woods' incredible run from 1999 through 2001, whenever Sorenstam's name goes up on the leaderboard, it sends a chill through every competitor.
They know she can hit the ball as far or farther than any other player. They know she hits more fairways and greens. They know she rarely makes unforced errors.
"I think she intimidates a lot of people," Kerr said.
Wonder why.
Sorenstam has won 19 of her 38 LPGA Tour events since playing against the men at the PGA Tour's Colonial in 2003. This year, she has won six of her eight starts, and eight of her last 10. Her scoring average is a whopping 2.05 strokes better than the next best player. That's eight strokes better over the course of a 72-hole event.
Since imitation is the sincerest form of flattery, perhaps Sorenstam's LPGA peers will begin to do what she has done.
Last week, Sorenstam played rounds at Pine Valley in New Jersey and Merion in Pennsylvania. Those are venerable courses known for their toughness. Sorenstam goes to the back tees, always seeking to challenge herself.
About four years ago, Annika began working with a personal trainer, doing weight training, flexibility and balance drills. She has always been an accurate driver and good iron player but was never exceptionally long. Now she leads the tour in driving distance, averaging 274 yards off the tee.
And Sorenstam knew there were parts of her game that could improve. Players who hit a lot of greens are typically not as good around them. They don't have to be. But she wanted a better short game. So she consulted Woods.
"People don't realize how hard she works," Woods said last week at the U.S. Open. "We worked on our short games together this fall. You can't believe how hard she works. She didn't get to this level by just hoping she could play well. She went out and worked and took it to another level."
So to beat Sorenstam, it is going to take time. And perhaps by the time Paula Creamer (18), Michelle Wie (15), Natalie Gulbis (22) and Lorena Ochoa (23) hone their games, Annika will be on the way out.
For now, however, there is not much they can do but play their best and hope.
"Last year at the U.S. Open, she played a great tournament, she had a great week but somebody played better," said LPGA Tour player Jill McGill. "That's the game of golf. You can be the best player, you can be in the zone, you can be hitting unbelievable shots, and that week somebody is just a little bit better than you. And there goes the Slam."
Five Things To Bank On
1.
Sorenstam will not enjoy much of a length advantage at Cherry Hills, despite its 6,700 yards. Because of altitude, the course is not playing long. In fact, Sorenstam said she might hit only two or three drivers per round.
2.
Then again, her accuracy will be a huge advantage. The rough is brutal. And nobody is straighter than Sorenstam.
3.
Don't expect Meg Mallon to successfully defend her title at the Women's Open. She hasn't had a top-10 finish all year.
4.
Sergio Garcia
should take some momentum into his defense of the Barclays Classic on the PGA Tour. He won two weeks ago at the Booz Allen Classic and finished T-3 at the U.S. Open.
5.
Ryan Moore
, the nation's No. 1-ranked amateur, has turned pro and is making the Barclays Classic his first pro tournament. And there is no time to ease into the professional ranks. Moore has seven sponsor exemptions – plus extra spots for top-10 finishes – in order to earn enough money to secure his PGA Tour card for 2006.
QUICK TAKE
| | |
| --- | --- |
| | |
| | Campbell |
It is a tribute to Pinehurst No. 2 and the United States Golf Association that nobody ripped the course or the setup in the aftermath of the U.S. Open. After all, the circumstances were not far from what happened at Shinnecock Hills a year ago, when all hell broke lose on the final day, with nobody breaking par and 28 players shooting in the 80s.

This year at Pinehurst, only four players broke par on the final day, but just a handful shot in the 80s. Amazingly, the top three players heading into the final round all did so, likely more a product of nerves and tough conditions than anything unfair.

Still, not a single player broke par for the tournament, and only winner Michael Campbell at even par and runner-up Tiger Woods at 2 over managed to finish better than 5 over. Last year, two players broke par for the tournament.

The difference seemed to be that the USGA kept a closer eye on the greens, putting some water on them throughout the tournament.

Tough, but fair. Close to the edge, but not over. Barely.
MAILBAG: ASK BOB HARIG
Got a question about the PGA Tour? Ask ESPN.com golf writer Bob Harig, who will answer your inquiries in each installment of Loose Impediments.
Q. What are your thoughts on James Driscoll's year so far and future?
Sydney, Australia
A. It took Driscoll a little while to make it to the PGA Tour after finishing as runner-up at the 2000 U.S. Amateur. But it is hard to quibble with his rookie season. After earning exempt status by finishing seventh on the Nationwide Tour's money list in 2004, he nearly won the Zurich Classic of New Orleans, losing in a playoff. And he's earned more than $768,000. Driscoll would probably like to be more consistent, as he has missed nine cuts in 16 events.
Q. What exactly has Hank Haney changed in Tiger Woods' swing?
Doug Merrifield
Lewiston, Pa.
A. It is simple but complicated at the same time. According to a Golf Digest article on the subject, Haney's basic beliefs center around proper swing plane. He has worked with Woods, changing his posture somewhat, to get his swing on a plane more often where he does not get "stuck," a term Woods often used to describe what would happen when his hips moved too quickly and his arms got "stuck" behind. That often caused him to block shots to the right or to snap hook them with a compensating move. There obviously is not a simple explanation for what the changes entail.
Q. When the leaders are tied, is there any specific order in which the leaderboard is displayed on television? I've looked for alphabetical order, holes finished, etc. but have been unable to determine a pattern.
Chris Kirven
Akron, Ohio
A. If there is a pattern, it is to show the "name" players first. Sometimes you will see players who have finished their rounds listed first if there are ties.
Bob Harig covers golf for the St. Petersburg Times and is a frequent contributor to ESPN.com. He can be reached at harig@sptimes.com.
SPONSORED HEADLINES
MORE GOLF HEADLINES
MOST SENT STORIES ON ESPN.COM