Wie makes big splash at Bighorn
Updated:
October 17, 2005, 9:25 PM ET
By
Ron Sirak
| GolfDigest.com
PALM DESERT, Calif. -- Granted, Indian Wells is a little different than Milwaukee, but the fact that Nike founder Phil Knight traveled to the California desert to witness first-hand the professional debut of Michelle Wie tells you something about the potential significance of the newest athlete to wear the swoosh.
After all, Knight passed on going to Wisconsin when Tiger Woods made his first appearance as a pro nine years ago. And while it is perhaps too early to label this the Michelle Wie Era, the fact is that something happened Thursday in the Samsung World Championship at Bighorn Golf Club.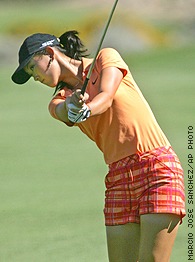 AP Photo/Marcio Jose SanchezWie had plenty of company watching her pro debut on Thursday.
There was Knight ambling along in the 90-degree heat. There was teaching guru David Leadbetter beneath his trademark hat, standing in his familiar arms-folded pose, watching his prize pupil. There was Greg Nared, the guy who once shadowed Woods for Nike and more recently was successful in recruiting Wie. Kel Devlin, who sees that Nike players remain happy with their equipment, was also in the gallery, as was Ross Berlin, the man handling the Wie account for the William Morris Agency, as well as a posse of Sony executives, the other endorsement deal that made Wie the $10 million girl. And, oh yes, Goldie Hawn and Kurt Russell came out to catch a glimpse of the future as well. Something happened at Bighorn.
In one of the worst assessments of reality by any President of the United States, Abraham Lincoln said on that infamous day at Gettsyburg during the Civil War: "The world will little note, nor long remember what we say here ..." It could very well be that, as Lincoln gave one of the most memorable addresses in history, this first round of the Samsung will be recalled as clearly as the millions of school children required to memorize Lincoln's words at Gettysburg still remember that speech.
No matter how this story plays out -- whether Wie is the audacious pioneer she promises to be or something less her professional debut will be a milestone in golf. Something happened at Bighorn.
For those keeping score at home, Wie walked onto the tee box of her first professional event at 11:52 a.m., Pacific Standard Time. Her first tee shot -- hit with a 3-wood -- came shortly after noon, and it found the fairway. Her first score was par after a missed 20-foot birdie putt. Wie's first birdie came on No. 2 after she hit her approach shot to 18 inches, and her first penalty as a pro came on the next hole when she had to take an unplayable lie from a bush in the desert to the right of the fairway. Wie's first bogey came on No. 13 when she missed the fairway way right, missed the green and missed a 10-foot par putt. And her first round as a professional was a conservative two-under-par 70 after she went bunker to bunker to bogey No. 18.
Wie's first drive on No. 1 was witnessed by a few hundred fans, although it could well be that a decade from now several million will claim to have been there. Something happened at Bighorn.
In what is certainly an exciting time in women's golf -- the pipeline of talent is packed -- there were messages being sent from every quarter of the course, and they all carried the same theme: If Wie is going to succeed in LPGA events she is going to have to earn it. The best in the world, Annika Sorenstam, made her presence felt with an eight-under-par 64, one stroke better than Gloria Park. The best American teenager, Paula Creamer, was pretty in pink with a 66. And Cristie Kerr, the feistiest player on tour, responded to being paired with Wie by posting a 65.
If Wie is the future, a ton of talented players stepped forward to say they are not at all ready to relinquish the now. Something happened at Bighorn.
If Michelle Wie is a work in progress -- and that is certainly the case -- she made her debut a carefully crafted work of art. All of the skills were on display, as was the frightening and exciting fact that her enormous talent has yet to be completely harnessed. She is 6-foot-1 and may add another inch or two to her wiry frame. Her upper body will get stronger, and her array of shots will get broader. There is room for improvement in the putting. Leadbetter says there is another 20 yards off the tee hidden in her swing, and LPGA veteran Sophie Gustafson says Wie strikes her irons with a purity unlike anyone else she has ever played with.
To the close observers the rough edges are apparent, but even the most beautiful diamond takes some buffing. Something happened at Bighorn.
As professional debuts go, Wie's was controlled, cautious and well-planned -- just as it should be. No big risks. No major mistakes. As responses go, it was exhilarating to see so many established players send a message that they relish the new talent in their midst.
It may well be that the Michelle Wie Era started on Thursday at Bighorn. And it may well be that an entire new era in women's golf began with the first round of the Samsung World Championship. In Sorenstam, the LPGA has its best player ever. Kerr, Creamer and Natalie Gulbis, who shot a 67, bring as much pizzazz to the tour as anyone could want. Morgan Pressel, 17 years old with more attitude than anyone could ask for, lurks in the wings. Something happened at Bighorn.
One of the compelling things about sports is that the storyline is never clear until the competition is completed. These games we love are an improvised drama, unscripted and unpredictable. But on Thursday at Bighorn there was only one story. No matter what Wie did, she was going to be the center of attention. It mattered little who led, or even what Wie shot -- as long as it wasn't a 62 or an 82.
Now the tournament really starts and we see who wins. But all that mattered Thursday was that a player with enormous talent and unlimited potential teed it up as a professional for the first time. Because this is sports, no one knows how the story will end.
But we do know that something happened at Bighorn. And we can't wait for more.
Ron Sirak is the executive editor of Golf World magazine. His book, Every Shot Must Have a Purpose : How GOLF54 Can Make You a Better Player, written with Pia Nilsson and Lynn Marriott, is now available.
EDITORS' PICKS
The Masters is less than 10 days away, and Tiger Woods' status remains a mystery. Should he return to golf in Augusta? Bob Harig

The name is unfamiliar, but the year's first LPGA major still comes replete with its cherished traditions. Bill Fields »

The name is unfamiliar, but the year's first LPGA major still comes replete with its cherished traditions. Bill Fields »
MOST SENT STORIES ON ESPN.COM