1-iron clinging to life ... but barely
Updated:
December 15, 2005, 9:23 AM ET
By
Jason Sobel
| ESPN.com
The golf world is in danger of losing one of its most beloved figures, as the 1-iron, winner of countless major tournaments and a longtime aid to history's greatest champions, is close to officially expiring, with almost no major club manufacturers currently producing the product.
Reportedly on the verge of extinction for the past several years, an older Tommy Armour model 1-iron is still clinging to life in the bag of PGA Tour professional Joey Sindelar, but hardly any other versions are being used on the pro tours.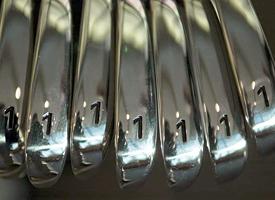 Seshu Badrinath/ESPN.comThe 1-iron is on the verge of becoming extinct.
"I'm not sure that it's dead, but it's certainly in the final stages of intensive care," said Sindelar, who used the club to win a playoff at the 2004 Wachovia Championship.
According to the Darrell Survey, a company that documents club use on the PGA Tour, the 1-iron was put into use only 50 times during tournament play in 2005, with Sindelar accounting for more than half of those occasions.
The amount of players using the club on tour has dropped dramatically in recent years. In 2005, only 0.75 percent of professionals used the 1-iron; that figure is down from 17.10 percent in 1996.
"It's a club that's so much like a black and white TV," Sindelar said. "It became my club for when I was nervous or didn't like the shot or had to hit it straight … I just knew that if I put my swing on the club, it would go down the fairway -- no mystery."
Throughout its descent, the 1-iron has been cared for by its brothers, the 2- and 3-iron.
Though never married, the 1-iron did spawn one son; the 0-iron found its way into the bag of PGA Tour professional John Daly in recent years, but sought early retirement due to a lack of consistency.
While the 1-iron lived for years in professional bags among other long iron clubs, it was a feud with a cousin, the hybrid club, that ultimately led to its undoing.
A recent creation of golf equipment manufacturers, the hybrid quickly replaced the 1-iron in most bags, and has also had a hand in the decline of other long irons and fairway woods around the world.
Do you carry a 1-iron?
SportsNation poll: Do you carry a 1-iron in your golf bag? Vote now!
"When I first started using this 1-iron, there weren't these other choices around," Sindelar said. "There were some metal fairway woods, but now the things they can do with these clubs is incredible."
Of course, that's not such an unfavorable development for most neophyte golfers. The 1-iron has a reputation as being unforgiving for amateurs.
"The only time I ever took out a 1-iron was to kill a tarantula,'' wrote Pulitzer Prize-winning columnist Jim Murray in the Los Angeles Times. "And I took a 7 to do that.''
Called "Butterknife" by friends, "driving iron" by colleagues, and "cleek" by European counterparts, the 1-iron has enjoyed a long, fruitful career in professional golf.
One of the most famous shots in golf is Ben Hogan's 1-iron approach to the final green during the 1950 U.S. Open at Merion. Hogan made par and later clinched the championship in a Monday playoff.
Costantino Rocca used a 1-iron to defeat Tiger Woods in a singles match during the 1997 Ryder Cup at Valderrama. After blocking his tee shot right on the 16th hole, the Italian hit what he called "the perfect shot," using a 1-iron to play through the trees and reach the green.
"I played the most beautiful shot of my life," Rocca said. "A 1-iron, it was the sort of shot you can't try, you can't practice. It was the shot that won me the hole and sealed the victory."
And 18-time major champion Jack Nicklaus lists a trio of 1-liners among his top shots. There was the final hole of the 1967 U.S. Open at Baltusrol. Up three shots already, he knocked a 1-iron to 22 feet and made the ensuing putt. At the same event five years later, Nicklaus launched a 1-iron to within 6 inches of the hole on the par-3 17th at Pebble Beach, essentially clinching victory. At the 1975 Masters, the Golden Bear hit a titanic 1-iron shot on the 15th hole that landed 15 feet short of the hole and stopped rolling 10 feet past. He birdied the hole and went on to earn the fifth of his six green jackets.
"I would say that probably the best shots that I've played in golf, and the ones I remember the most, have been 1-iron shots,'' Nicklaus said.
Despite a relationship with Nicklaus, Hogan and other top professionals, the 1-iron was also known for its connection to some of the game's more unsavory characters.
"Never bet with anyone you meet on the first tee who has a deep suntan, a 1-iron in his bag and squinty eyes," 1965 PGA Championship winner Dave Marr once said.
And then there's this idea, suggested by legendary professional Lee Trevino, which epitomizes most players' feelings about the 1-iron:
"If you're caught on a golf course during a storm and are afraid of lightning, hold up a 1-iron. Not even God can hit a 1-iron."
Jason Sobel is ESPN.com's golf editor. He can be reached at Jason.Sobel@espn3.com
Golf Editor, ESPN.com
Jason Sobel, who joined ESPN in 1997, earned four Sports Emmy awards as a member of ESPN's Studio Production department. He became ESPN.com's golf editor in July 2004.
EDITORS' PICKS
Tiger's back to hitting golf balls, set for Dec. return.
Bob Harig »

Who might they be next on the HOF list?
Monday Four-Ball »

Ben Martin earns his first PGA Tour win in Las Vegas.
Story »