Toms steals Sony spotlight ... finally
Updated:
January 24, 2006, 12:59 PM ET
By
Jason Sobel
| ESPN.com
HONOLULU -- Chances are, you'll remember the 2006 Sony Open for the media frenzy that once again followed and swallowed Michelle Wie for two days. You'll recall the opening-round 79 and the 11-shot improvement that came the next day.
The event's final round might be etched into your mind as the day David Duval started his comeback. For real, this time (or so we suppose). His bogey-free 63 signified his best score in three years and brought newfound hope to a legion of Duval supporters.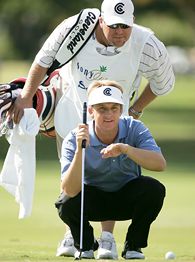 Harry How/Getty ImagesToms made six birdies and only one bogey in Sunday's final round.
And somewhere in between the Michelle Wie Invitational and the David Duval Classic, David Toms won himself a tournament.
Even though Toms clinched his own version of "Survivor: Oahu" by eliminating everyone else from the island, he was hardly the major storyline for much of the week. Which is, well, just about par for the course.
Overlooked? Underexposed? That's Toms' career in a coconut shell. He is, by his own admission, a notch below the ranks of elite players like Tiger Woods, Vijay Singh and Phil Mickelson, instead toiling among the game's second tier that includes the Jim Furyks and Sergio Garcias of the world.
"If I play like I'm capable of playing, I'm a top-10 player in the world," said Toms, who entered the week ranked 16th on the Official World Golf Ranking, but will likely jump close to No. 10 after Sunday. "I don't think I'm in the top-five. I've been there before, but, you know, I have some limitations with my game and it's not necessarily made for every golf course we play."
That may be, but his short and narrow style sure looked suited for Waialae Country Club this week. Toms and Chad Campbell entered the final round as co-leaders, with a Diamond Head crater-sized gap between them and the rest of the field. The Ryder Cup teammates held identical scores of 14-under when the sun rose over swaying palm trees on Sunday morning -- the next closest competitors were at 7-under -- but found themselves, permanently and irrevocably, separated by five shots when the tournament came to fruition and the sun began to set over the mighty Pacific.
In all reality, Toms' name could have been inked in neat calligraphy onto the winner's check when he made the turn on Sunday. With three birdies in his first nine holes, Toms strode to a four-shot advantage by the time he made his way to the 10th tee and sashayed his way down the back nine with all the ease of a Don Ho sonata.
But the oversized check wasn't signed, sealed and delivered until Toms tapped in for birdie on the final green to clinch his 12th career PGA Tour victory.
"There are obviously superstars that win all the time and it looks like it comes easy to them," said Toms, who shot rounds of 66-69-61-65 over the four days. "I guess sometimes like today, maybe it looked like it came easy to me because I played great, but on the inside it's always a battle. It's a battle every single day that we go to work, whether or not you're going to have a good day, a so-so day or a bad day.
"To overcome all of that and win a golf tournament, it's the ultimate reward for all of those emotions that you go through."
Toms is becoming quite the authority on the subjects of emotions and overcoming them. It's important to note that the most poignant recent memory of Toms has less to do with his golf than his health. In September, he was taken from the 84 Lumber Classic in a stretcher due to an irregular heartbeat. He's fine now, he says, but still gets asked about it on the course every single day.
As if that weren't enough inner turmoil, the Shreveport, La., native has also spearheaded Hurricane Katrina relief efforts in his home state. In April, he and fellow Louisianans Hal Sutton and Kelly Gibson will be honored by the Golf Writers Association of America for their "unselfish contributions to the betterment of society."
As for Campbell, by all accounts, his game is U.S. Open ready. Watch out, Winged Foot. Sixteen pars, one bogey, one birdie in the final round? Those are numbers only the USGA could love.
Don't cry for Campbell, though. Save those tears for Shane Bertsch. The third member of the final threesome (with so many players making the cut, the final two rounds consisted of trios rather than duos), Bertsch went straight from Triple-A to Game 7 of the World Series. In his first start since returning from the Nationwide Tour, he lagged behind his playing partners right from the start, bogeying three of the first four holes before bouncing back to shoot a tolerable 71 -- good enough for a T-13 finish.
This year's Sony Open will be remembered for plenty of things. Bertsch and Campbell faltering under a midday sun in the final round. Duval's return to respectability -- for now. And the continuing saga of a 16-year-old girl playing golf with the men.
As revisionist history goes, the champion of this event might be overlooked and forgotten. For David Toms, that's just the way it goes sometimes.
Jason Sobel is ESPN.com's golf editor. He can be reached at Jason.Sobel@espn3.com
Golf Editor, ESPN.com
Jason Sobel, who joined ESPN in 1997, earned four Sports Emmy awards as a member of ESPN's Studio Production department. He became ESPN.com's golf editor in July 2004.
SPONSORED HEADLINES
MORE GOLF HEADLINES
MOST SENT STORIES ON ESPN.COM
EDITORS' PICKS
What should we expect from Tiger's 2015 debut?
Four-Ball »

Here are 10 things we'd like to see in the upcoming LPGA Tour season.
Bill Fields »

Bill Haas nabbed PGA Tour win No. 6 at the Humana Challenge.
Story »