Tracking the hottest products for 2006
Updated:
January 31, 2006, 2:31 PM ET
By
Jason Sobel
| ESPN.com
ORLANDO, Fla. -- Caveat emptor, golf fans.
For those of you whose Latin is worse than Tiger Woods' driving accuracy, it means "Let the buyer beware."
After a stint at this week's PGA Merchandise Show, the Weekly 18 departs from its usual take on Tiger and the gang to deliver news on some of the hottest, coolest and craziest golf equipment on the market for the 2006 season.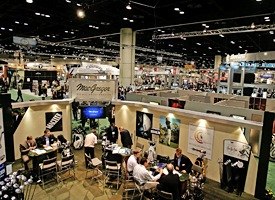 Scott Halleran/Getty ImagesWith 1,200 exhibitors at the PGA Show, there are plenty of hot products this year.
Of course, there's no way to write a complete list on which products are generating more buzz than others; after all, how do you compare, say, a 3-wood to a woman's golf shoe? Or headwear to swing training devices? Quite simply, it isn't feasible. The event includes 1,200 exhibitors from 26 countries, covering 1.1 million gross square feet, leaving even the most dutiful reporter's head spinning at the enormity of it all.
Instead, this list is composed of those products that sparked our interest -- and, seemingly, that of consumers at the show this week -- and might do the same for you. (As always, consult Golf Digest's annual Hot List for a complete ranking of new equipment.)
So don't necessarily rush out to buy everything you see here; it's simply a wide sampling of merchandise that grabbed our attention. Like we said: Caveat emptor.
Equipment
Nike SasQuatch driver:
Sure, Woods only hit one of 14 fairways using the ultra-oversized driver in the first round of the Buick Invitational, but it's the fact that he stuck with it -- "The driver is fine," he said. "It's the dude holding it." -- that speaks volumes. Such players as
Chad Campbell
,
K.J. Choi
and
Carl Pettersson
already have won on the PGA Tour with the SQ in the bag, and it was ranked as the best driver in the aforementioned Hot List. Golfers who wanted to test out the club on the demo range at the show this weekend had to wait in a line that was often five people deep.
Nickent 3DX Ironwood: Real men don't hit hybrids, huh? Well, you can keep struggling to hit that old 2-iron; we're joining power player du jour Bubba Watson in the hybrid craze. Of course, big Bubba just happens to hit this half-iron, half-wood 315 yards, which might equal two of our shots. Other tour players using the club include Todd Hamilton, Rory Sabbatini and Jim Furyk, who put it into play just two days after first testing it on the range. That's high praise from a guy who doesn't tinker much.
Sonartec SS 2.5 Mid-Face fairway wood: Sonartec has gotten plenty of attention -- and rightfully so -- for its line of hybrid clubs, but the fairway "metals" (as the company calls them) are where they really excel. Brandt Jobe, who led through two rounds at the Buick, has been using another Sonartec version, but it's the SS 2.5 that's really generating a lot of interest.
Heavy Putter Matte Series B-3: The first thing most people say upon picking up a Heavy Putter: "So, is this a training device?" Nope, it's a perfectly USGA legal putter that happens to weigh about 200 grams (0.44 pounds) more than most others on the market. The B-3 is the latest and greatest version, but the cool thing is that players can bounce between the company's blade and mallet putters without too much trouble, since they all hold the exact same weight.
Guerin Rife Aussie putter: After a disappointing '05 campaign in which he failed to win an event for the first season in three years, Campbell put this putter into the bag and promptly earned a victory at last week's Bob Hope Classic. Campbell, who spent much of last year without an equipment contract and tinkering with different clubs, was fourth on tour in putting average entering the Buick.
Accessories
Ecco New Casual Cool Hydromax golf shoes:
Colin Montgomerie
once famously walked off the 18th green of a tournament, removed his spikes and deposited them in a nearby trash can. Two years and one new shoe contract later, he has risen dramatically in the World Ranking to No. 11. Coincidence? Well, maybe, but his feet have never felt better. And if the Ecco shoes are good enough for a man who happens to be quite particular in his tastes, they're good enough for you. Feeling bold? Try the pumpkin-orange colored spikes for your best
Aaron Baddeley
impersonation.
Daphne's Headcovers: There's an old tale about how Woods' tiger headcover -- his name is Frank, and he has starred in commercials -- was handmade by his mother, Tida, when he was younger. Now it can be told: Frank is actually a product of Daphne's, which specializes in animal headcovers to protect clubs (Tiger's mom does sew inspirational messages into his own versions). With more than 100 different headcovers -- ranging from a lobster to a koala to a walrus (one guess which Champions Tour player incorporates the latter into his bag), this is the original model that has been oft-copied.
King Tiger golf bag: Before you ask, no, Woods doesn't have anything to do with this product -- but his caddie, Steve Williams, might like to give it a shot. With three patented features, this bag includes wheels, a telescoping grip and a 14-way organizing top. With a saturation of bags on the market, this one stands out as very easy to use.
Keri Golf bags: Guys, don't let your wives (or moms or daughters) get their eyes on these bags; you'll be pulling out the wallet before you know it. Based in Haddonfield, N.J., this small-time company has a big-time idea on its hands with women's-only golf bags that feature colorful, quirky prints. Even cooler: Each bag is given a different woman's name, so instead of a model number, you can simply order a Stephanie or a Cindi.
PeakVision sunglasses: Maybe it's David Duval's semi-resurgence, maybe it's global warming, but either way, sunglasses are hot this year and none more than the PeakVisions. With lenses that aren't one solid color, these sunglasses help to keep the eyes focused while they move with the swing and also aid in reading the contours of the green. Don't believe us? Ask Billy Andrade, who improved from 82nd on tour in putting average two years ago to 22nd after adding the eyewear to his wardrobe last season.
Ingrip grips: You've got to be intrigued by any golf grip that features a picture of a baseball bat with its product. It has a raised ending to ensure more stability and, as the packaging states, "enhances the grasping power." There's only one major -- very major -- drawback: It's still not USGA legal.
Visiball Golf Ball Finders: The name might suggest visions of forecaddies searching through fescue and bushes, but these are actually glasses that help pick out the whiteness of the golf ball so a player doesn't lose it. At the show, the Visiball booth had three regular balls hidden among some leaves, unclear to the naked eye. Put on the glasses and -- voila! -- the balls appear, somewhat magically, in front of your very eyes. For those who hate losing a $3 ball in the woods, these glasses (which retail for $39.95) pretty much pay for themselves.
Fashion
J.Lindeberg men's golf line:
Simply put, you're just not cool until you're outfitted in this high-end line of tight, bright clothes that got its big break in golf when
Jesper Parnevik
took to wearing the company's duds on the course. Its other players now include Baddeley and
Hank Kuehne
as it continues to set the standard in the nouveau chic line of threads. Of course, while you'll look like a million bucks in the lime greens and fluorescent yellows, this pricy apparel almost costs that much, too.
Lija women's golf line: This one's for the ladies, but you won't be confined to the course in these clothes. As it was explained to us, men often can go to the office, play a round of golf and grab dinner all in the same outfit, while women would need three different wardrobes. Not anymore. This line is perfectly acceptable in all walks of life, though women certainly will catch other players' eyes when wearing it on the course.
Pukka headwear: From the company that introduced us to the Vucket last year -- a bucket-style hat with the top cut out -- comes a new line of stylish, dressy hats. For those who long for the days of Sam Snead-type headwear, if it ever makes a comeback, Pukka could be right at the forefront of the revolution. With Greg Norman semiretired and Briny Baird sporting a baseball-style cap, we can't think of any players on tour wearing alternative dome coverings. That trend has to stop sometime, right?
Williams Golfwear: Sometimes you just root for a company to make it. When founder and CEO Paul Williams found out about the PGA Show less than two weeks ago, he had large color photos of his products made (he's also the company's model), printed some brochures and booked a flight from his residence in Bristol, England (no ESPN offices in that Bristol; we asked). The product line features brightly colored pants with contrastingly hued pockets, many including stripes. Ranging from $100 to $135, these are cool and affordable.
Training devices
Ernie Els Training System:
Buy this product and you'll be guaranteed to swing just like Els in no time at all. OK, so we made that up, but if the Big Easy -- who just happens to own the world's prettiest swing -- endorses it, count us in. The system includes the Rockroller (to aid your swing) and the Tempotimer (for putting), making it "golf's only tee-to-green training system," as the packaging states.
Zoni Putter Trainer: This is a product so simple we can't believe no one had come up with it already. Basically, this company has devised putters that leave an open space in the middle of the blade's face. Putt the ball anywhere but dead in the middle of the face and it strays wildly awry from the intended target. It's a simple device for training, a division of golf that often outthinks itself.
Jason Sobel is ESPN.com's golf editor. He can be reached at Jason.Sobel@espn3.com
Golf Editor, ESPN.com
Jason Sobel, who joined ESPN in 1997, earned four Sports Emmy awards as a member of ESPN's Studio Production department. He became ESPN.com's golf editor in July 2004.
SPONSORED HEADLINES
MORE GOLF HEADLINES
MOST SENT STORIES ON ESPN.COM
EDITORS' PICKS
Relive 2014's most memorable golf moments -- in photos.
The Masters

Ryder Cup defeat caused the PGA to look in the mirror.
Bob Harig »

Martin Kaymer's Players win catapulted him higher in 2014.
Bob Harig »