Tiger gets up-and-down to lead Deutsche
Updated:
September 2, 2006, 2:43 AM ET
Associated Press
NORTON, Mass. -- Tiger Woods bent over and grabbed his knees, thinking his 3-wood that clipped the top branch of an oak tree had trickled down from the green and into a hazard.
Leaderboard
1. Woods (-5)
T-2. Rose (-4)
T-2. May (-4)
T-2. Ogilvie (-4)
T-2. Green (-4)
T-2. Baddeley (-4)
• Complete scores
Once he realized it was in a bunker, it changed his outlook and put him in a spot that is becoming routine.
Woods got up-and-down from 90 feet for a birdie on the par-5 18th hole Friday, giving him a 5-under 66 and a one-shot lead in the first round of the Deutsche Bank Championship. It was the 10th time in his last 16 rounds he has been atop the leaderboard.
Aaron Baddeley, playing in the same group as Woods, stayed with him most of the day until having to lay up on the 18th. He made par for a 67, joining Bob May, Justin Rose, Joe Ogilvie and Australian rookie Nathan Green.
Woods is trying to win for the fifth straight time on the PGA Tour, a streak that began with his victory in the British Open. Taking the lead from the start is an ominous sign, although it doesn't mean much on the TPC of Boston.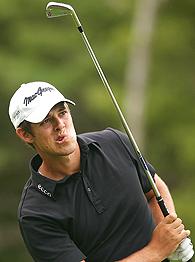 Scott Halleran/Getty ImagesAaron Baddeley of Australia was neck and neck with Tiger Woods until the 18th hole.
A year ago, Woods barely broke a sweat in opening with a 65 but then failed to break par the rest of the week and tied for 40th. He was tied for the lead after one round two years ago in the Deutsche Bank and wound up finishing three shots behind Vijay Singh to lose his No. 1 ranking for the first time in five years.
Then again, he hasn't been on a roll like this since his record-breaking 2000 season.
"I feel in control of my golf ball," Woods said. "I've still got some things to work on. It could be better."
As well as Woods is playing, he continues to be graced with good fortune. No, he didn't get free relief from hitting a shot over the clubhouse, but he could not have asked for a better tee time. Heavy rain is expected over the weekend, and Woods will try to build on his lead Saturday morning before the storm is due.
All he had to contend with Friday afternoon were swirling breezes that changed directions on nearly every hole, causing him to tiptoe his way around the front nine and play away from the flags to keep out of trouble.
He managed a few birdies along the way -- a wedge to 10 feet on the first, a 7-iron to 12 feet on the sixth and chipping in from about 30 feet on the par-5 seventh -- along with one big par. After chopping up the fifth hole, Woods made a 12-foot putt for an unlikely save.
"One thing Tiger is good at is he holes the putts to keep the momentum," Baddeley said.
Woods has only 23 bogeys in his last 16 rounds, dating to the second round at Royal Liverpool.
The only glitch on the TPC of Boston came on the 13th hole when Woods' driver clattered into the trees and dropped into the rough. He tried to bend a shot around the trees, but it hit a drain in the middle of the fairway and kicked into the rough. He hit a nice flop to five feet and missed the putt.
Elias Says
Browne

Defending champion Olin Browne fired a 2-under-par 69 on Friday. He has now shot under par in five straight rounds at this tournament. Since the Deutsche Bank's inception in 2003, only two golfers have shot under par in more than five straight rounds: Tiger Woods (9) and Adam Scott (8).

• For more Elias Says, Click here.
But he got a break on the 18th.
From the fairway, his lie was on a slope with the ball below his feet, which set up a left-to-right shot. Trees hugged the left side of the hole, so he played over the oaks and tried to fade it back toward the green. It missed in the right spot, dropping into a bunker, and Woods' blasted out to the top of the hill and watched it roll to four feet.
"I clipped one little leaf there," Woods said. "I thought the shot would have gotten to the green as good as I hit it -- evidently not. But I had a good lie [in the bunker] and it came out really nice."
Baddeley was tied for the lead with a 12-foot birdie on the ninth, but one bad tee shot and a lapse of concentration slowed him. He fanned a 6-iron into the hazard on the 12th hole and had to make a 15-foot putt to escape with bogey. Then he hit his tee shot on the 14th into the woods, did well to come up short of the green and failed to get up-and-down.
The biggest surprise might have been May, who is trying to work his way back from a severe back injury that had kept him off tour since the middle of 2003. He finished second at the B.C. Open and is now at No. 127 on the money list, leaving him a good chance to retain his card for next year.
"It really is a second career for me because it opened my eyes and showed me how fortunate I am to be playing this game," May said.
May is best known for his duel with Woods at the 2000 PGA Championship, where he matched him shot-for-shot in the final round until losing a three-hole playoff at Valhalla. That was perhaps the peak of Woods' game, the year he won nine times and took three straight majors.
May is on the upward swing again and, despite being gone for 2½ years, it looks as though nothing has changed.
Woods is still on top of his game -- and atop the leaderboard.
Divots
Defending champion Olin Browne opened with a 2-under 69. Singh is playing Boston for the first time since winning in 2004 -- he missed last year with a pingpong injury -- and opened with a 70, along with '03 winner Adam Scott, whose round featured four bogeys, three birdies and an eagle from the 15th fairway. ... Steve Stricker, one of the best putters in golf, might have had a first Friday when he four-putted from 40 feet for double bogey on the par-3 11th. Stricker shot a 71. ... Tim Petrovic played with Woods and Baddeley and was headed for an 80 until hitting 3-wood into 10 feet on the last hole for an eagle.

Copyright 2006 by The Associated Press
EDITORS' PICKS
Can Jimmy Walker become the first 54-hole leader to hang on to win since January?
Scores »

Will Adam Scott use his anchored putter for the Masters, and was Dustin Johnson treated fairly?
#AskESPNCaddie

Baddeley's birdie at the Valero Texas Open included a penalty stroke.
Michael Collins »
MOST SENT STORIES ON ESPN.COM