Palmer finishes round but doesn't keep score
Updated:
October 14, 2006, 9:23 AM ET
Associated Press
SPRING, Texas -- An aching back and too many bad shots finally convinced Arnold Palmer to end his competitive career.
Palmer withdrew after playing only four holes of the Administaff Small Business Classic on Friday, then told his loyal fans at the end of the round that he was retiring from tournament play.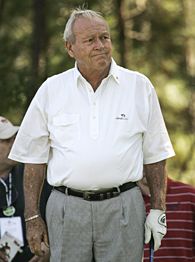 David J. Phillip/AP PhotoArnold Palmer hit two balls into the water on the fourth hole Friday, then said he was withdrawing from the Champions Tour event.
Palmer made the tearful announcement with a large group of "Arnie's Army" huddled around.
"I made every move in the bag today to make a good shot and I wasn't very successful," Palmer said. "That's not surprising. It just didn't come today. It's been working its way into my repertoire. It's tough and it's emotional for me because it's my life."
Palmer, 77, has played less frequently in recent years. He had played in only one other Champions Tour event this year. He hit two balls into the water on the par 4, 440-yard No. 4 hole Friday, playing in a threesome with Lee Trevino and John Mahaffey.
He played the rest of the round but did not keep score.
"I've been doing this for a long time and, first of all, to stand out there and not be able to make something happen is very traumatic in my mind," Palmer said. "The people, they all want to see a good shot and you know it and you can't give them that good shot. That's when it's time."
Palmer played his final PGA Tour event at the 2004 Masters, a record 50th consecutive start at Augusta National. His first victory at the Masters in 1958 is where "Arnie's Army" was created, a time when television began to take an interest in golf and had the charismatic Palmer to bring the masses to the game.
Known universally in golf as "The King," Palmer joined the PGA Tour in 1955 and won the Canadian Open that year for his first professional victory. He won the last of his 62 PGA Tour titles in the 1973 Bob Hope Classic, and he last won a Champions Tour event in 1988 at the Crestar Classic. He's fourth on the PGA Tour victory list with 62, won 10 times on the 50-and-over tour -- including five majors -- and also won the 1954 U.S. Amateur.
Arnold Palmer
Full name: Arnold Daniel Palmer
Born: Sept. 10, 1929, in Latrobe, Pa.
Turned pro: 1954
Awards: AP Athlete of the Decade for the 1960s. PGA Player of the Year 1960. Vardon Trophy (1961, '62, '64, '67). PGA of America Distinguished Service Award (1994). PGA Tour Lifetime Achievement Award (1998). Payne Stewart Award (2000)
Honors: Ryder Cup teams (6), 1961, '63, '65, '67, '71, '73; Ryder Cup captain (2), 1963, '75. World Cup (6), 1960, '62, '63, '64, '66, '67. Captain and member of Chrysler Cup Team (5), 1986, '87, '88, '89, '90; Presidents Cup Captain (1), 1996; UBS Warburg Cup captain and player (3), 2001, '02, '03
Victories: 62 PGA Tour; 10 Champions Tour; also won 1954 U.S. Amateur
Majors won: PGA Tour (7) -- 1958, '60, '62, '64 Masters; 1960 U.S. Open; 1961, '62 British Open. Champions Tour (5) -- 1980, '84, Senior PGA Championship; 1984, '85 Senior Players Championship; 1981 U.S. Senior Open Championship

-- The Associated Press
Palmer did not play his first Champions Tour event this year until last month outside Baltimore. He continued to play the Administaff Small Business Classic because of a relationship with the company.
Palmer said he would play in some charity events "but now there are no more thoughts of tournament golf."
Palmer said he would spend more time with his other business pursuits.
"It isn't that I'm not busy," Palmer said. "I've got a lot to do. I'm going to concentrate on building golf courses now and really spend a lot of time doing that. I've got quite a few on the books ready to go. That's going to be my next major passion."
Trevino grabbed Palmer's ball after the final hole and asked him to sign the ball and Palmer's glove.
"When he putted out, I grabbed the ball and I had the Sharpie in my back pocket and then while he had the Sharpie, I said sign that glove too," Trevino said. "We didn't take his shoes."
Trevino knew early in the round that Palmer was having trouble playing.
"After the third hole he was ready to throw it in," Trevino said. "I said, 'I'll get a cart, you don't have to play.' He said, 'No I can't go. I can't leave, but please don't put a score down.' "
Palmer said he finished the round because he owed it to his fans, a trait that followed Palmer throughout his Hall of Fame career.
"My toenails were aching," Palmer said. "I took a bunch of pills and I made it and I feel fine now. I'm still aching. I'm glad I did the 18 holes. I sat down a couple of times and I wasn't sure I'd get back up."
Jay Haas shared the first round tournament lead but his thoughts were with Palmer.
"I think the fans have kept him going for a long time," Haas said. "We will certainly miss him. He's The King. You wish he could keep on going but all things must end."

Copyright 2006 by The Associated Press
SPONSORED HEADLINES
MORE GOLF HEADLINES
MOST SENT STORIES ON ESPN.COM
EDITORS' PICKS
Rory McIlroy sealed his place in golf's elite with PGA win.
Harig »

Rory's Open win set him on course for a great stretch of golf.
Harig »

A Pinehurst No. 2 win landed Kaymer his second major.
Bob Harig »