Four straight birdies lift Thorpe into Schwab Cup lead
Updated:
October 28, 2006, 9:35 PM ET
Associated Press
SONOMA, Calif. -- The season-long duel between Jay Haas and Loren Roberts is going down to the Champions Tour's final round of the year.
But Jim Thorpe prevented them from finishing their impressive seasons in the same pairing Sunday -- and even if he can't win the $1 million Charles Schwab Cup, Thorpe has designs on yet another tournament victory in Northern California.
Leaderboard
1. Thorpe (-13)
T-2. Haas (-11)
T-2. Kite (-11)
T-2. Roberts (-11)
T-5. Bean (-10)
T-5. Gilder (-10)
T-5. Morgan (-10)
• Complete scores
Thorpe stayed steady while the other contenders lurched up and down the leaderboard Saturday, finishing the third round of the Charles Schwab Cup Championship with a two-stroke lead over Haas, Roberts and Tom Kite.
Haas leads Roberts by just 126 points in the Schwab Cup competition -- an elaborate, points-based race for a $1 million annuity over the tour's entire season. This season-ending tournament only factors into those standings -- but Thorpe, who's well behind in the Cup race, has his sights set on the $440,000 first prize at Sonoma Golf Club.
"I need to go out and shoot another 5-under-par round," said Thorpe, who has won three previous tournaments north of the San Francisco Bay Area in seven years. "We all know Jay can take it low, and Tom Kite is a beautiful golfer. I'm going to take some chances. I'm going to go out pin-hunting and force the action."
Fans will be able to watch both competitions unfold with relative ease: Kite and Haas will play together Sunday, followed by Thorpe and Roberts -- the same pairings as Saturday, but with the order reversed.
"I guess a shot down the stretch could make the difference," Haas said. "Both of us can say, 'Man, when is this guy going away?"'
And the Big Four can't get comfortable, either. Bob Gilder, Gil Morgan and Andy Bean are three strokes back at 10-under 206, while defending champion Tom Watson is just four strokes behind Thorpe.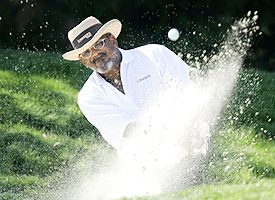 AP Photo/Marcio Jose SanchezJim Thorpe hits from the bunker on the fourth hole en route to a two-stroke lead in the third round of the Charles Schwab Cup.
Thorpe parlayed four straight birdies after the turn into a 5-under 67, leaving him two shots ahead of second-round leader Kite -- as well as Haas and Roberts, the Champions Tour's top two players throughout the season. All four contenders still are in prime position to claim the $440,000 first prize in the season-ending event.
Thorpe, the first-round leader and the 2003 champion in Sonoma, improved to 13-under 203 by conserving his putts and avoiding big mistakes before reaching the fast greens.
Thorpe trailed Haas by four strokes at the turn, but the tour money leader was all over the board despite more mild weather in Northern California wine country.
Haas made two eagles in his round, but also went 10 straight holes without a par, giving up an early three-shot lead with three consecutive bogeys.
"I'm disappointed, because I had a chance to break through and go really deep," Haas said. "I just got a little quick. Each shot was off by just enough, and I bogeyed all of those holes."
Haas shot a 69, while Kite hung tough through an inconsistent round for a 70. Roberts had a bogey-free 68, but missed several chances to challenge playing partner Thorpe atop the leaderboard.
"I'm a little surprised I'm only two back," Roberts said. "I thought Jay and Tom were off to the races. I guess it's going to be a shootout."
Haas and Roberts both shot 66s on Friday to tighten up the field behind first-round leader Thorpe, who won this tournament wire-to-wire in 2003.
Haas' third round was every bit as up-and-down as the last few weeks for his beloved St. Louis Cardinals, who overcame a late-season losing streak to win the World Series on Friday night. He can only hope there's also a celebration at the end of his travails.
"I don't have time to go through my card," Haas said with a grimace when he entered the clubhouse.
Haas, who grew up in St. Louis, had four birdies and an eagle on the front nine, capping an impressive stretch with a long downhill birdie putt on the ninth. But he cooled off at the turn, making five bogeys and two birdies on the next seven holes -- including three consecutive bogeys at 14, 15 and 16 to lose the lead to Thorpe.
While Haas was brilliant and awful, Thorpe was remarkably steady. He finished his round with five straight pars while Haas struggled in the pairing behind him.
Watson, who won both the tournament and the Charles Schwab Cup last year, charged back into contention with a 67, pulling to 9-under 207. He got a boost from the presence of his daughter, Meg, who's in her final year of business school at Stanford.
"I haven't made many bogeys out here when Meg's around," said Watson, who rallied from a six-shot deficit in the final round last year to win -- also with Meg in the gallery.

Copyright 2006 by The Associated Press
SPONSORED HEADLINES
MORE GOLF HEADLINES
MOST SENT STORIES ON ESPN.COM