Where does Tiger's streak rank?
Originally Published:
January 29, 2007
ESPN.com
It didn't take long for Tigermania to reach a crescendo in 2007. In his first tournament of the year, Tiger Woods claimed his third straight Buick Invitational title and seventh straight PGA Tour victory. That streak is good for second all-time behind only Byron Nelson's run of 11 in a row back in 1945.
Jason Sobel and Bob Harig look at Woods' streak -- what it means, how far it can go, where it ranks -- in this week's edition of Alternate Shot.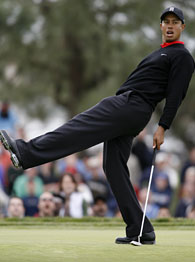 AP Photo/Denis PoroyWoods has won every PGA Tour event he's entering, dating back to last year's British Open.
Sobel:
Tiger Woods. Tiger Woods. Tiger Woods. There, I said his name, got it out of the way. Now we can discuss some other things in the world of golf. I mean, I've got nothing against the guy ... it's just that there isn't much to say about him anymore. He's really good. He wins a lot. He keeps getting better. Shall we move on? How about discussing yet another runner-up finish by
Charles Howell III
? Or the awesome final-hole eagle by
Retief Goosen
to win in Qatar? And maybe this is a good time to mention that in our 2007 preseason predictions, you took
Andrew Buckle
to win Rookie of the Year and I had
Brandt Snedeker
.
Harig: Jason, you've got to be kidding, right? I know, what more can be said about what's-his-name -- except for the fact that he has one of sports' most-hallowed records within view. Howell is getting closer to that elusive victory and Goosen finally won and we look like geniuses for recognizing the talents of Buckle and Snedeker (I think yours was a lucky guess), but you-know-who moves the needle. You might not want to say his name, but it's going to be unavoidable.
Sobel: Well, unavoidable for those of us who lack creativity, I guess, though you can keep calling him what's-his-name and you-know-who for a while. For the record, my favorite thing about Tiger's win at the Buick wasn't that it was his seventh straight on tour, or his 55th overall, or that it was his fifth career Buick win or his fifth win in his first start of a season. It's this quote, which I wrote about in the Weekly 18: "I'm just plugging along, trying to get better." You know what his mentality reminds me of? A great NFL quarterback who has just won in the first week of the season. Whereas most golfers feel as if they just won the Super Bowl after any PGA Tour victory, Woods treats it like just another regular-season win and simply moves on from there.
Harig: Woods is keenly aware that those he beat Sunday did not exactly possess the greatest résumés. Howell has been fighting his demons, and guys such as Jeff Quinney and Buckle were likely just happy to be there. Meanwhile, Phil Mickelson and Vijay Singh were nowhere to be found. So, although those guys are an argument for just how tough it is to win on the tour -- it seems as though guys come out of nowhere every week -- Tiger knows that their collective experience and moxie didn't come close to his. And, let's face it, what really matters to Woods is the major championships. He would gladly see the streak come to an end if it meant winning a major or two this year.
Sobel: Ah, but Tiger did have proper competition at the Buick; it's just that the other elite guys weren't on the leaderboard. Had, say, Phil and Vijay taken the silver and bronze medals at Torrey Pines instead of Howell and Snedeker, would the victory have been an even greater one for Woods? I don't think so. It's not as though he was facing inferior competition this past week. The cream (other than himself) just failed to rise to the top. Nothing he can do about it, really.
Harig: You're right, it's not his fault if the perceived best players are not in the hunt. It just looks better if they are. Those are the guys with experience, the ones who are less likely to make some of the mistakes we saw out of players such as Snedeker, Buckle and Quinney. Regardless, the streak lives on, now the second-longest in history to Byron Nelson's 11. As great as they were, Arnold Palmer and Jack Nicklaus never won as many as six in a row, and Tiger has done that twice.
Sobel: I think we can all agree that the current streak ranks behind previous Woods accomplishments like the Tiger Slam and the consecutive made cut streak -- even he admits as much. It's tough to say where it comes after that. I believe the streak's impact is diminished by the fact that Woods doesn't play every week, instead picking and choosing the tournaments in which he wants to compete. Some folks have tried to compare it to streaks in other sports, saying it's like a baseball player with a 40-game hit streak taking days off against pitchers he'd rather not face. I'd compare it more with a pitcher's winning streak; you know he's not going to be in the lineup every time out, so all he can do is win when he's out there.
Harig: Where it ranks would make for a good debate. No question, the Tiger Slam comes first. I would even argue that if the majors streak had stopped at three in a row in 2000, that is more impressive. Nobody other than Ben Hogan has done even that. I think the cuts streak versus this is a toss-up. As incredible as it was to make all those cuts in a row -- let's face it, nobody else in the modern era has come close -- we're still talking about making cuts, not winning. And many of those tournaments were no-cut events! I agree that this current seven-even streak would carry more weight if he had not skipped the Tour Championship and the Mercedes, events with limited but top-heavy fields. Still, he has two majors and two World Golf events among the seven. It's pretty good stuff.