Francella finds a home on LPGA Tour
Updated:
June 27, 2007, 10:27 AM ET
By
Sam Weinman
| Golf World
One morning in May, at a coffee shop not far from her home in Port Chester, N.Y., Meaghan Francella noshed on a sausage-and-egg sandwich and struggled to finish a sentence. Her Uncle Chucky had already come and gone. So had one of Francella's cousins and her best friend from high school. There was a table of middle-aged men eager to hear about her next tournament. There was a hairdresser from three doors down who stopped by to ask about her weekend. At her side, her Uncle Caggie sat and peeled a tray of potatoes.
It was a homecoming for Francella -- her first trip back to town since her upset playoff win over Annika Sorenstam at the MasterCard Classic in March, which was followed three weeks later by a T-5 finish in her first career major, the Kraft Nabisco Championship. But the frenetic scene that day at Poppy's Cafe, where a wall-sized mirror was covered with newspaper clippings chronicling her career, was the life she had known before she emerged as one of the unlikely young stars of American women's golf.
Born and raised in Port Chester, a working-class shore town tucked between the upscale communities of Rye, N.Y., and Greenwich, Conn., the 25-year-old hasn't so much overcome her modest background as she has fed off it. The daughter of a liquor store owner and a schoolteacher, she refined her game on the fairways of Westchester CC, but only because she worked in the golf shop in return for playing privileges. She made a name for herself on the competitive American Junior Golf Association circuit, but only after her parents took on extra jobs to help pay her way. Playing an expensive sport in a largely affluent area, Francella's scrappy mentality on the course was a reflection of her never taking for granted where she was.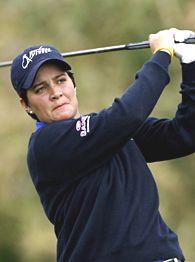 Claudio Cruz/AP PhotoFrancella defeated Annika Sorenstam in a playoff at the MasterCard Classic earlier this season.
"I think a lot of players grew up at country clubs and Leadbetter Academies and stuff like that, but my family had to do everything they could to help me," she says. "Everybody has made a lot of sacrifices for me to do this. They've done their part, and now it's time for me to go on."
Francella already had made the most improbable of strides in that regard at the MasterCard, a trip to Mexico that marked her first time out of the country. It also marked the week of her career transformation. Playing just the third event of her first full season on tour (she technically is not a rookie because she had played four events prior to this season), Francella opened with consecutive 68s and felt emboldened enough to introduce herself to her childhood hero, Sorenstam, during a rain delay Saturday.
The conversation was brief -- Francella was so nervous, she barely managed more than "Hey, I'm Meaghan" -- but the two would be reunited when they both completed the tournament at 11-under 205. In the playoff each narrowly missed birdie opportunities on the first hole and then needed three more holes before Francella rolled in a 4-foot birdie to clinch the win. The pictures from that week show a player hoisting her putter aloft after the winning putt, and then letting out a scream as she raised her first LPGA trophy. What they didn't show was her father, Joe, standing greenside in what could be described as a blissful daze.
"I remember a couple of times during that round I'd look over at him and he'd have tears in his eyes," said Francella's caddie, Herbie Sargent. "You knew he was enjoying it more than anyone else."
It was more than typical sentimentality. Three years earlier, Joe Francella was battling a hereditary liver disease, his condition so severe that he had been given three months to live. Then at the end of the third month, with his condition rapidly declining, a nurse walked into his room: A new liver had been found. Francella underwent transplant surgery two hours later, and his condition improved steadily. And all along, what kept him afloat was the prospect of seeing his daughter's dreams come to fruition.
"That moment [in Mexico] was like, 'Thank you, God, for keeping me alive,'" Joe says. "I wish I had a better vocabulary to express what it was like. You just couldn't believe it was happening."
Few golf careers have involved such an investment from so many. Meaghan's first experiences with a club in her hands came in preschool, when her father cut down a 3-wood and brought her to the Port Chester High School football field to hit balls. She maintained only a passing interest in the game as she went on to excel in basketball and baseball as the only girl in the Port Chester Little League. But when a dislocated knee at age 12 led to a search for a new competitive outlet, a physical therapist led her to Tom Patri, a fledgling golf instructor at Westchester CC.
Also a product of a middle-class background on Long Island, Patri inherited a player so raw she still gripped the club like a baseball bat. But almost immediately he detected a rare natural ability. When it became apparent Francella didn't have regular access to a golf course, he went to his boss, Westchester CC director of golf John Kennedy, and asked about getting Meaghan a job in the golf shop.
"I had never done that before because I had never seen a kid worth sticking my neck out for," says Patri, who still coaches Francella while also running his own golf school in Naples, Fla. "But one thing about Meaghan is she said she would practice and work. And she did … I'm not a big country-club, junior-golf guy. I think there are times when kids are handed too much. But Meaghan, she knew she was there to work. She wasn't a member. She was on the wrong side of the counter, if you will. And I reminded her of that pretty often. But I also said if you do the right things, you might end up on the right side of that counter."
Working with Patri, Francella made rapid progress. She broke 90 by the end of that first summer and was soon winning Met Area junior titles. When it was time for her to start traveling nationally for AJGA events, her parents readily took on more work to help get her there. After Joe Francella sold his liquor store in Greenwich, he worked with at-risk kids at Port Chester Middle School. But now came extra shifts at another liquor store down the road from their house, along with weekends caddying at Willow Ridge CC in Harrison, N.Y.
"I did what I had to do," Joe says. "I'm not a Wall Streeter. I don't have a college education. But this is something she wanted, so we said, 'You just go out and play. We'll find the money.' If it meant going 36 holes, I went 36 holes."
Says Meaghan's mother, Denise, a physical education teacher at Rye Country Day School who also coached three sports: "Joe caddied every weekend. When he'd get to a big hill, he'd put his head down, and say, 'This is for Meaghan.'"
Validation for the Francellas came in the form of a college golf scholarship. After starting at the University of Memphis, Meaghan transferred to North Carolina, the school she had dreamed of attending since she was a young girl. Once there, the golf came relatively easy -- she won the Atlantic Coast Conference title as a junior and was a first-team All-American as a senior -- but the classroom was more daunting than any plugged lie in a bunker. Contending with learning disabilities that made reading comprehension difficult, Francella needed regular sessions with tutors, and she had to begin studying for exams weeks in advance because she was incapable of cramming.
"It wasn't easy. Nothing comes easy," Francella says. "Even now, my friends at a golf tournament, they'll be reading a book during down times, but I can't really do that because I have to go back and read things over again. That's not fun for me."
What is fun, though, is making a habit out of defying expectations. Francella graduated in the fall of 2005 with a degree in communications, then set out on the Duramed Futures Tour. Despite winning the first event of 2006, she still came into the season finale in Albany, N.Y., needing to jump three places on the money list to earn her LPGA card. Grinding all summer for a spot, she had trouble sleeping over the season's final weeks and admitted to lashing out at those around her (for all the affection between them, her father has always been a favorite target) as things got tense. By the back nine of that final tournament, she had a share of the lead, only to bogey three of the next six holes. Somehow, though, she held on to tie for third place and claim a spot on the LPGA Tour for the next season -- a moment that led to more exhales than smiles.
"I don't think any tournament will equal that last round in Albany," Denise says. "That was for her career. I couldn't even watch the last two holes. I was just praying. I don't know how she swung the club, to tell you the truth. But I think that experience is what made it easier for her to compete at this level."
Fast forward to Mexico six months later, and it was her experience in Albany that Francella drew upon against Sorenstam. No, she didn't expect to win that quickly. And no, she certainly didn't expect to knock off Sorenstam, whose picture still hangs in her Port Chester bedroom and whose swing she and Patri have long used as a model for her own. But she was also somewhat prepared given some recent advice from her coach. That was during the Merrill Lynch Shootout near Patri's home in Naples. Francella saw Sorenstam play for the first time in person that day and couldn't stop raving about the Swede's game. Eventually Patri cut her off.
"She came back saying, 'Annika, Annika, Annika,'" Patri recalls. "And I said, 'Meaghan, it's good to have respect for Annika. That's healthy. But you can't be in awe of someone you're going to have to stand toe-to-toe with.' Three months later, she beat Annika in a playoff."
It's still not an easy concept to grasp. But then there are days like that Monday before the Sybase Classic in nearby Clifton, N.J., when Francella threw out the first pitch at the Mets-Cubs game at Shea Stadium ("Don't tell anyone," she says, "but I'm a Yankees fan"). There are days like that Thursday, when, having thrust herself into contention for a Solheim Cup spot, Francella was trailed for part of her round by U.S. captain Betsy King.
Just like that, the girl from behind the counter is ready to move to the other side. She recently told Patri she is looking into joining a golf club.
"It just doesn't feel real," she says that morning at the coffee shop, where her own face was looking down at her. "But then you see all the stuff on the mirror there -- it's just different. The one thing you can't teach people is how to be a fighter. You can teach mechanics. But you can't teach heart."
EDITORS' PICKS
What did we learn at the 40th Ryder Cup?
Maguire »

One idea for the next U.S. captain might ruffle a few feathers.
Evans »

How about a blast from the past to fix Team USA?
Wojciechowski »