Couples leads after first day of Skins Game with three skins
Updated:
November 24, 2007, 5:28 PM ET
Associated Press
INDIAN WELLS, Calif. -- Fred Couples knows one good shot can make a huge difference in the Skins Game.
After bouncing his drive off a spectator's bag and into the fairway and hitting his second shot into a bunker behind the green, Couples knocked his 35-yard shot out of the sand and into the hole to win $75,000 on Saturday.
[+] Enlarge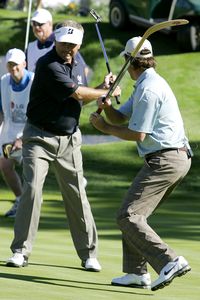 AP Photo/Chris CarlsonDefending champ Stephen Ames, right, may need more than a hockey stick to catch leader Fred Couples.
"I don't think I played particularly well, but I did hole a shot," he said after taking the first day lead in the LG Skins Game.
His eagle on the par-5, 501-yard fourth hole was worth three skins because the previous two holes were tied.
"He got rewarded for hitting a great shot," defending champion Stephen Ames said.
The 48-year-old Couples hadn't played competitively for almost eight months because of back trouble.
"I'm very rusty, but excited to play," he said.
Ames was the only other player to win a skin over the first nine holes of the two-day, 18-hole event. He picked up $25,000 by making a 6-footer for birdie on the first hole.
Skins Game rookies Zach Johnson, this year's Masters champion, and Brett Wetterich were shut out.
"I think Zach and I are just waiting for the next nine holes; that's when all the big money comes up," Wetterich quipped.
The players usually are more relaxed on the first day of the tournament, joking and laughing, but things tend to get quieter when the big money is at stake on the second day.
Ames, a naturalized Canadian citizen, provided some fun on No. 9 when he pretended he was going to putt with a hockey stick. Couples joined in, waving his putter to challenge the hockey player.
Johnson said he didn't feel he needed to provide any levity.
"My wife says I'm not funny, so the pressure's off," he said, smiling.
He had several putts rim out of the cup, often shaking his head and grimacing.
The made-for-TV event is in its 25th year, and Couples is playing for the 14th time. He's the five-time tournament champion and has won 89 skins and more than $3.9 million, all topping the Skins Game list.
Most of the prize money remained up for grabs because the other five holes were tied on the first day. When the foursome tees off on No. 10 Sunday, that hole alone will be worth $270,000, and $900,000 of the $1 million purse will be at stake.
Couples' shot out of the sand was the highlight on a day when none of the four played especially well, at times making the relatively short, new course at Indian Wells Golf Resort resemble a grueling U.S. Open layout.
Players are more aggressive in skins competition, not bothering to lay up shots in front of the green because they realize a par usually won't win a hole. That strategy sometimes leads to more shots straying into the rough or sailing beyond the pin.
"It was a little different scene out there for all of us, bombing drivers," Couples said. "In a regular tournament, you'd be doing different things. I changed some shots and hit some really pathetic shots."
When his bunker shot dropped on what seemed almost its final turn, Couples raised his arms in celebration, then added a brief end zone-type hip wiggle in the sand.
As Couples walked onto the green, some fresh bounce in his step, Johnson bowed to him a couple of times, honoring the player known as "King of the Skins."
The first six holes are worth $25,000, and Nos. 7-12 $50,000 apiece. The 13th through 17th carry a prize of $70,000 and No. 18 is worth $200,000.
A player takes a skin by winning a hole. If the hole is tied by any of the players, the money carries over and all four remain in the hunt. If there is a tie on the 18th, the players who tied enter a playoff.
Couples got a bonus along with the $75,000 he won on No. 4. Title sponsor LG had offered $50,000 in products for an eagle on either of the two par 5s on the course.

Copyright 2007 by The Associated Press
EDITORS' PICKS
Ryder fallout

What did we learn at the 40th Ryder Cup?
Maguire »

One idea for the next U.S. captain might ruffle a few feathers.
Evans »